More anti-government protests are planned in some 80 cities throughout Russia, as opposition leaders capitalize on citizens' anger over plans to increase the retirement age in the country.
President Vladimir Putin has seen his approval ratings decline steeply, as he has voiced support for his government's plan to increase the pension age from 60 to 65 for men and from 55 to 60 for women as of next year.
"Any further delay would be irresponsible," Putin has said of the decision. "Our decisions should be just and well-balanced." The Russian leader had vowed previously that there would be no increase of the retirement age while he's president, leading many to see his shifting stance as a betrayal.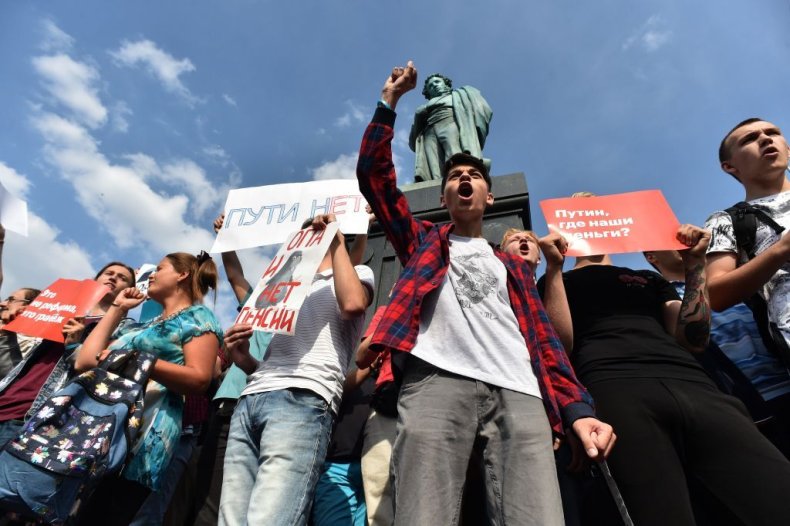 Tens of thousands of Russians have protested the move throughout the country in recent months. Leaders of the movement have pointed fingers directly at the Kremlin, accusing it of misusing national funds.
"Putin and his government have plundered the budget for the past 18 years," members of jailed opposition leader Alexei Navalny's team said in a Sunday statement, just ahead of demonstrations, the BBC reported.
"All that time they assured us there would not in any circumstance be a rise in the pension age. And now they are putting it up. The authorities are not listening to people and that means it's time to take to the streets," they added.
Navalny, who was blocked from running for president against Putin earlier this year, was jailed for 30 days at the end of August. The long-time anti-corruption campaigner was charged with breaking protest laws, which he adamantly denies.
Protestors have pointed out that the average Russian man is only expected to live to age 66, according to data from the World Health Organization. This means most men in the country would only enjoy one year of retirement before their death, after the minimum age is raised. The average Russian woman however, is expected to live to 77.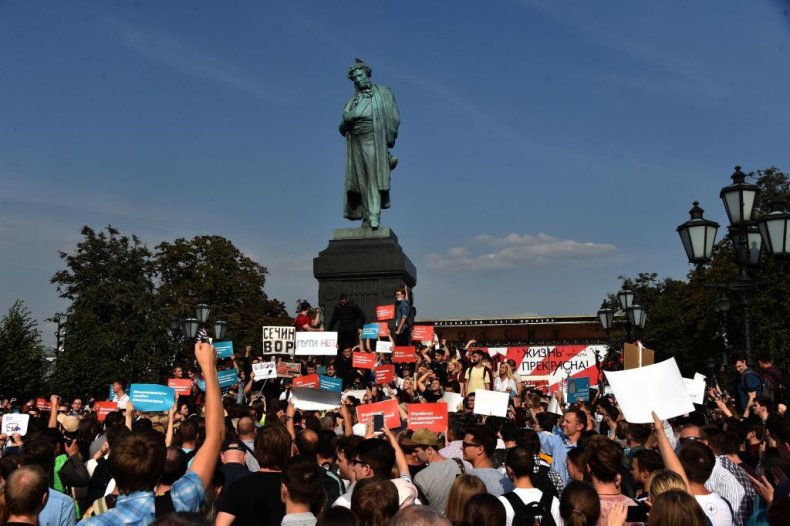 During one July demonstration in Moscow, more than 10,000 demonstrators took to the streets chanting "away with the tsar" and "Putin is a thief."
Although Putin won re-election to another six-year term in March, taking 76 percent of the vote with turnout just above 67 percent, critics pointed out that most significant political opposition candidates were shut-out. Some potential opponents, such as Navalny, were legally barred from running, while other opponents have died mysteriously.
Corruption is widespread in Russia's elections. While Putin has retained a grip on traditional media, videos of election officials allegedly stuffing ballot boxes at polling stations went viral online.