Jakarta: Governor Ahok's Blasphemy Conviction Sparks Protests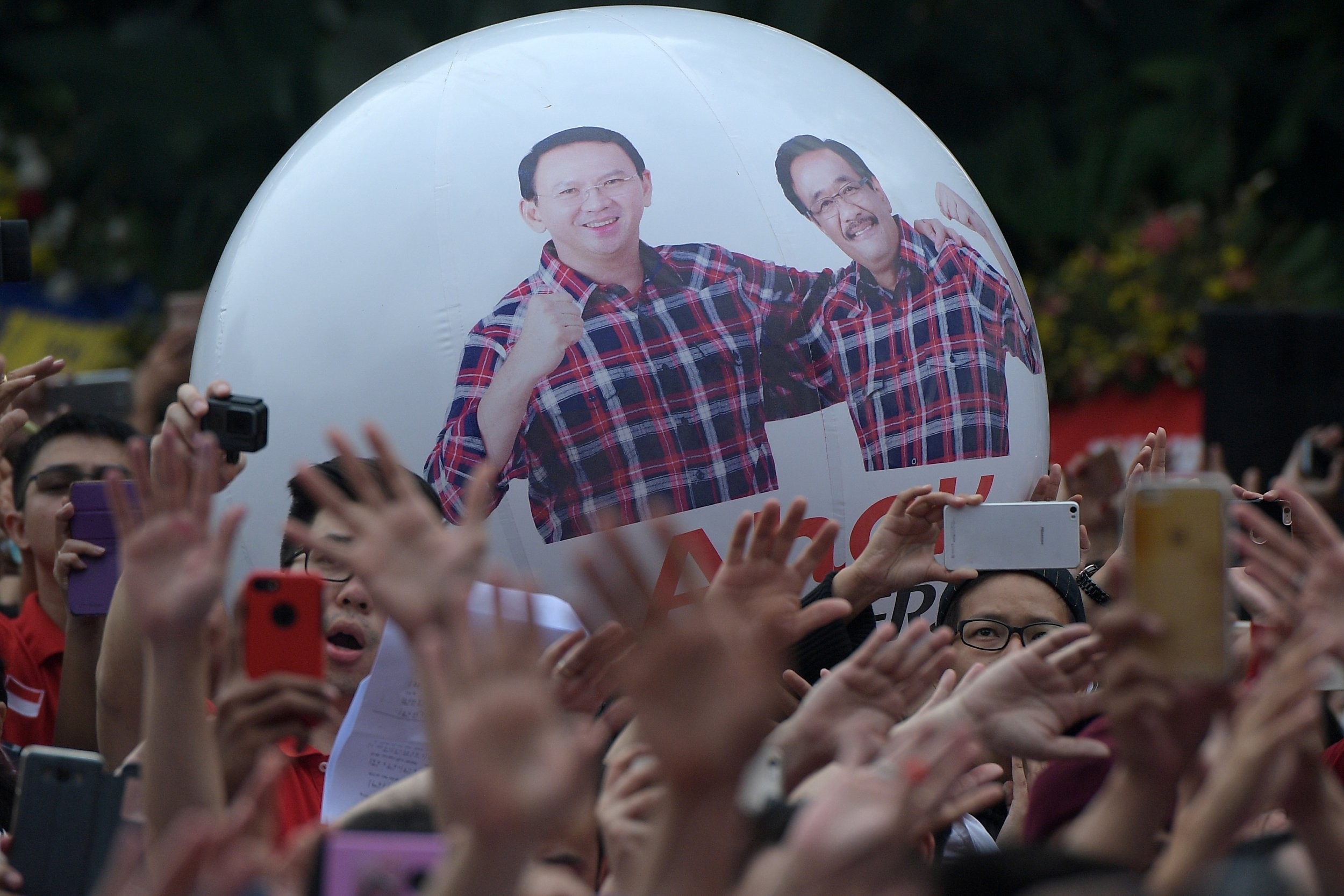 Protests broke out in Indonesia's capital city Jakarta Wednesday after its governor, B asuki Tjahaja Purnama, popularly known as Ahok, was convicted of blasphemy and jailed for two years.
An estimated 1,000 people protested against the ruling outside Jakarta's City Hall, the Guardian reported, dressed in Ahok's campaign colors of red and white. They sang the national anthem, while a short distance away, a coalition of hardline Islamist groups demanded a longer sentence.
"The sentence is too light, he should have got the maximum of five years, or better still be hung," said a protester, while other men cried that God would hand out justice, the BBC reported.
Ahok, an ethnic Chinese Indonesian and a Christian, was charged with blasphemy after remarks he made in a speech in September 2016, when he criticized his opponents for using a verse in the Koran to say that Muslims cannot be ruled by non-Muslims.
Radical Islamists led violent protests demanding Ahok's arrest, and up to 200,000 people marched against him in November 2016.
His two-year sentence was harsher than a normal sentence for somebody committing blasphemy—prosecutors originally asked for one year. The judge told the court Tuesday that Ahok was "found to have legitimately and convincingly conducted a criminal act of blasphemy, and because of that we have imposed two years of imprisonment. "
"The EU has consistently stated that laws that criminalize blasphemy when applied in a discriminatory manner can have a serious inhibiting effect on freedom of expression and on freedom of religion or belief," the EU delegation to Indonesia and Brunei Darussalam said in a statement on its website.
Ahok has apologized for his remarks but has maintained his innocence. The Jakarta Post condemned the ruling in an editorial titled "Injustice for Ahok" and said the judges ignored the state prosecutors' findings.
Indonesia is the most populous Muslim country in the world. The elections between Ahok and the Muslim candidate Anies Baswedan, who went on to win, and Ahok's trial, have been seen as a litmus test for religious tolerance in the country.
"Ahok's arrest is an ominous sign for the future of Indonesia as a whole," Carool Kersten, senior lecturer in the study of Islam and the Muslim world at Kings College London, told Newsweek. "It shows religious tolerance is slowly eroding."