Protests, Celebrations Planned For Martin Luther King Jr. Day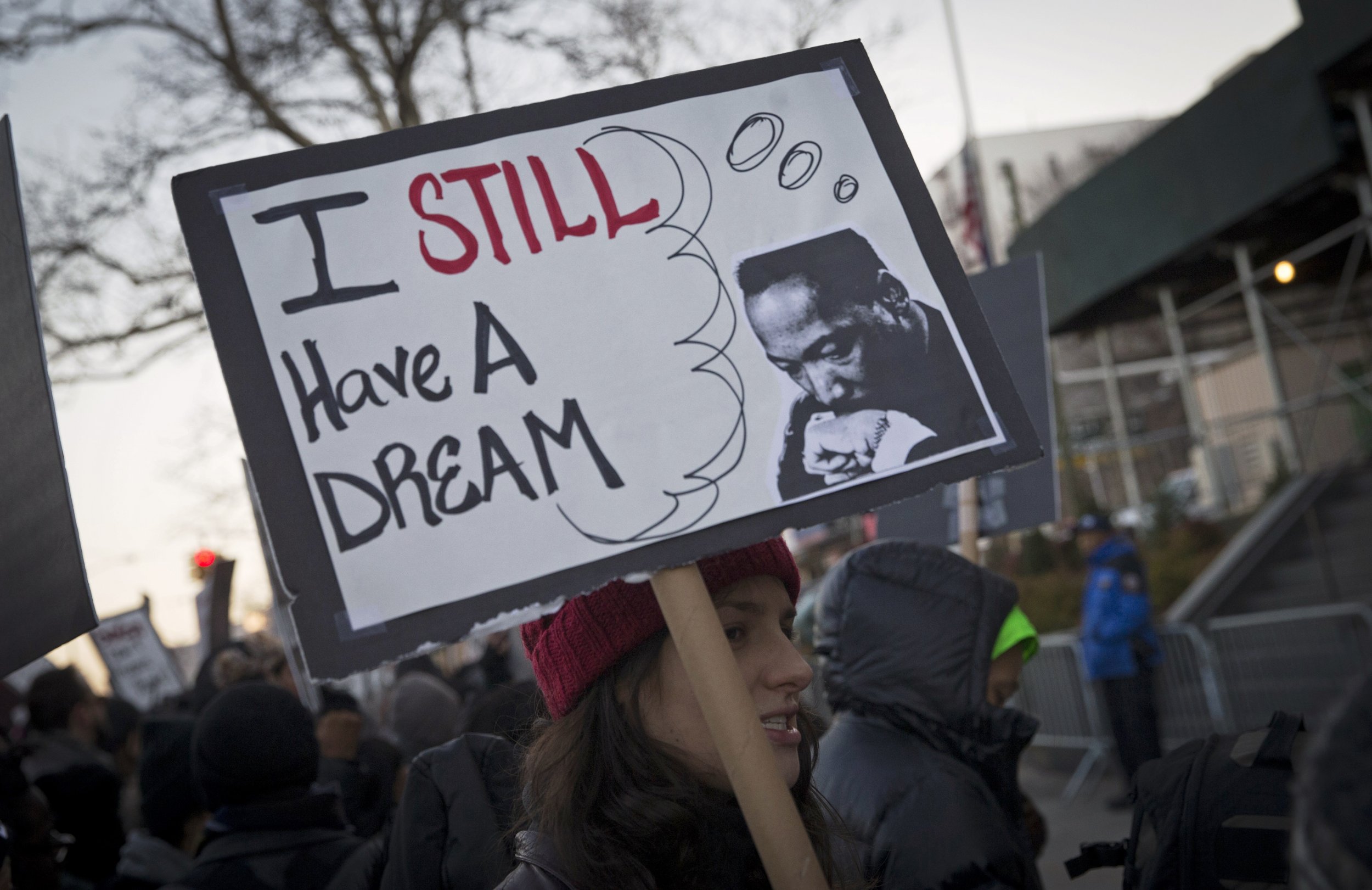 Cities across the country have events in store for Martin Luther King Jr. Day on Monday, from rallies and marches to educational programs for children and musical performances. See below for a list, which is by no means comprehensive, of MLK events.
Across the U.S.
Free tickets to the Oscar-nominated film Selma are being offered for students in seventh, eighth and ninth grade in many cities.
4 Mile Marches are being organized across the country for the victims of police brutality and for police accountability (find your city here).
MLK Day of Service lets volunteers help with various projects in honor of MLK (find projects here and here).
New York City
A #Dream4Justice March will take place from 12 p.m., with participants marching from 110th Street and Lenox Avenue to the United Nations.
Day of Service events throughout the city will take place in partnership with NYC Parks between 9 a.m. to 1 p.m. at various locations.
Freedom Songs and Stories With Tammy Hall is at 2 p.m. and 3 p.m. at Lefferts Historic House in Prospect Park.
The 29th Annual Brooklyn Tribute to Dr. Martin Luther King Jr. 2015 will take place at 10:30 a.m. at the Brooklyn Academy of Music (BAM).
Washington, D.C.
The 9th Annual Martin Luther King, Jr. Peace Walk and Parade runs from 11:30 a.m. to 2 p.m.
"Let Freedom Ring," a musical celebration of Martin Luther King Jr.'s legacy begins at 6 p.m. at the Kennedy Center.
Boston
The Museum of Fine Arts Boston hosts its Martin Luther King Jr. Day Open House between 10 a.m. and 4:45 p.m.
A Martin Luther King Jr. Day of Service and Celebration Tribute Concert begins at 1 p.m. at Historic Faneuil Hall.
Atlanta
The Dr. MLK Jr. National Holiday Commemorative March & Rally runs from 1:45 to 5 p.m., beginning at Peachtree and Baker Streets.
The Children's Museum of Atlanta's Martin Luther King Jr. Birthday Celebration is 10:30 a.m. to 1:30 p.m.
Chicago
The Chicago History Museum's Martin Luther King Jr. Day runs from 10 a.m. to 3 p.m.
African American Arts Alliance of Chicago's 4th Annual Dr. Martin Luther King Jr. Day Celebration is from 7 to 9 p.m. at the Black Ensemble Theater Cultural Center.
San Francisco
The Northern California Dr. Martin Luther King Jr. Community Foundation holds several events at various locations throughout the day for its March to Freedom: 50 Years from Selma to the Ballot, 8 a.m. to 7 p.m.
A Freedom Train will depart at 9:45 a.m. from San Jose's Caltrain station and head to San Francisco.
Los Angeles
The 30th Annual Kingdom Day Parade begins at 10:45 a.m.
The California African American Museum's annual "Cake for King" Celebration runs from 11 a.m. to 4 p.m.