Protests Didn't Cause New COVID-19 Cases, Study Says, as LAPD Reports Spike
A recently released study by the National Bureau of Economic Research (NBER) found no evidence that the recent racial justice protests have resulted in increased cases of COVID-19.
However, on Tuesday, the Los Angeles Police Department (LAPD) Chief Michel Moore directly blamed "challenging conditions officers faced" during the recent protests for a rise in coronavirus cases among the LAPD's workforce. In the last week, cases among LAPD workers rose from 170 to 206.
"This was a 21 percent increase and is about twice the rate of our historic rate of change over the history of the pandemic," Moore said, noting that most of the new cases occurred among officers and "dozens" of civilian employees, according to the Los Angeles Times.
Moore said only three LAPD employees have been hospitalized due to coronavirus and many others in the past have recovered and returned to work. He also said officers are instructed to wear face masks when possible.
The department has faced criticism for officers not using facemasks, though Moore said masks have made it difficult for officers to effectively communicate via radio. Lawsuits against the LAPD also claim that officers endangered citizens by packing them into crowded buses upon arrest.
But while L.A. County Public Health Director Barbara Ferrer called it "highly likely" that the county's recent rise in COVID-19 cases is linked to the ongoing protests against police brutality (along with an increase in social gatherings and reopened local businesses), the NBER's study challenges her assertion.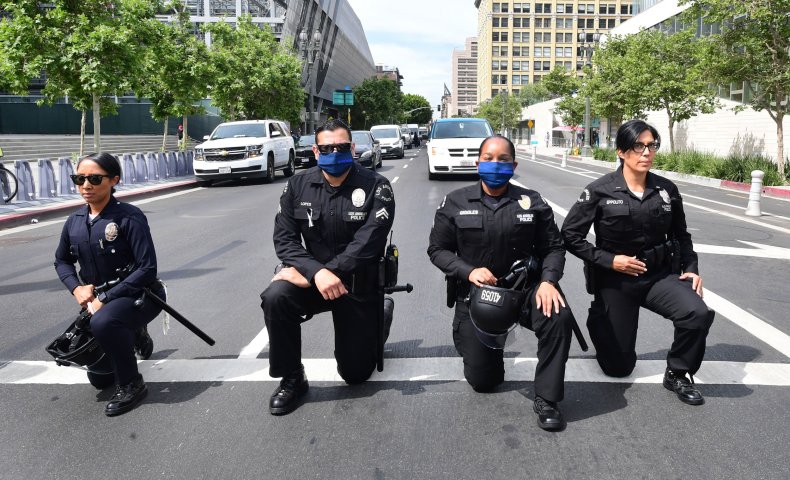 Protesters nationwide have taken to the city streets to protest the May 25 killing of Black Minneapolis resident George Floyd by a white police officer. But while some of the protesters have worn face masks, they've largely ignored the social distancing measure of maintaining six-feet between people.
To examine whether this might have contributed to COVID-19 outbreaks, NBER's study compared data from May 25 to June 20 in 315 cities. The data set included cities with large protests of over 1,000 attendees as reported by the media, cities with small protests of less than 1,000 attendees and cities with no protests whatsoever.
Using geographic cell phone location data collected by GPS via from SafeGraph, Inc., a company that tracks such data for over 45 million U.S. phones, NBER's researchers looked at the geographical location of a city's residents during protests and cross-referenced this with data on the local prevalence of COVID-19 following the protests, provided by the Centers for Disease Control and Prevention (CDC).
Since medical experts say that COVID-19 symptoms take anywhere from two to 15 days to manifest in infected persons, the study only looked at the growth of new COVID-19 cases from May 25 to June 20.
"We find no evidence that net COVID-19 case growth differentially rose following the onset of Black Lives Matter protests," the study's authors wrote, "and even modest evidence of a small longer-run case growth decline."
In short, the researchers theorized that a part of the population may have avoided protests completely thanks to traffic being re-routed around the marches, a reluctance to mixing in large groups amid the epidemic and an aversion to being potentially subject to anti-protest violence by police.
"These results make an important contribution not only to the current discussion around policies for controlling the spread of disease, but also to the understanding of human behavior of the general population during periods of civil unrest," the researchers wrote.