The French prime minister has announced that a planned fuel tax increase—the cause of riots and protests that have swept across the country—will be postponed by at least six months because the "unity of the nation" is at risk.
On Tuesday, after a weekend of rioting that saw President Emmanuel Macron's popularity plummet to its lowest-ever level, Prime Minister Édouard Philippe said the so-called carbon tax, which aimed to increase taxes on petrol and diesel, will no longer be introduced on January 1.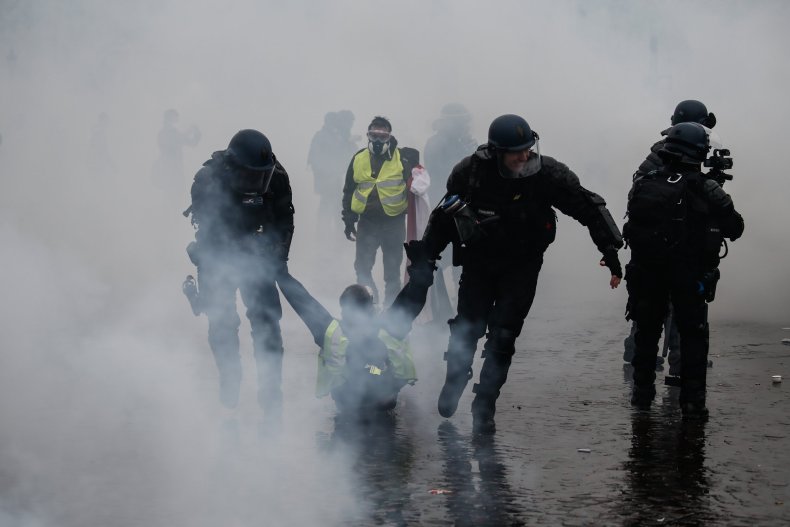 The demonstrations have been called the gilet jaunes (yellow vest) protests because of the vests that French drivers are obliged to carry in their cars.
"The French who have donned yellow vests want taxes to drop and work to pay. That's also what we want. If I didn't manage to explain it, if the ruling majority didn't manage to convince the French, then something must change," Philippe said in a televised address, according to Reuters.
The proposal was part of Macron's plan to tackle climate change and the nation's transition to green energy. But by disproportionately affecting poorer people—who pay a higher proportion of their income on fuel and often live in parts of the country where public transport is less accessible—it stoked the popular perception that the president is elitist and indifferent to the plight of "forgotten France."
The protests that ensued brought the worst violence that France has seen for half a century, with hundreds of arrests and at least 133 injured on Saturday alone. Shops were looted, national monuments were vandalized, and cars were set on fire.
Philippe said that someone would have "to be deaf or blind" to ignore the anger. Despite the government's conviction that the proposal is essential to combating climate change, "no tax deserves to risk unity of the nation," he said.
The same day, a new poll by Ifop-Fiducial for Paris Match and Sud Radio put Macron's approval rating at its lowest ever level. At 23 percent, it was down 6 points from the previous month and placed him at the same level as France's last president, François Hollande. When Hollande received the same score in late 2013, he was billed as the least popular leader in modern French history.
With the poll conducted late last week, it's not yet known how the weekend of riots and Macron's subsequent U-turn has played out with the electorate. But the move marks a departure from Macron's usual defiance, which some have said was teetering on arrogance.
"It's a first step that could have come weeks ago without all the rancor," said Benjamin Cauchy, one of the founding organizers of the Yellow Vests, according to Bloomberg. "But the French won't be satisfied with just crumbs. They want the whole baguette."