Protests Erupt Across Poland as President Signs Judicial Reform Law
Polish President Andrzej Duda has gone against the wishes of the European Union yet again by signing off on a law that will allow the government to choose a new Supreme Court chief.
Reuters reported that pepper spray was used against some demonstrators in front of the presidential palace. A spokesman from the Warsaw police said the use of force was necessary.
Warsaw wasn't the only city in which demonstrations were taking place; it was reported that rallies were taking place day and night in cities across Poland.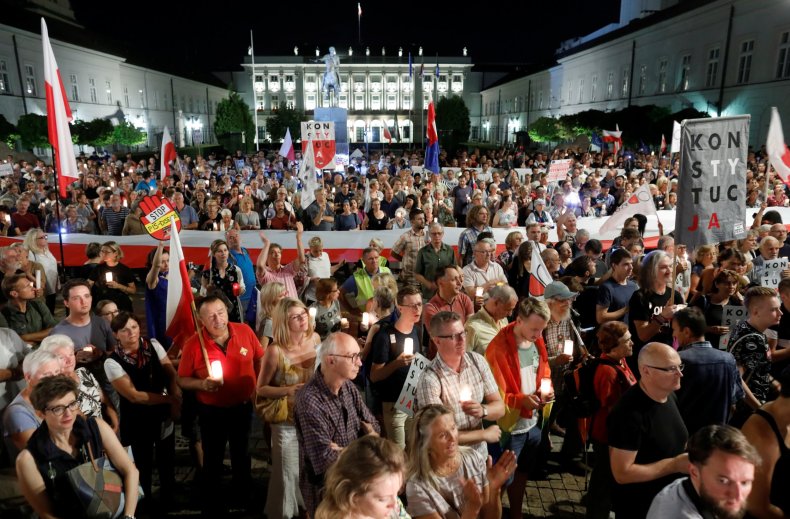 The latest law came about after Malgorzata Gersdorf, the chief judge, said she would not leave, because her term does not end until 2020, according to the constitution.
Twenty-two judges already were forced to retire after a previous law lowered the retirement age from 70 to 65. Judges older than 65 were given the chance to ask the president to continue their work by getting a doctor's certificate stating that they were mentally and physically fit.
The ruling Law and Justice party (PiS) defended its actions, saying that the judicial reforms were necessary in order to rid Poland of remnants of communist influence. Jarosław Kaczynski, the leader of PiS, said, "Without judicial reforms, we cannot rebuild the Polish state so that it serves its citizens."
The EU entered a long battle with PiS when it took power in 2015 and immediately began overhauling the country's courts.
In December 2017, the European Union triggered Article 7, which would serve as an initial warning to Poland, followed by taking away the country's voting rights in the European Union and also imposing sanctions.
All EU members must vote unanimously in order for sanctions to go into effect. But Hungary's Prime Minister Viktor Orban sided with Poland, saying he would veto any sanctions the European Union may want to impose.
After large demonstrations in July 2017, Duda went against his party and vetoed two bills that parliament had passed, to force all of the Supreme Court judges into retirement.
At the time, Gersdorf met with Duda following his announcement and was open to working with him. "We are at the president's disposal and ready for cooperation in drafting the new law. The atmosphere was very friendly, and we are very happy," Gersdorf said.