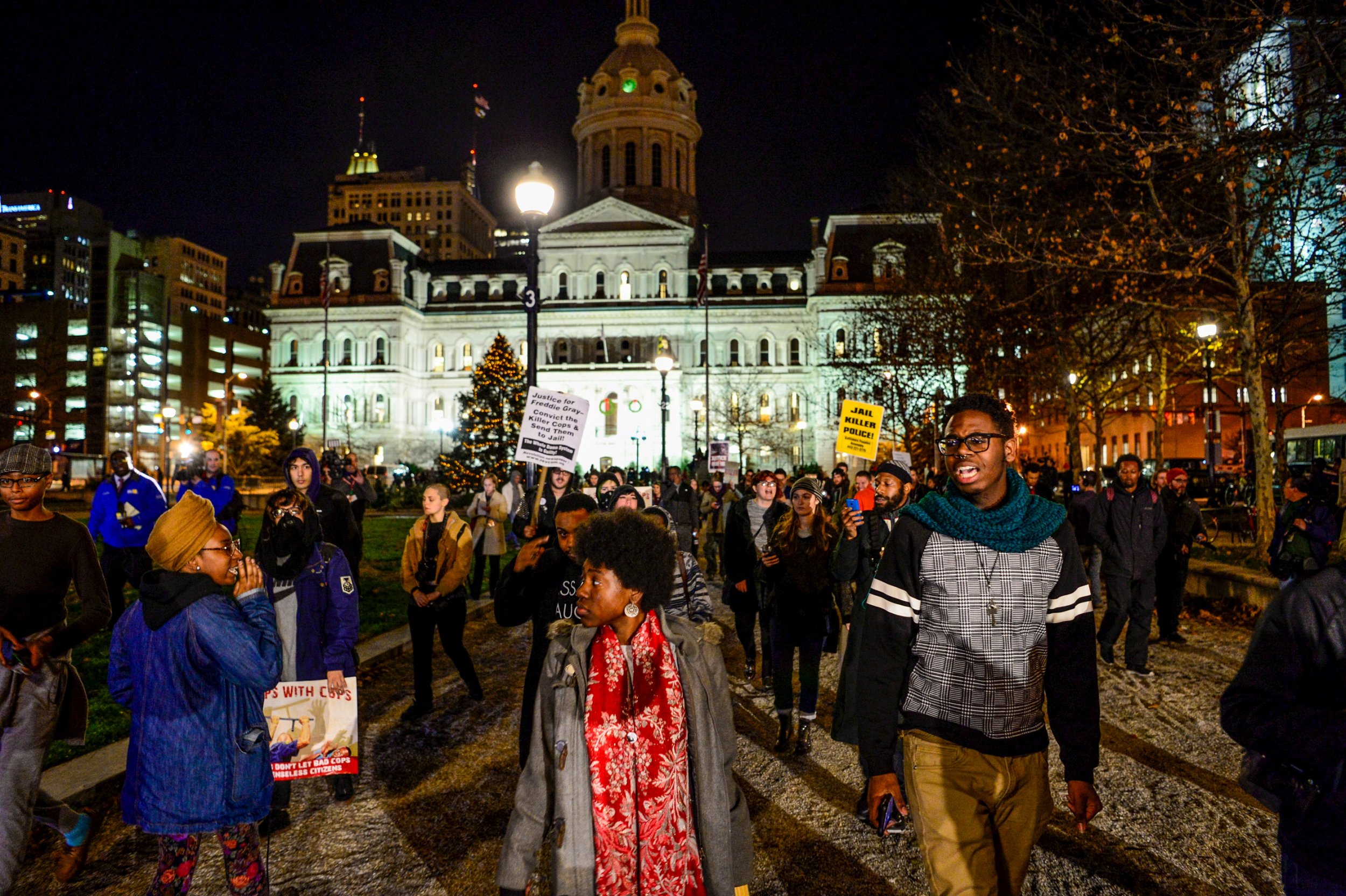 Protesters took to the streets of Baltimore on Wednesday evening after a court declared a mistrial for a police officer charged in connection with Freddie Gray's death.
Gray, 25, died of a spinal injury after being arrested on April 12. He was carrying a knife at the time of his arrest, which officers alleged was an illegal switchblade, though carrying such a knife is legal in Maryland. As a result, State Attorney Marilyn Mosby determined that Gray's arrest was illegal.
William Porter was the first of six officers to be tried in connection with Gray's death. Porter's case focused on Gray's interaction with him. Mosby alleged Gray asked Porter for medical attention twice, and that the officer declined to provide help. Mosby's investigation also found Gray was sitting on the floor of the police wagon and Porter moved him to the wagon's bench but failed to strap him in.
A jury deliberated at length as to whether Porter could be held responsible for involuntary manslaughter and assault, but emerged deadlocked. As a result, the judge declared a mistrial.
"My reaction is it is part of this process," Police Commissioner Kevin Davis said of Porter's case being declared a mistrial. "This great American criminal justice process...Baltimorians need to know that their police department, of all groups of people, have to respect the criminal justice process and we do." Porter may be retried. In the meantime, he remains suspended without pay.
"I have also been informed that the Baltimore City State's Attorney's Office intends to retry Officer Porter," Maryland Congressman Elijah E. Cummings said in a statement. "With the eyes of the world on Baltimore City, we must ensure that any protests that take place are peaceful, and we must ensure that the process of healing our community continues."
Authorities braced for protest following the announcement of a mistrial. "If some choose to protest, they must peacefully demonstrate," Mayor Stephanie Rawlings-Blake said at a press conference. "But I also want to be very, very clear about any potential disturbances in our city: we are prepared to respond…I urge everyone to remember that, collectively, our reaction needs to be one of respect."
Across Baltimore, people marched in the streets to protest the announcement, stopping traffic at various intersections. Property damage was not reported as of Wednesday night, but during April's protests following Gray's death, protesters ransacked business and set buildings on fire.
A handful of arrests were reported during the protests, though the Baltimore Police Department has yet to confirm exactly how many people were arrested and charged throughout the evening.
One of those arrested identified himself on social media as Kwame Rose, an activist and community organizer.
An officer involved shooting was reported during the protest, however, the authorities have not linked it to the demonstrations. Police shot one of two suspects after responding to a call about a delivery man being shot after 6 p.m. The suspects were armed and fled after police encountered them. Authorities believe the delivery man was shot during an attempted robbery.