Protests Erupt During Trump's First Visit To Hawaii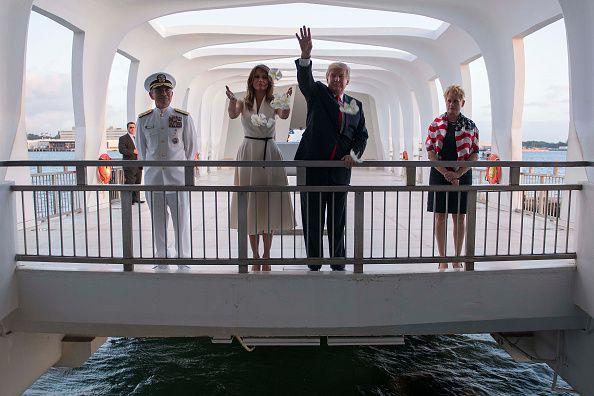 President Donald Trump's trip to Hawaii caused disruptive protests against his immigration policies on Friday.
The president was greeted by crowds of protesters, Hawaiians holding signs, beating drums, and cheering Hawaii native and former President Barack Obama, the Los Angeles Times reported.
A large group of demonstrators gathered outside the Capitol to hold posters like "Welcome to Kenya" and "Aloha also means goodbye." Many also chanted against Trump's travel ban, which was shot down by a Honolulu-based judge for the third time in October.
"The idea of the aloha spirit is that we welcome everyone who comes here. But when there's a leader whose whole M.O. seems to be making America a less welcoming place for whole groups of people, that's where we need to draw the line," said Kaniela Ing, a Democrat from the state's House of Representatives, told the LA Times. "He's simply not welcome."
Despite the protests, a mix of military service members and residents cheered the president when he first landed on the island.
This is the first time the president has visited Hawaii since his inauguration and visited the floating memorial of the Pearl Harbor attack. He and First Lady Melania Trump both laid a wreath of white flowers on the water.
Trump also met with the governors of Hawaii, Alaska, Guam, America Samoa and the Commonwealth of the Northern Mariana Islands to discuss nuclear threats from North Korea. Officials from North Korea have threatened they could bomb Guam, and Trump has suggested the U.S. might attack North Korea.
There has also been a lot of tension in Hawaii as the state begins testing a statewide bomb system that has not been used since the Cold War, just in case North Korea figures out how to hit the islands with nuclear missiles.
The President will leave Hawaii on Saturday to embark on his five-nation tour of Asia to meet with allies in the regions. During his 22-day trip, he will visit Japan, Korea, China, Vietnam, and the Philippines.