Protests Over Olympic Eviction in Rio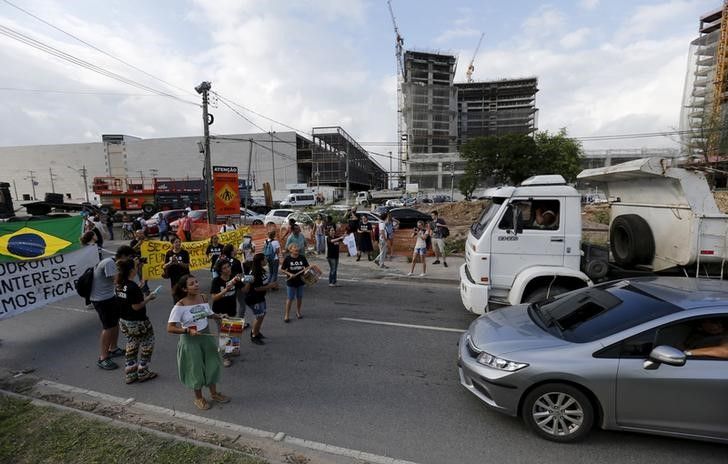 RIO DE JANEIRO (Reuters) - Residents of a squatter settlement in Brazil marked for demolition to make way for the Olympic Park protested against eviction on Wednesday, blocking a main road into Rio de Janeiro during morning rush-hour traffic.
Cars were gridlocked for at least five kilometers in Rio's southern neighborhood of Barra de Tijuca after around 30 residents stood in the road, holding aloft banners, singing and hitting pans.
The protesters are the holdouts of Vila Autodromo, a squatter settlement, or favela, located beside the Olympic Park, where more than 20 sports will be held during the games in 2016.
More than 90 percent of the favela residents have already moved after pressure and various offers from local government, but around 50 families refuse to leave despite irregular access to basic services like water and electricity.
Rio's City Hall says the land on which Vila Autodromo is located is needed to build an access road to the park. Residents suspect the land will be used to build luxury apartments after the games are finished, as is the plan for other Olympic developments such as the Athletes Village.
Although small, Wednesday's protest was one of the first specifically against the Olympics, now 500 days away.
The run-up to the World Cup last year was marked by the largest street protests in decades by Brazilians angry about the billions spent to host the event. While few are predicting similar demonstrations against the Olympics, social discontent is bubbling just below the surface.
"City Hall has never had any patience to properly negotiate with us. Now it's time to shout about our pain, our exclusion," Inalva Brito, 69, who has lived in Vila Autodromo for 40 years, told Reuters.