Protests and PrEP: Highlights From the Democratic LGBTQ Equality Town Hall
It was an evening marked by protests and a call for greater access to HIV/AIDS medications as CNN and the Human Rights Campaign Foundation (HRC) hosted a town hall October 10 featuring nine Democratic presidential candidates answering questions concerning issues that face the LGBTQ community in America. The meeting took place at the Novo in Los Angeles, California.
Each candidate was allotted back-to-back 30-minute slots for their interviews. Bernie Sanders was unable to attend after his recent heart attack. Andrew Tang and Tulsi Gabbard also were not in attendance due to scheduling conflicts.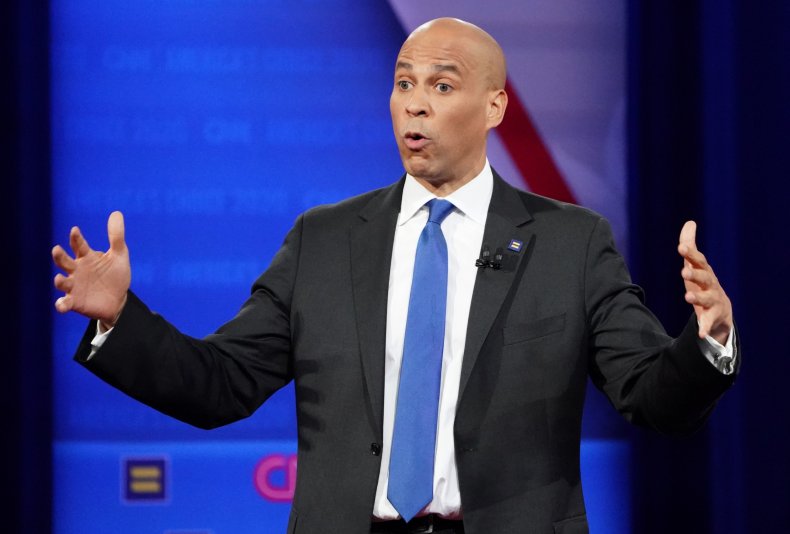 Cory Booker (D-N.J.) made multiple references to Martin Luther King and other civil rights leaders as he endorsed his personal belief that love is the answer.
"Love is not a sentiment," Booker said. "It is not saccharine, it is not anemic. If your rights are denied, my rights are denied."
Booker also said that if he becomes president, he would elevate an office on hate crimes.
"We need a Department of Justice that recognizes this as a problem and investigates hate crimes," Booker said, "but we can't stop there." He said that as president, he would create a Department of Education that would "take the steps necessary to protect all children in America."
When asked about Title IX, which forbids discrimination on the basis of sex, Booker said he would support it and that he would "change the Trump administration's guidance back to Obama's guidance."
Booker also talked about the importance of paid parental leave for all new parents, especially for same-sex male couples for whom there is a disparity when compared with differently sexed or same-sex female couples.
"I will be a champion of making sure that we have paid family leave," Booker said. "Afghanistan and the Congo have paid family leave."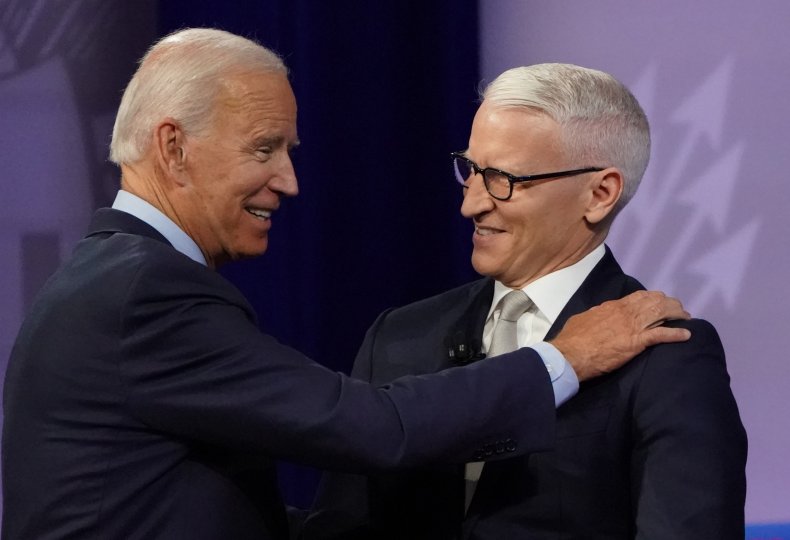 Former Vice President Joe Biden credited the way he was raised for his lack of prejudice against LGBTQ people.
"It's basic," Biden said. "It's love."
Biden said that violence and crimes against LGBTQ people are a civil rights issue.
"We should be focusing on how to enforce that," he said, adding that early education is key to reducing ingrained hatred.
"The American people are better than we give them credit for, but we allow the homophobes to control the agenda," Biden said.
When asked if the U.S. should continue to provide aid and trade with countries who discriminate, Biden said he would curtail foreign assistance for countries that engage in that kind of behavior. He used Saudi Arabia as an example.
"Let me tell you something," Biden said to moderator Anderson Cooper. "Those people have very little redeeming social value."
"Culture... is never a rationale for pain," Biden added.
Biden also said that, as president, his state department will have a special office devoted to promoting LGBTQ rights around the world.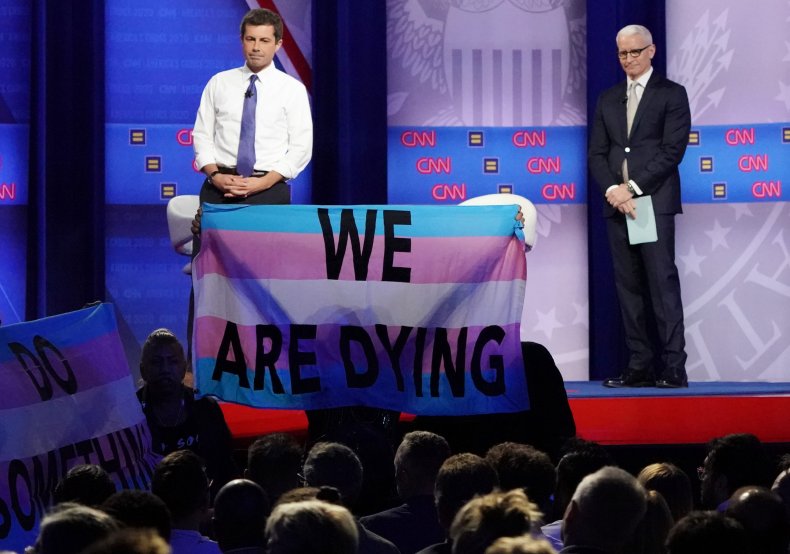 Mayor Pete Buttigieg of South Bend, Indiana received a standing ovation upon his entrance. Then protesters came through, carrying a trans flag that read, "We are dying." Cooper calmed the crowd down by saying, "I agree."
Buttigieg responded to the demonstrators when he took the floor.
"Our country is so torn apart and so fragmented," he said, "and here we have the LGBTQ+ community that is in every state. We are everywhere. We are family. There is no right or wrong way to be gay, queer or trans."
When asked if legal consequences for harassing young LGBTQ people would help prevent suicides, Buttigieg said, "We need to make sure that our legislation reflects our values as a country and an insistence that no one be singled out."
He added that he would "do the opposite of what this president is doing" and make it easier for people to get help. Buttigieg also endorsed a three-digit suicide hotline that everyone could remember.
Buttigieg is in favor of a shorter deferral window for gay men to donate blood.
"My blood's not welcome in this country," he said, "and it's not based on science. It's based on prejudice." Buttigieg is the first openly gay presidential candidate in U.S. history.
Cooper also brought up Buttigeig's Christian faith by asking if he believed God made him gay.
"That decision was definitely made way above my pay grade," Buttigieg said.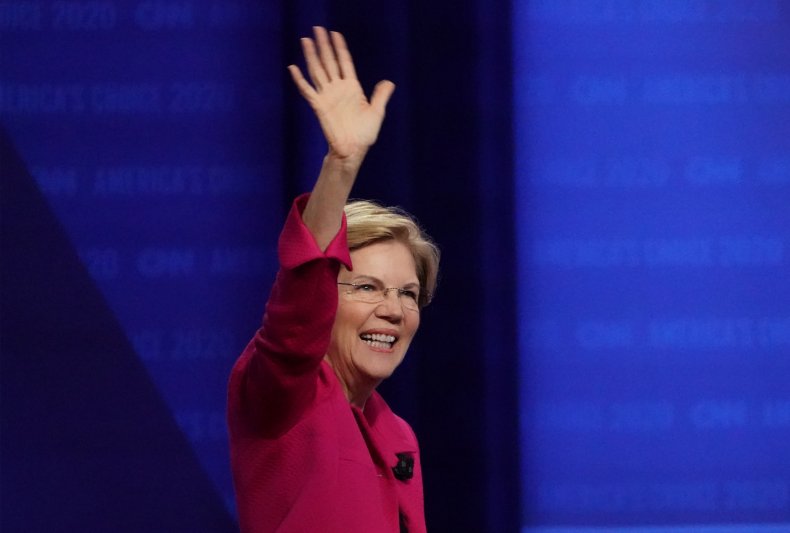 "We're gonna have some fun!" Senator Elizabeth Warren (D-Mass.) said as she took the stage to a boisterous crowd. Warren, who seemed excited, used her time to take a couple of digs at other politicians.
An audience member asked what she would say to a person who said that, to them, marriage meant one man and one woman.
"I assume it's a man asking the question," Warren said. "I would say, 'Well? Just marry one woman—assuming you can find one."
"We've had some Secretaries of Education who have been better," Warren said while discussing her plans for public education, "and we've had one who's been a whole lot worse. Her name is Betsy DeVos. And when I'm president, she'll be gone."
Warren also supports teaching children about gender and gender identity in public schools.
"I believe this about teaching children about the world. We're teaching them about people," Warren said. "I strongly support this in age-appropriate ways from when they're very young."
Warren also voiced her support for marriage equality.
"We believe that equal means equal, everywhere," she said. "I want our Republican friends to hear that in the U.S. Senate. I want them to know that people vote based on LGBTQ issues."
"I am willing to push Mitch McConnell right now," Warren continued, "but my main goal is to make sure he is not the majority leader January 1."
Warren also said she regrets saying transition-related surgery for transgender inmates was a poor use of tax dollars saying, "It was a bad answer."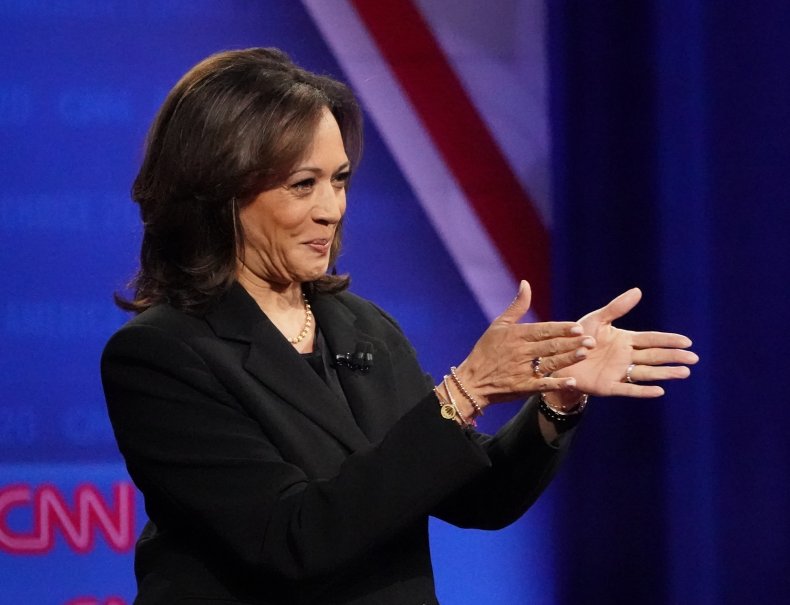 Upon taking the stage, Senator Kamala Harris (D-Calif.) told moderator Chris Cuomo, "My pronouns are she, her and hers."
"Mine, too," said Cuomo.
Cuomo later apologized for his comment on Twitter.
How Harris would ensure a discrimination-free workplace came up first.
"We are still at a point in this country where people are treated differently under the law, based on sexual orientation," Harris said. "How can we ever defend that LGBTQ brothers and sisters are treated differently under the law when they walk into their place of work?"
"I will stand proudly and strongly until we reach full equality for everyone," Harris added.
When queried about same-sex marriage, Harris brought up her history with the LGBTQ community.
"Back when Democrats were talking about civil unions in 2004," she said, "I was performing marriages." She stated that loving relationships must be respected and encouraged.
"Any one day in the life of someone who is denied justice is a very long time," Harris said.
She pointed a finger at the White House when asked about addressing the high suicide rate among LGBTQ youth.
"When I am elected," Harris said, "Pence will no longer be vice-president."
"The real strength of a leader is not based on who you beat down," she continued, "but who you raised up."
Harris also connected homelessness with affordable housing. Her plan is to give a tax credit to anyone spending more than 30 percent of their income on rent and utilities.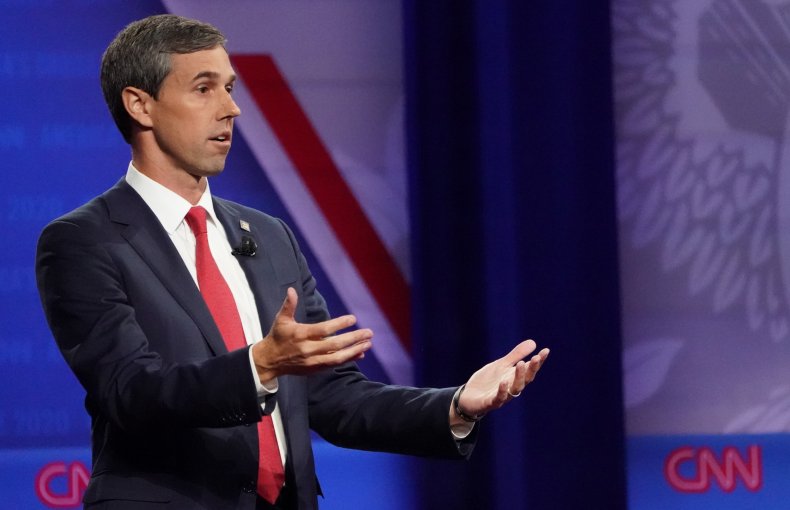 Beto O'Rourke (D-Texas), who has proposed a gun buyback in the past, said that gun control was a key factor in preventing violent crimes against LGBTQ people.
O'Rourke talked about the need to disarm, including background checks, red flag laws and ending the sale of weapons designed for usage on the battlefield.
"We must buy back each and every one of them because they are potential weapons of terror," O'Rourke said.
The candidate also came out against conversion therapy.
"It should be illegal," O'Rourke said. "We should seek to outlaw it everywhere in this country." He added that it was "tantamount to torture."
But O'Rourke's comments were interrupted by Blossom Seagrass, a black trans woman who took the microphone during another audience member's question.
"Black lives matter!" she yelled. "Black lives matter!"
Moderator Don Lemons said, "The reason we are here is to validate people like you."
"Your actions have to speak louder than words," Seagrass said.
Lemons reminded her that they were under time constraints.
"That's how anti-blackness works," Seagrass said. "The erasure of black trans people."
O'Rourke thanked Seagrass and commended her for her actions.
"That's what democracy in America looks like," he said.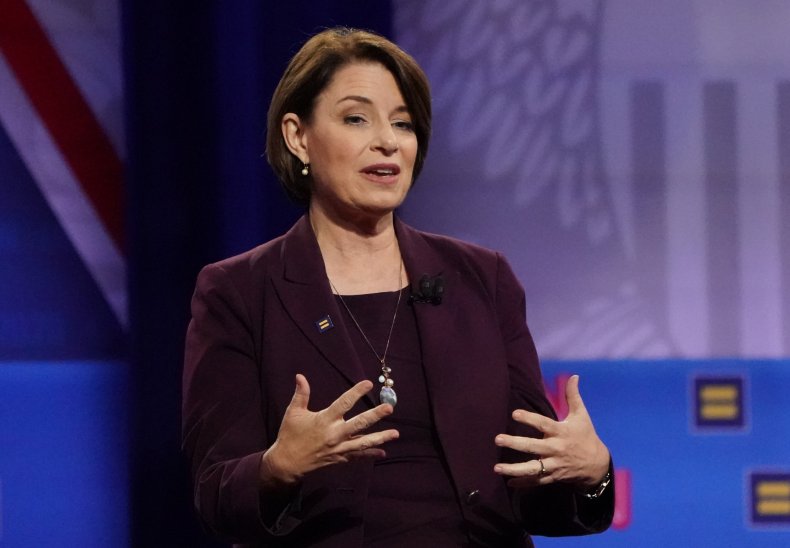 Senator Amy Klobuchar (D-Minn.) introduced the first trans member of the Minneapolis City Council, Andrea Jacobs, and the first openly gay member of Congress, Angie Craig, who were in the audience.
She said that she would have no problem crossing the aisle to get the Equality Act passed.
"It is sitting in the graveyard of legislation that is Mitch McConnell's desk," Klobuchar said.
Klobuchar said that voters can make the difference in getting the legislature passed.
"The best way we're going to get this done is by changing the senate and winning the presidency. If we can flip five Senate seats," Klobuchar said, "we can pass the Equality Act the next day."
Klobuchar talked about her leadership in getting the Safe Harbor Law passed, which allows people who have been trafficked to get a second chance in society. However, she said she was not in favor of decriminalizing all sex work, even though she was willing to discuss it.
Her opinion on President Trump was clear.
"We have a President in the White House who spends his time dividing people any way he can," Klobuchar said.
As she approached the end of her allotted time, she took a swipe at Sarah Palin while talking about cheaper drugs from other countries.
"In my state of Minnesota," Klobuchar said, "we can see Canada from our porch."
She emphasized that she has "a really great plan with deadlines" that explained how she would pay for things.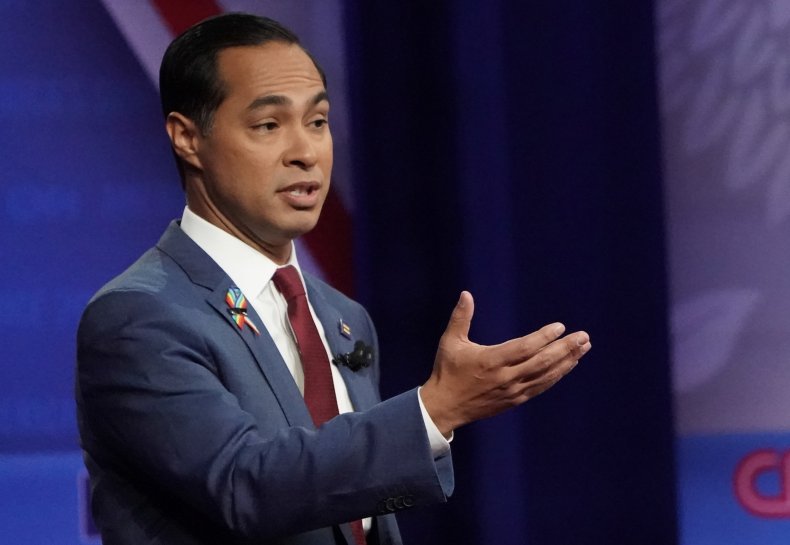 Former Secretary of Housing Julian Castro advised LGBTQ members whose family members are Trump supporters to be honest about how that vote impacts them.
"I think the most powerful thing folks can do is share their experience," Castro said. "Speak their truth. Share their heart."
Castro said he would have a group of trans people advise him on policies, stating he would create an "administration that looks like America" that is inclusive and listens to transgender individuals.
He also said he would make foreign aid contingent upon countries improving upon their human rights record, including how the LGBTQ community is treated.
Religious organizations would no longer get funding if they used their belief systems to discriminate against LGBTQ people.
"I don't believe that folks should be getting funding if they are doing that," Castro said.
In the first 100 days of his presidency, Castro said he would bring back the non-discrimination policies the Trump administration has rolled back. He also said he believes current Secretary of Housing Ben Carson should resign, as his recent comments show that he "can't serve everybody."
"A president cannot do this alone," Castro said on the topic of gun control. "If we're going to pass common sense gun safety legislation, it doesn't stop at the election." He promised to leverage the strength of the LGBTQ community to change current gun laws.
Castro believes the U.S. can end homelessness by 2028 by dedicating resources to create housing and housing opportunities for the homeless and by enforcing anti-discrimination laws that affect the LGBTQ community.
His views on the LGBTQ community have been shaped by his faith.
"I believe in a God that sees us all as worthy and having dignity and deserving of the same things," Castro said.
Businessman Tom Steyer, the final candidate of the evening, placed himself on a first-name basis with the audience right away.
"Call me Tom," he said. "Everybody does."
Steyer said that 12-year term limits for Congress members and senators would bring in a "wave of new blood."
"We have a broken system," Steyer said more than once.
He also believes that the government should finance research to cure HIV/AIDS because big pharma is involved in governmental affairs.
"We're going to have to break, ultimately, the power of our corporations to own our government and control what happens to us," Steyer said.
He said his administration would prosecute those who committed hate crimes against LGBTQ individuals, calling such incidents "a straightforward attack on humanity itself, to kill somebody for who they are."
Steyer also wants to undo the ban on transgender military members and on visas for same-sex partners of foreign diplomats. He would also appoint LGBTQ people to high offices within his administration "as an example of what we are."
One of his concerns is protecting LGBTQ youth, particularly in the area of mental health.
"Anyone who doesn't want to do whatever it takes to protect the young people must really search their soul" to find out what their basic values really are.