Proud Boy Allegedly Hurled Chair, Engaged with Police for Nearly An Hour in Jan. 6 Riot
A member of the far-right Proud Boys was arrested on January 13, 2022, after allegedly participating in the January 6 Capitol Riots, according to the Department of Justice.
Alan Fischer was among the three men arrested in Florida for their alleged breaching of the U.S. Capitol. The Department of Justice cites that Fischer was from Tampa, with the other two defendants, Zachary Johnson and Dion Rajewski, being from St. Petersburg and Largo, respectively. All three men are charged with civil disorder. Fischer made his first court appearance at the Middle District of Florida on January 14.
The full criminal complaint and affidavit made against Fischer was also released, with the events proceeding being alleged. The military veteran and aspiring model was said to be spotted at the U.S. Capitol building moments before the riots occurred, according to HuffPost. After bypassing officers with the crowd, he had arrived at the west side of the Capitol building and positioned himself near the building's interior, otherwise known as the Tunnel, the affidavit says. He was among the protesters who pushed against the officers at the entryway of the Tunnel, while also passing back shields taken by other rioters. He had done this for over 45 minutes and encouraged nearby protesters to do the same.
After being pushed out of the Tunnel, he allegedly returned to the west wing of the Capitol building. The affidavit claims that video footage shows him "throwing an orange traffic cone and chair in the direction of the officers" stationed nearby. Shortly afterward, he seemed to return "with what appears to be a pole in his hand, which he can be observed throwing at the line of officers."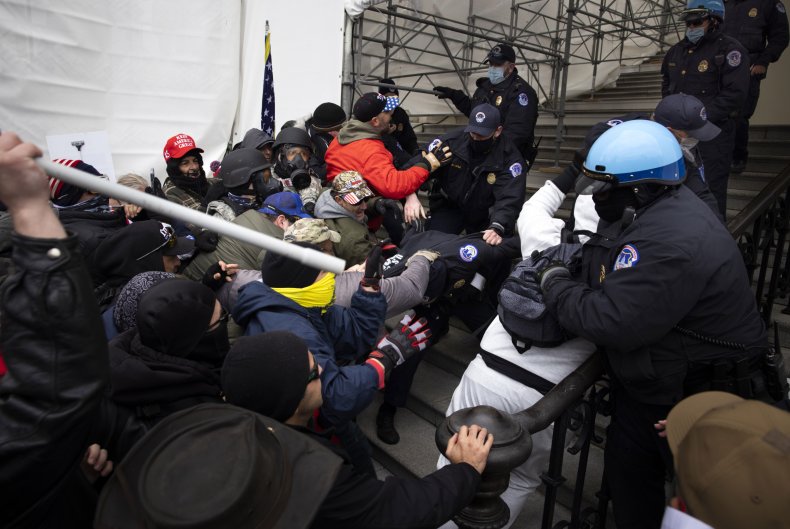 Fischer had gone largely undetected as a supposed participant in the Capitol riots. However, HuffPost reported that he was spotted by civilian investigators that used facial recognition software and old modeling photos to determine his identity. These investigators were part of the Sedition Hunters, a group that claims on their website to "examine thousands of hours of videos and hundreds of images searching for individuals who committed crimes on Jan 6, 2021, at the United States Capitol."
Along with civil disorder, Fischer is charged with assaulting, resisting, or impeding certain officers with a dangerous weapon, entering restricted buildings or grounds, and violent entry and disorderly conduct on Capitol grounds. This is likely in reference to his alleged incidents with the chair and the pole. Fischer is among the more than 725 people who have been arrested for participating in the Capitol riots on January 6, 2021, according to the Department of Justice.