Proud Boys Infighting Sees Leading Member Form Breakaway Group to Fight 'White Genocide'
Infighting has broken out between two leading members of the Proud Boys group, with one announcing he will be taking control of the far-right organization to address "White Genocide" and the "failures of multiculturalism."
White nationalist Kyle Chapman—who set up the "tactical defense arm" of the Proud Boys, the Fraternal Order of Alt-Knights (FOAK)—has criticized the group's chairman Enrique Tarrio while announcing a so-called rebranding of the organization.
Writing on encrypted messaging app Telegram, Chapman used racial slurs against Tarrio and other neo-Nazi rhetoric while announcing that the "grifting leaders" had been deposed and the group would be renamed the Proud Goys. The term "goy"—a Hebrew word for a non-Jewish person—is sometimes used by white supremacists to signal their anti-Semitic beliefs, according to the Southern Poverty Law Center.
"Due to the recent failure of Proud Boy Chairman Enrique Tarrio to conduct himself with honor and courage on the battlefield, it has been decided that I Kyle Chapman reassume my post as President of Proud Boys effective immediately," Chapman wrote. "Our logo will forthwith be changed to reflect the core beliefs of Proud Boy members.
"We will no longer cuck to the left by appointing token negroes as our leaders. We will no longer allow homosexuals or other 'undesirables' into our ranks. We will confront the Zionist criminals who wish to destroy our civilization.
"We recognize that the West was built by the White Race alone and we owe nothing to any other race."
Chapman, who goes by the nickname "Based Stickman" after he was photographed beating a protester with a stick at a Trump rally in Berkeley, California, in March 2017, went on to say the Proud Goys would fight for white people to "have their own countries where White interests are written into law."
The message was posted one day after Chapman criticized Tarrio's "inaction and fear" over a video that appeared to show the moment Tarrio and two other people were injured during a knife attack in Washington, DC in the early hours of November 4.
The Proud Boys, who are listed as a hate group by the Southern Poverty Law Center, frequently deny that they are a white supremacist organisation.
Tarrio nor any of the other leaders has not publicly addressed the statement from Chapman. The Proud Goys name appears only in Chapman's social profiles.
Elsewhere, the Proud Boys and other far-right groups are planning a "Million MAGA March" in Washington on Saturday in support of President Donald Trump's baseless claim that he lost the election because of voter fraud.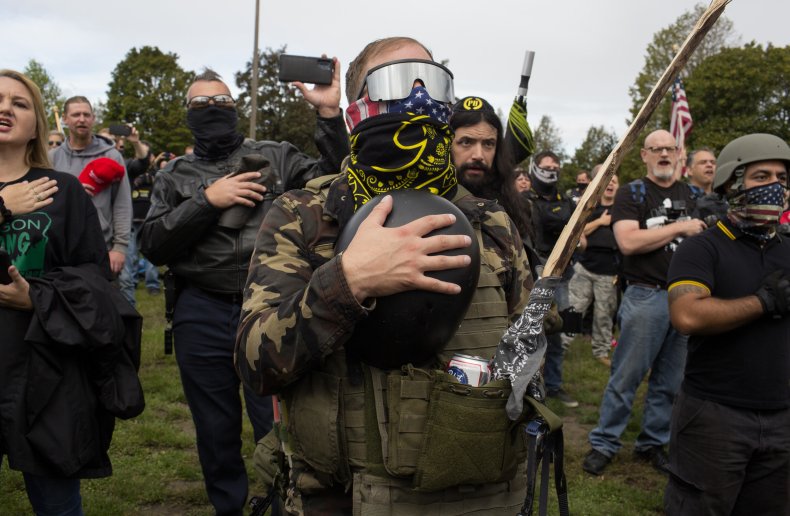 Correction 11/12/20, 3:05 a.m. ET: This article was updated to remove a picture of a man which was incorrectly captioned as being Kyle Chapman.