Proud Boys Chair Enrique Tarrio Asks for Donations Before Turning Self in To Be Jailed
Enrique Tarrio, leader of the right-wing extremist Proud Boys group, asked for donations in a final plea on Monday before he surrendered in Washington D.C. to serve a five-month prison sentence for burning a Black Lives Matter flag and possessing two high capacity firearms ahead of the January 6 attack at the U.S. Capitol.
Hours before beginning his prison sentence, Tarrio posted a lengthy message to his followers on Telegram along with a link to a donation website called the "Tarrio Support Fund," WUSA-TV reporter Eric Flack tweeted. In his statement, the far-right leader said he feels "at peace" with going to prison, and directed a message toward his followers to "keep protesting."
"First I want to thank the thousands of true American patriots who have offered their prayers and support as I embark on this next chapter of my life. I am not worried and feel at peace with what I must do over the next five months," Tarrio wrote. "My message to them is simple, don't give up the ship. Keep holding power to account and never back down. They want to kill you, our patriotism, and cause the total erasure of our culture," Tarrio added.
The statement continued by saying that Tarrio spent his final days before being jailed with family and friends along the East Coast, while adding that a donation website has been set up to help them out "during this difficult time."
"The injustice has left us with no other choice but to turn to the public for support," the description for the donation website reads. "We have also begun to file lawsuits to right all the wrongs that have been committed against our family. We ask for your help, support, and prayers through these dark times."
Tarrio's message comes just two weeks after a court sentenced him to prison for tearing down a Black Lives Matter banner from a historic Black church in downtown Washington D.C. and bringing firearms to the Capitol.
The Proud Boys leader was arrested in the nation's capital on January 4, two days before the deadly riot in an attempt to stop the certification of the 2020 presidential election took place. At that time, officers found two high-capacity magazines emblazoned with the Proud Boys logo in his bag and ordered him to stay away from Washington to prevent violence.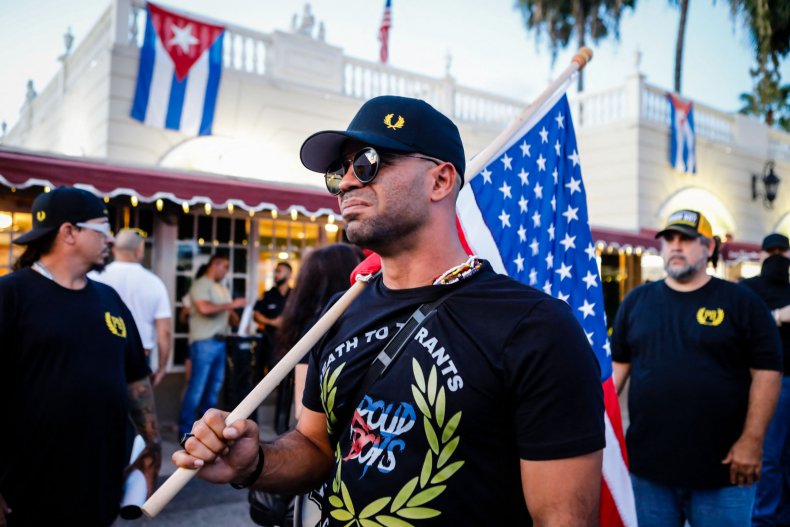 Authorities also said Tarrio stole the Black Lives Matter banner from the Asbury United Methodist Church on December 12 and then set it ablaze using lighter fluid and lighters. He later told the Washington Post that he didn't regret burning the banner because he felt that BLM "has terrorized the citizens of this country."
The Rev. Dr. Ianther Mills, senior pastor of the church, told the judge during Tarrio's hearing last month that it was an "act of intimidation and racism" that caused "immeasurable and possibly irreparable harm" in the community.
"His careless act of violence and hatred, targeted at a congregation of individuals with a lived history of social and racial injustice, had the presumably desired effect," she said. "Asbury was forced to reckon with the very tangible evidence that we continue to live in a world where people radicalize hate based upon race and skin color."
Tarrio told the court that he was "profusely" sorry for his actions, calling them a "grave mistake."
"What I did was wrong," he said during the hearing held via videoconference. He pleaded guilty to destruction of property and attempted possession of a large-capacity ammunition feeding device.