Police Officer Who Funded 'Violent' Activities by Far-Right Proud Boys Group Goes Unpunished
A police officer who was found to have been a paying member of the far-right Proud Boys group will face no disciplinary action after it was ruled he did not break any department policies.
An investigation was launched into officer Kevin P. Wilcox, of the East Hampton police department in Connecticut, after the Lawyers' Committee for Civil Rights Under Law group expressed concerns about his online activity to the force.
The civil rights group accused Wilcox of making monthly transactions to the hate group which helped them raise money to commit "violent or otherwise illegal" activities, reports the Associated Press.
Proud Boys, listed as an "extremist group with ties to white nationalism" by the FBI, are known to take part in political rallies that frequently erupt into violence while being met with counter-protests.
Newsweek subscription offers >
East Hampton Police Chief Dennis Woessner confirmed that Wilcox was a member of the far-right group and had made online payments to one of their leaders. He said that Wilcox "stopped his association" with the Proud Boys in February, around five months before he was brought to the force's attention by the civil rights group.
Woessner said that he then received an "explanatory report" from Wilcox and closed the review after ruling the concerns "unfounded," citing that there was no evidence he violated any police policy.
In a letter to the civil rights group on September 13, Woessner added that Wilcox "adamantly denies being associated with white supremacists' groups."
Kristen Clarke, president and executive director of Lawyers' Committee for Civil Rights Under Law, told the AP she was "astounded" by the decision not to take action against the officer.
Newsweek subscription offers >
"In an era where we are seeing a spike in white supremacist activity, this should sound an alarm," she said. "It should not be business as usual."
Woessner said that there is no question that Wilcox "is not a white supremacist," pointing to how there has never been any racial bias complaints made about him during his 20 years at the department.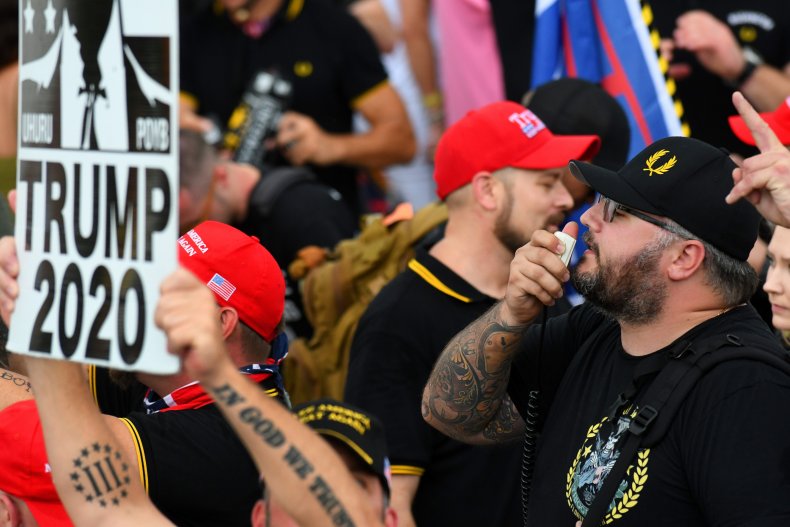 The police chief added that records show that Wilcox only stopped white people between January 2018 and September 2019, albeit while patrolling an area which is overwhelmingly white.
Clarke has demanded that the force retrospectively review any stops and arrests made by Wilcox to see if there was any racial biases, which the force has so far failed to comply with.
"We're seeing an increase in white supremacists and extremists infiltrating the ranks of law enforcement," Clarke tweeted after the review into Wilcox ended. "We are taking action to fight back."
Proud Boys, who were launched in 2016 by Vice Media co-founder turned alt-right figurehead Gavin McInnes, have been listed as a hate group by the Southern Poverty Law Center.
They have become infamous for their violent political rallies or instances of disorder in cities such as New York and Portland, Oregon.
Last year, Facebook removed Proud Boy pages from the social network for violating their policies against hate speech.
Police Officer Who Funded 'Violent' Activities by Far-Right Proud Boys Group Goes Unpunished | U.S.