Proud Boys Founder Gavin McInnes Banned From Cameo
Proud Boys founder Gavin McInnes has been suspended from celebrity video messaging site Cameo.
McInnes was blocked from using the platform, which facilitates the sale of short messages from celebrities to fans, on Monday. Although the specifics of what caused the suspension were not revealed, the company cited terms of service that prohibit hate speech and inciting violence.
"Following a thorough investigation, Gavin McInnes has been suspended from Cameo due to violations of our Acceptable Use Policy," a Cameo spokesperson said in a statement obtained by Newsweek. "Per our standard enforcement practices, Gavin may appeal to rejoin after 90 days of suspension."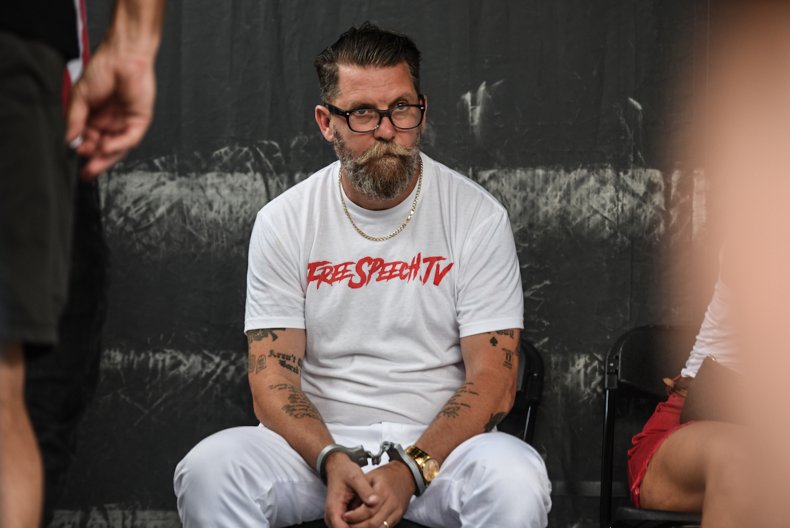 "While we don't endorse the beliefs or opinions of the Talent or fans who use Cameo, when it comes to content shared on Cameo, our platform policies and Terms of Service explicitly state that hate speech, inciting violence, harassing, and objectionable activity are expressly prohibited," the spokesperson explained.
McInnes co-founded Vice before establishing himself as a far-right commentator, although he has had no ties to the media company since 2008. The Canadian later founded the Proud Boys, which the Southern Poverty Law Center has described as a hate group.
A Vice article from Friday criticized Cameo CEO Steven Galanis for condemning last week's violent storming of the U.S. Capitol by supporters of President Donald Trump, including some members of the Proud Boys, while continuing to host McInnes and profit off the sale of his videos.
"Yesterday was one of the toughest days in the history of our democracy," Galanis reportedly wrote in an email to employees on the day after the Capitol insurrection. 'As a historian, the parallel that drew closest to mind was the 1933 Reichstag Fire in Germany which Hitler used to establish much of the iron fisted rule that would eventually enable the Holocaust."
Several other prominent pro-Trump political figures remain on the platform. Fans of former Alaska Governor Sarah Palin, who last week repeated a conspiracy theory claiming that Capitol rioters were members of Antifa despite overwhelming evidence to the contrary, can buy a personalized video for $200. "Viral Political Influencer" Tina Forte, who reportedly defended the insurrection on Newsmax TV last week, offers videos for $45.
Following the Capitol riot, there has been renewed backlash against the Proud Boys and other far-right extremist groups. A Change.Org petition titled "Declare the 'Proud Boys' a Terrorist Organization" has seen signatures swell to over 400,000 since the attack. The group gained widespread notoriety after Trump urged them to "stand back and stand by" when asked to repudiate white supremacists and militia groups during a presidential debate in September.