A now-deleted video from 2017 showed Proud Boys founder Gavin McInnes on an anti-Semitic rant, in which he defended Holocaust deniers and perpetuated racist stereotypes.
In the video titled "10 things I hate about the Jews," McInnes said Jews have a "whiny paranoid fear of Nazis" and that Israelis don't support President Donald Trump because they're "scared of Christians and Trump, who are their biggest allies."
In another video posted online after a trip to Israel with Rebel Media, a far-right Canadian website where McInnes used to be a star contributor, the Proud Boys leader said hearing from his Israeli hosts was making him anti-Semitic.
"That's having the reverse effect on me: I'm becoming anti-Semitic," McInnes said.
"I felt myself defending the super far-right Nazis just because I was sick of so much brainwashing and I felt like going, 'Well, they never said it didn't happen. What they're saying is it was much less than six million and that they starved to death and weren't gassed, that they didn't have supplies,'" he added.
"I'm not saying it wasn't gassing. Please don't take that clip out of context, but that's what the far-right nuts are saying."
McInnes, who co-founded VICE, also argued that people need to stop talking about the Holocaust.
"It's like a liberal thing, it's arguably a white thing, but it's a Jewish thing to sort of dwell on the past. And this whole nation-state is talking about 'Seventy-five years ago, my people were killed.' Always the Jews, always killing us, we are the scapegoats," he said. "God, they're so obsessed with the Holocaust. Yes, I know it was bad – don't get me wrong, I'm not pro-Holocaust."
Newsweek reached out to McInnes for comment but did not hear back before publication.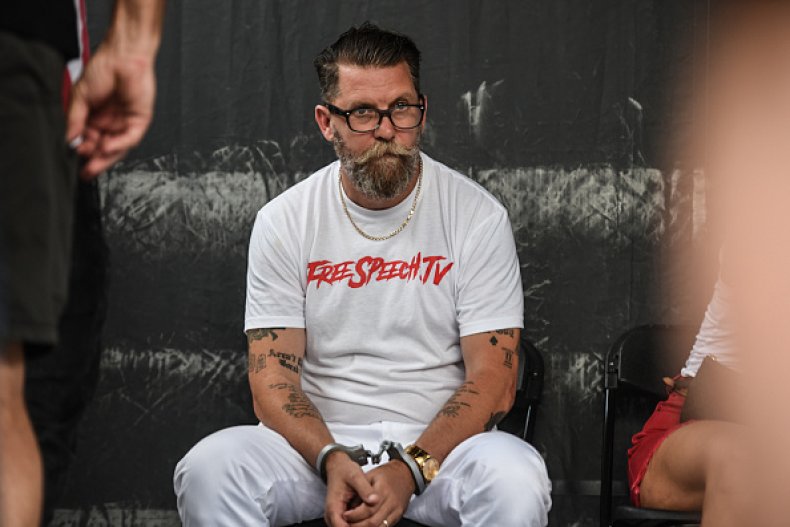 McInnes found the Proud Boys, a group labelled by the FBI as extremists with "ties to white nationalism," in the midst of the 2016 presidential election.
The group, which has been self-described as spreading an "anti-political correctness" and "anti-white guilt" agenda, has been known to support Trump and has been accused of involvement in violent political acts, including recent attacks on Black Lives Matter protesters.
During Tuesday's presidential debate, Trump referred to the group, saying "Proud Boys, stand back and stand by," when asked whether he would condemn white supremacists from the stage.
Anti-Defamation League's CEO Jonathan Greenblatt called Trump's response "astonishing" over Twitter.
"Trying to determine if this was an answer or an admission," Greenblatt tweeted. "@POTUS owes America an apology or an explanation. Now."
"And, in case anyone has any doubts, the Proud Boys are a virulent strain of American right-wing extremism. They have a long track record of violence, including in Portland this past weekend," he added.