Proud Boys Gleeful Over Donald Trump Acquittal, Look Ahead to 2024
Proud Boys members have celebrated the second acquittal of former President Donald Trump on Telegram channels, with leader Henry [Enrique] Tarrio declaring the group would be "here forever" and hoped the firebrand Republican runs again in 2024.
The former President was acquitted for a second time on Saturday when only 7 Republicans joined Democrats, falling well short of the 67 Senators needed to convict him.
Following the conclusion of the impeachment trial, Trump defiantly declared he was not going away and would soon reveal information about the future of the MAGA [Make America Great Again] movement.
In a statement, he said: "Our historic, patriotic and beautiful movement to Make America Great Again has only just begun. In the months ahead I have much to share with you, and I look forward to continuing our incredible journey together to achieve American greatness for all of our people.
"There has never been anything like it."
Following Trump's acquittal, Proud Boy channels on Telegram erupted with glee as dozens of followers shared memes and posts praising the former President.
In leader Tarrio's Telegram channel, dozens of followers shared gifs and TikToks of Trump as well as photoshopped stickers of the former President wearing a black and yellow-trimmed Fred Perry polo shirt and Proud Boys hat, all part of the group's uniform.
Tarrio's account also shared a 23-second clip of Trump dancing to a Pepe the Frog band and said: "Lol f*** your impeachment. More than 75 million Americans don't give a f***. Trump 2024!"
One user commented: "2 and 0 b*****s! Hope their pillows are wet with their evil acid snake tears."
Another added: That's the best thing I've seen since November. I love our President, his bombastic ways make me smile and laugh every day!"
A third Proud Boys account follower said: "BIG 0 and 2, the Democrats can't seem to make fake crimes stick."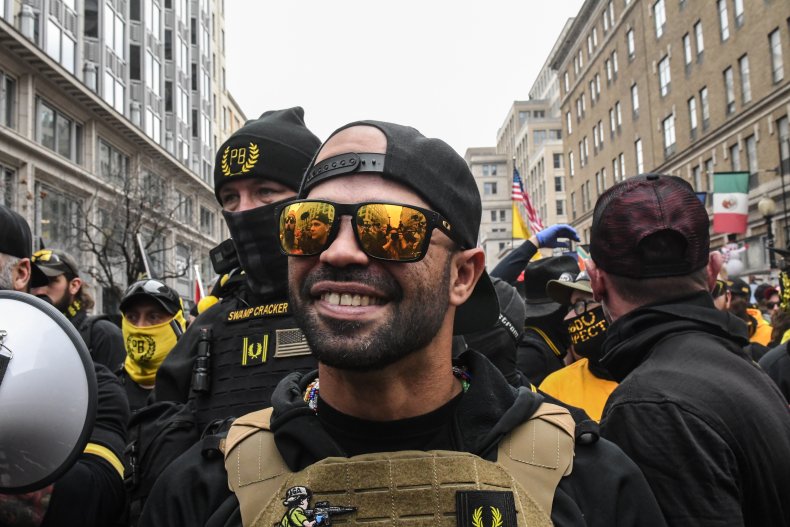 The Proud Boys, which has been labeled as an 'anti-Muslim' and 'misogynistic' hate group by the Southern Poverty Law Center, previously praised the former President after Trump told its members to "stand back and stand by" during his debate with Joe Biden in Cleveland, Ohio, on September 29.
But, multiple Telegram channels across the U.S. and European chapters, most notably in Ireland and the U.K., were keen to focus on and share a post uploaded onto Tarrio's account that took aim at articles that suggested the Proud Boys were falling apart.
The statement, attributed to Tarrio, read: "You will never be able to splinter the bonds that have been created by men that have shared their joy, their sweat, their blood and their tears. Journalists can write about it...our enemies can wish for it...but I won't make it a reality."
It continued: "We are not f***ing leaving. ProudBoys are here forever. I suggest you start figuring that out. I suggest you start figuring that out. We're your plumbers...your mailmen...your police officers...your neighbors...your carpenters...we serve your food...we trim your trees...we are even your elected officials.
"We are western chauvinist...and we will never ****ing apologize for s***. We're here to stay. Cry harder."
Several Proud Boys have been arrested in the aftermath of the storming of the Capitol and the Canadian Parliament designated the group as a terrorist organization, noting its members' role in the insurrection.
Miami-based Tarrio himself was arrested on January 4 over weapons charges and the alleged burning of a Black Lives Matter flag in Washington D.C. in December 2020. He was bailed and ordered to regularly report to officials in line with the terms of his release.
But, according to The Washington Post, judges reportedly issued summons to the Proud Boys' chairman with the Pretrial Services Agency writing to the courts on February 4 to report that Tarrio had not called or verified his address.
Judges from the Washington D.C. Superior Court has since ordered Tarrio to explain why he should not have his bail revoked.
Tarrio has disputed the allegations and told The Post he "repeatedly" tried to contact them. He added: "They don't make it easy to reach them. I will call them right now."