Proud Boys Leader Banned from D.C. As Members Attend Pro-Trump Protests Incognito
After being arrested on Monday for destroying a Black Lives Matter (BLM) banner at a historic Black church in Washington D.C., on Tuesday, Magistrate Judge Renee Raymond ordered the conditional release of Proud Boys chairman Enrique Tarrio provided that he stay out of the District of Columbia.
However, last week Tarrio announced on the right-wing social network Parler that he and other Proud Boys planned to attend a January 6 protest in Washington D.C. incognito to support the election overturn efforts of President Donald Trump.
On December 12, Tarrio tore down a BLM banner from Asbury United Methodist Church, a historic church with a predominantly Black congregation, during a pro-Trump rally. The banner was later burned in the streets. Tarrio publicly admitted to destroying the banner, stating, "So let me make this simple. I did it," and adding, "I'll f****** do it again.... Ayo...Pass me the lighter."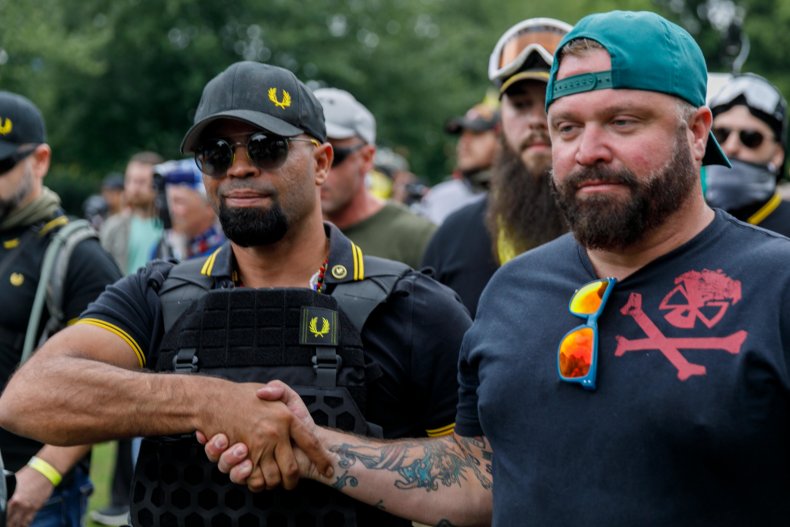 "The sign burning was captured on Twitter," the church's Senior Pastor Rev. Dr. Ianther M. Mills said in a December 13 statement. "It pained me especially to see our name, Asbury, in flames. For me, it was reminiscent of cross burnings."
Tarrio said on Parler, "The burning of this banner wasn't about race, religion or political ideology, it was about a racist movement that has terrorized the citizens of this country. I will not stand by and watch them burn another city."
Tarrio was charged with one misdemeanor count of destruction of property for destroying the banner. He was also charged with two felony counts of possession of high-capacity ammunition feeding devices which police found during his arrest.
Tarrio claimed that he had planned to sell the unloaded magazines to a fellow rally attendee. He also said that he and other Proud Boys had their banners stolen and destroyed at past protests with no police actions against the perpetrators, according to Business Insider.
Despite Judge Raymond's order, Tarrio announced last week that he and other members of the far-right group would attend the January 6 protest in D.C. "incognito."
"The ProudBoys will turn out in record numbers on Jan 6th but this time with a twist," Tarrio said in a statement shared on Parler. "We will not be wearing our traditional Black and Yellow. We will be incognito and we will spread across downtown DC in smaller teams."
Tarrio said the group "might dress in all BLACK for the occasion."
The National Guard will deploy hundreds of troops to D.C. in anticipation of possible violence as tens of thousands of Trump supporters and far-right nationalists are expected to protest the congressional certification of President-elect Joe Biden's election victory. Trump himself has promoted the "wild" protests.
The Proud Boys touts itself as an anti-feminist men's group. Its members beat each other up, never masturbate and attend white supremacist rallies.
Although Tarrio claims it's not a white supremacist organization, a former member, Jason Kessler, helped organize the 2017 Unite the Right rally in Charlottesville, Virginia which was attended by neo-Nazis and white supremacists.