Proud Boys Leader Enrique Tarrio Says He Does Not Believe 2020 Election Was Stolen
Proud Boys leader Enrique Tarrio does not believe that President Joe Biden was the beneficiary of a "stolen" election, despite having participated in "Stop the Steal" rallies after former President Donald Trump lost the election.
Members of the Proud Boys are among those that have been charged for allegedly taking part in the deadly January 6 insurrection at the U.S. Capitol, where Trump supporters attempted to prevent Congress from certifying Biden's Electoral College win. During an interview broadcast by CNN Thursday night, Tarrio said that he did not agree that the election had been stolen, even though the riots were fueled by false claims of massive voter fraud.
"No, I don't," Tarrio told the network when asked whether be believed the claims. "I don't believe the election was stolen."
Tarrio was not present at the Capitol during the riots due to being arrested a short time earlier and ordered to stay away from the area. Despite conceding that the election was not stolen, Tarrio urged members of the Proud Boys to go to a Stop the Steal rally in Washington, D.C. "in record numbers" in a post on conservative social media app Parler, according to The New York Times.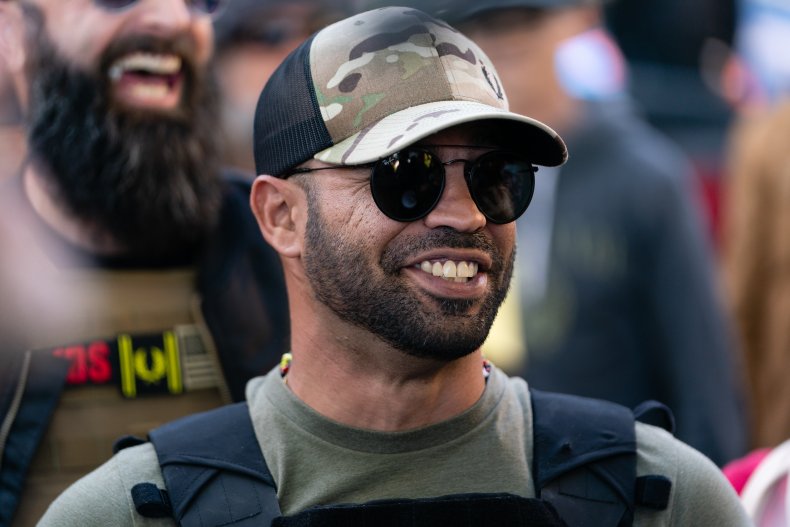 He condemned the actions of one Proud Boy who was spotted smashing in one the building's windows, while suggesting that others who entered the Capitol did little wrong. Tarrio expressed no sympathy for members of Congress who feared for their lives during the violent breach.
"I'll celebrate the moment that the government does fear the people," Tarrio said. "I'm not going to worry about people that their only worry in life is to be reelected."
The Proud Boys leader also revealed that he "testified in front of the grand jury" that was gathering evidence against Trump associate Roger Stone, who was convicted of multiple felonies related to Special Counsel Robert Mueller's investigation into Russian interference in the 2016 election.
Stone, an outspoken supporter of the Proud Boys who had formed a close relationship to Tarrio, received a pardon from the former president late last year.
A Reuters report from late January claimed that following a 2012 arrest, Tarrio had become a "prolific" informant for the FBI and other federal law enforcement authorities, sometimes working "undercover."
Although the Capitol riots failed to change the election outcome, Tarrio proposed that the future of the Proud Boys could include "overthrowing" the Biden administration by having members of the group run for office in order to become "the new government."
"I think now is the time to go ahead and overthrow the government by becoming the new government and running for office," Tarrio said.
Newsweek reached out to the White House for comment.