Proud Boys member Matthew Greene has pleaded guilty to charges related to taking part in the January 6 attack on the Capitol.
As part of a plea agreement, 34-year-old Greene admitted to one count of conspiracy and one count of obstructing an official proceeding before the U.S. District Court for the District of Columbia on Wednesday. Greene will cooperate with federal prosecutors as part of the agreement.
The Department of Justice (DOJ) said that the Syracuse, New York man conspired with other members of the Central New York chapter of the Proud Boys at the Capitol to disrupt Congress from certifying President Joe Biden as the 2020 election winner.
Greene joined the Proud Boys, a self-described group of "Western Chauvinists" who claim credit for "creating the modern world," in December 2020. The DOJ said that Greene and his fellow Proud Boys met at the Washington Monument on January 6 while "intentionally dressed in clothing that concealed their membership as Proud Boys."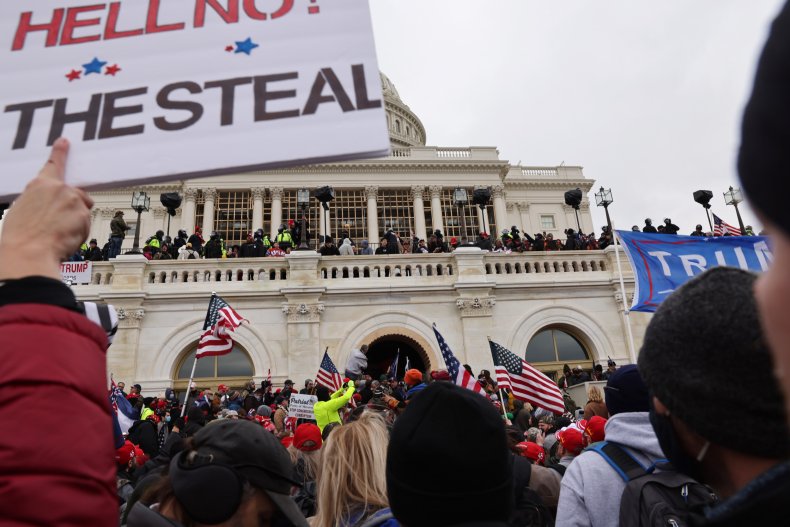 The group then marched to the Capitol alongside other soon-to-be rioters, moving into restricted areas, crossing police lines and eventually participating in moving police barricades. Although some of those Greene marched with went on to enter the Capitol building itself, Greene retreated when police began to use pepper spray in an attempt to control the crowd.
A filing from an attorney for Greene indicated that he has since "concluded that his personal beliefs and ethics do not align with those of the Proud Boys" and "is anxious to publicly disavow his brief membership in this group," according to The New York Times.
Greene was indicted alongside fellow Proud Boys William Pepe and Dominic Pezzola, who was captured on video apparently using a stolen riot shield to smash through a Capitol building window before entering. Pepe and Pezzola have both pleaded not guilty to their charges.
The charges Greene pleaded guilty to carry a maximum combined sentence of 25 years, although he is likely to given a sentence of around four years due to factors that include the plea agreement. His sentencing hearing is set for March 22, 2022.
Newsweek reached out to Greene's attorneys for comment.
At least 727 people have been charged in the Capitol riot, with over 150 having pleaded guilty to the charges so far. Greene was one of dozens of Proud Boys members accused of taking part in the insurrection, while members of other white supremacist or far-right extremist groups have also been charged.
Washington, D.C. filed a civil lawsuit against the Proud Boys and fellow extremist group the Oath Keepers over the riot last week, arguing that the groups were responsible for a "coordinated" attack that left the Capitol "in shambles, with the District left to deal with the aftermath of the violent disruption to what should have been the peaceful transition of presidential power."
At least two others with ties to the Proud Boys have pleaded guilty to charges related to the January 6 riot. Andrew Bennett, a Maryland man who prosecutors described as an "admirer" of the Proud Boys but not a member, was sentenced to three months of home confinement in October after pleading guilty to a misdemeanor. Arizona man Micajah Jackson, who walked toward the Capitol with a group of Proud Boys but said he was not a member, also pleaded guilty to a misdemeanor.
Some defendants with more explicit ties to extremist groups are facing potentially long prison sentences, while others have already been released. Florida man Michael Curzio, who prosecutors said became an "undisputed" member of a white supremacist prison gang while he was locked up, pleaded guilty in July to one misdemeanor charge that carried a maximum penalty of six months and was released on time served.