Proud Boys Leader Posts Image of Fake 'Capitol Invasion' LEGO Set After Deadly Riot
The leader of the far-right Proud Boys group posted an image online of a fake "Capitol Invasion" LEGO set, following Wednesday's deadly pro-Trump riot at the U.S. Capitol.
Enrique Tarrio, chairman of the far-right organization, posted the set of toy Trump-supporters occupying the Capitol building on the social media site Parler.
The doctored set includes characters based off of the actual rioters who stormed the building, including Jake Angeli, also known as the QAnon Shaman. He was widely photographed during the raid wearing a fur hat and horns with red, white and blue face paint.
A spokesperson for LEGO told Newsweek on Saturday that "the product in question, is in no way affiliated with the LEGO Group and the set is not a LEGO® product. As a company dedicated to inspire and develop children, we would naturally never make a product like this."
The fake product has also been circulated by users on Reddit and Twitter.
In response to the image, users across social media posted enthusiastic comments calling the set "awesome" and "so funny," while also stating they "would love" to have one.
On Parler, which has become a haven for far-right leaders and conspiracy theorists, one user commented on Tarrio's post: "How much does 'nancy's laptop' accessory cost?." The comment referred to rioters who broke into Democratic House Speaker Nancy Pelosi's office and stole a laptop used for political presentations, Reuters reported.
The violent attack on the Capitol left at least five people dead, including Brian Sicknick, a Capitol police officer and Iraq War veteran who sustained fatal injuries while trying to protect the building. One of the rioters, Ashli Babbitt, was shot and killed by Capitol police. Three other individuals died from undisclosed medical emergencies.
Damage to the Capitol building included shattered glass, broken windows, stolen property, and ransacked congressional offices.
Rioters are now being identified by law enforcement and could face severe legal consequences, including imprisonment and hefty fines.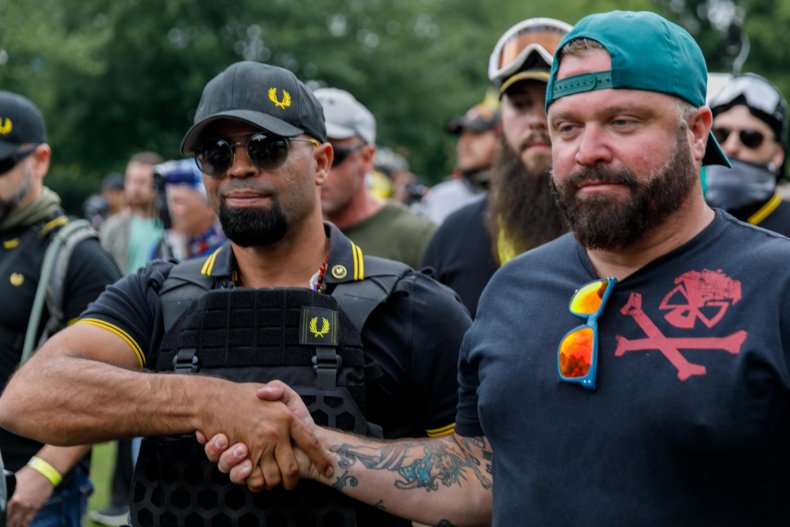 Tarrio was arrested ahead of the riots for allegedly setting fire to a Black Lives Matter flag, and carrying two high-capacity firearm magazines in D.C. before the demonstrations. He could face up to three years in jail.
On Friday, Nick Ochs, leader of the Proud Boys group in Hawaii, was arrested by federal authorities after positing a photo of himself inside the Capitol building smoking a cigarette.
After Wednesday's assault, the Proud Boys issued a statement boasting about their involvement and said they would continue to "terrify" society.
"For several hours, our collective strength had politicians in Washington in absolute terror. The treacherous pawns (cops) were also terrified," a message on the Proud Boys' official Telegram channel read.
"Things will get difficult soon but don't lose heart. We are growing and our unity will terrify the evil elites running this nation," the message added.