Proud Boys Member, Who Shot Paintballs At Protestors, Arrested By Portland Police
Proud Boys member Alan Swinney, who shot paintballs into a crowd of protesters last month, was arrested early Wednesday by Portland police, records show.
Swinney is facing a dozen criminal charges including assault, unlawful use of weapon and tear gas, menacing and pointing a firearm at another individual. Half of these charges are felonies and bail is set at $535,000.
He is currently being held in the Multnomah County Detention Center and is scheduled to be arraigned on Thursday.
During a clash between Black Lives Matter protesters and counter-demonstrators last month, the right-wing activist was seen pointing a paintball gun and firearm at a crowd. Swinney was seen shooting the paintball gun in videos shared to social media.
About 300 counter-protesters, including members of the Proud Boys, attended the August 22 rally in downtown Portland in support of President Donald Trump and law enforcement officials, according to The Oregonian.
Swinney, who helped organize the rally, has described himself as a conservative and Trump supporter from Midland, Texas on his social media.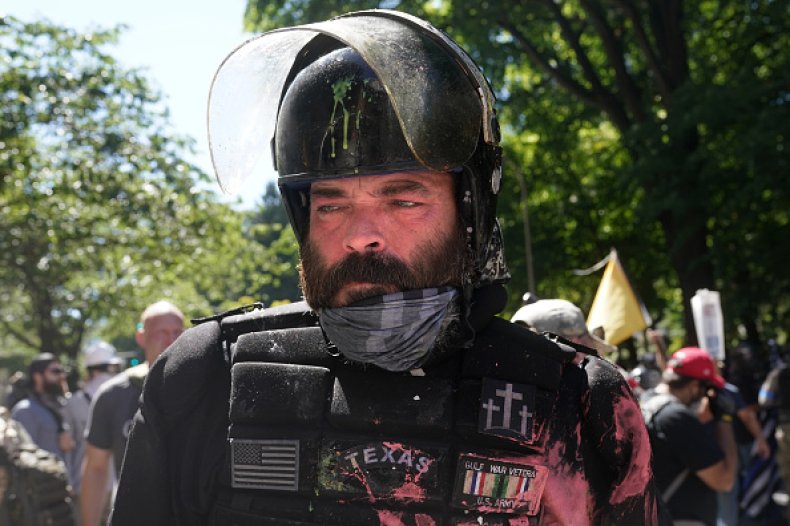 His arrest comes less than a day after Trump spoke about the Proud Boys, a far-right group known to support the president and has been accused of involvement in political violence, during Tuesday's presidential debate.
When asked by debate moderator Chris Wallace if he would condemn white supremacists, Trump responded, "Proud Boys, stand back and stand by." The president also questioned Wallace as to what groups he wanted him to condemn, before saying that Antifa and left-wing groups are also a problem.
The extremist group has celebrated the president's mention on their social media. The Proud Boys' Telegram account said, "standing down and standing by sir."
Proud Boys organizer Joe Biggs also wrote on the social media platform Parler that, "Trump basically said to go f--- them up!"
"This makes me so happy," Biggs continued.
Swinney initially claimed that police had cleared him of any wrongdoing at the demonstration.
"There's no warrant or anything," the Proud Boys member told Oregon Public Broadcasting. "PPB (Portland Police Bureau) said they turned it over to the district attorney and they recommended no charges."
However, law enforcement officials told the broadcasting network that the case was still open and in the hands of the district attorney.
Swinney is also facing a $250,000 lawsuit from a woman who said she was injured by a paintball he fired. According to the suit, Meg McLain said she was observing the rally when he intentionally shot her in the chest.
Newsweek reached out to the Portland Police Bureau for comment but did not hear back before publication.