Proud Boys Organizer Shares Trump 'Stand Back, Stand By' Meme After Debate
The Proud Boys, a right-wing, all-male extremist group, embraced President Donald Trump's call to "stand back and stand by" after Tuesday night's presidential debate.
Joe Biggs, a Proud Boys organizer, was one of many affiliates and supporters of the group to share celebratory posts, as well as memes, online in response to Trump's remarks.
Biggs has shared dozens of messages, several videos and a handful of memes related to the president's Proud Boys mention over the past 12 hours. His posts appear on Biggs' personal account on Parler, a conservative social media site. In addition to statements pledging alliance to Trump, the high-profile Proud Boy posted an image to Parler that appeared to show a new group logo with "stand back" and "stand by" surrounding its initials.
Researchers identified similar posts shared to encrypted chat forums on social app Telegram in the aftermath of the debate. The Proud Boys are also reportedly incorporating Trump's comment into their merchandise.
"Proud Boys Shout at the Presidential Debate!" Biggs wrote Tuesday on Parler. In a subsequent status, he added: "President Trump told the proud boys to stand by because someone needs to deal with ANTIFA...well sir! we're ready!!"
Trump acknowledged the Proud Boys while answering a question from Chris Wallace, a Fox News anchor and the debate's moderator, about whether or not he was willing to publicly denounce white supremacists and far-right militia factions on Tuesday. The president neglected to do so.
"Are you willing tonight to condemn white supremacists and militia groups, and to say that they need to stand down and not add to the violence in a number of these cities, as we saw in Kenosha and as we've seen in Portland?" Wallace asked.
"Proud Boys, stand back and stand by. But I'll tell you what, somebody's got to do something about Antifa and the left because this is not a right-wing problem, this is a left-wing," Trump ultimately responded. He initially said, "Give me a name, go ahead. Who do you want me to condemn?"
To that, Wallace reiterated, "White supremacists and right-wing militia."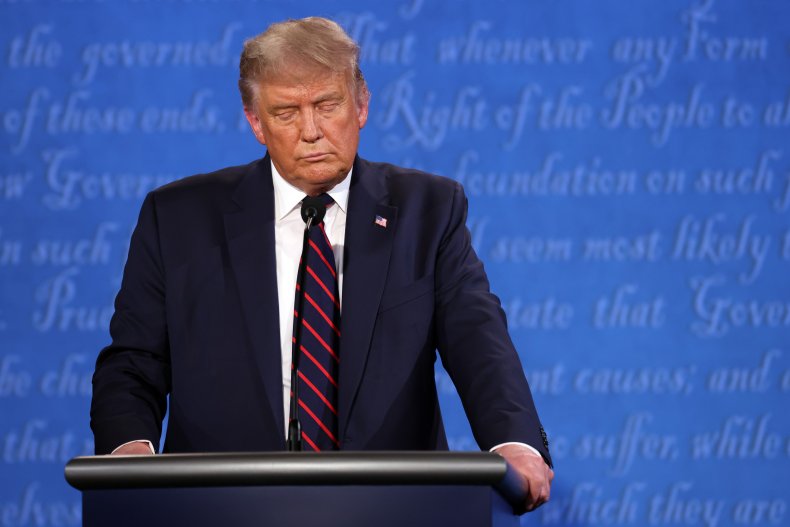 The Proud Boys refer to themselves as a "Western chauvinist" organization that opposes political correctness. An evaluation of the group by the Anti Defamation League notes its ties to "misogynistic, Islamophobic, transphobic and anti-immigration" ideals.
"Some members espouse white supremacist and anti-Semitic ideologies and/or engage with white supremacist groups," the non-profit's description continues.
The Proud Boys recently organized a rally in Portland, Oregon, where protests against racism and police violence took place for more than 100 consecutive days following George Floyd's death in Minneapolis police custody. Armed Proud Boys members attended the rally in support of Trump. The group also clashed with protesters at other Black Lives Matter demonstrations, including those in Kenosha, Wisconsin, earlier this month.
Following Tuesday's debate, the Trump campaign's official Twitter account said the president has condemned white supremacists and militia groups "numerous times over the years."
Newsweek reached out to the Trump campaign for additional comments but did not receive a reply in time for publication.