Video Shows Proud Boys Started NYC Fight with Antifa, Contradicting Gavin McInnes' Claim
Members of the far-right Proud Boys group started an October fight in New York City that has led to 13 arrests, surveillance footage released by The New York Times on Sunday appears to show.
The video shows one member of the "male chauvinist" group running towards anti-fascist counter protesters, who the Proud Boys had initially blamed for the altercation.
The incident occurred in Manhattan's Upper East Side after the group's founder, Gavin McInnes, gave a speech.
Ten Proud Boys members have been arrested and charged with riot and attempted assault, the Times reported. At least three "leftist protesters" have also been charged, according to BuzzFeed News.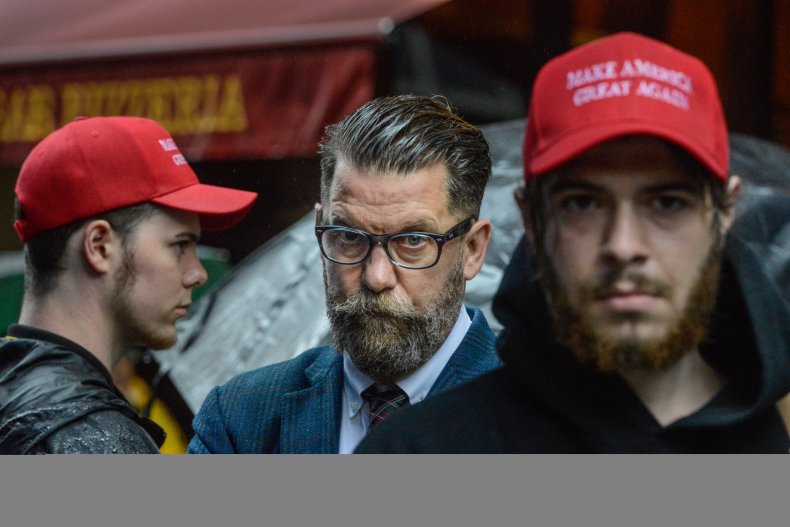 McInnes previously blamed the violence on anti-fascist protesters, claiming that they only engaged with demonstrators after one threw a water bottle, according to BuzzFeed News.
The video footage shows a Proud Boys member, identified by the Times as 26-year-old Pennsylvania resident Maxwell Hare, running at protesters before swinging punches and being joined by other group members, as the demonstrators fight back.
As Hare starts running at the anti-fascists, one throws a water bottle.
Footage captured by freelance videographer Sandi Bachom showed someone yelling "Proud Boys! You ready? Proud Boys!" before the attack began.
Photojournalist Shay Horse, who photographed the scene, said that police had "stood and watched the attack unfold. They only stepped in after everything was over."
Police were criticized for promptly arresting protesters involved in the fighting but not detaining Proud Boys members until days later.
Comments by the group's leader also generated concern.
After the attack, McInnes said "I have a lot of support in the NYPD and I very much appreciate that."
McInnes announced last month that he was stepping away from the group.
"As of today, November 21st, 2018, I am officially dissociating myself from the Proud Boys, in all capacities, forever," McInnes said in a video detailing his decision to step away. "We are not an extremist group and we do not have ties with white nationalists. We disavow all forms of alt-right, white supremacy, white nationalism etc. We are a multi-racial club with blacks, Jews, gays, Asians etc."
Earlier in November, the FBI designated the group "an extremist group with ties to white nationalism."
The Southern Poverty Law Center has noted that although the group's members regularly disavow discrimination "Proud Boys and leaders regularly spout white nationalist memes and maintain affiliations with known extremists."