Proud Boys Threatened to Shut Off D.C. Water System As Part of Overtaking Capitol, Email Says
Members of the far-right group, Proud Boys, threatened to shut off the water system in Washington D.C. during the January 6 Capitol riots, according to emails obtained by the Associated Press.
The Associated Press obtained emails, texts and photographs from multiple law enforcement agencies that responded to the Capitol riots through 35 Freedom of Information Act requests.
According to the AP, one email from the Homeland Security division of Federal Protective Service said that roughly 300 Proud Boys were at the Capitol on January 6.
"The Proud Boys are threatening to shut down the water system in the downtown area, which includes government facilities," the email said, according to the AP.
Another email sent around 20 minutes later, from a protective service officer whose name was redacted wrote, "POTUS is encouraging the protesters to march to capitol grounds and continue protesting there."
On January 6, supporters of former President Donald Trump rallied in D.C. to hear him speak before the Congressional session to certify electoral votes. After Trump spoke at the rally, telling his supporters to "fight like hell," many headed to the Capitol in protest of the Congressional session, and eventually breached the building.
The riots left five dead, including one police officer, and led to the House voting in favor of impeaching Trump for "incitement of insurrection." Two other police officers took their lives after the riots.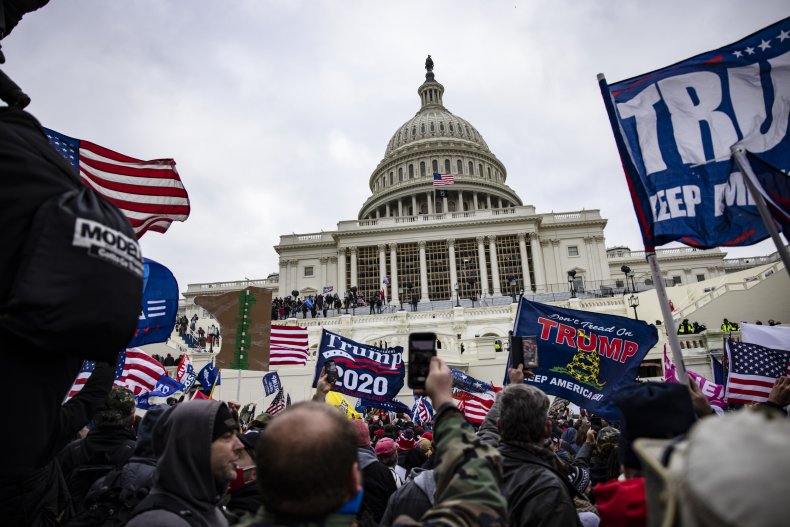 For more reporting from Newsweek reporter David Brennan, see below.
Members of the far-right street fighting Proud Boys organization have been charged in relation to the storming of the U.S. Capitol, with prosecutors alleging two members worked together to obstruct law enforcement trying to defend the building as lawmakers certified the results of the November election.
The Department of Justice said two Proud Boy members have been indicted in Washington, D.C. "for conspiring to obstruct law enforcement, among other charges."
Dominic Pezzola, 43, of Rochester, New York, and William Pepe, 31, of Beacon, New York, were named as the two Proud Boys members. They were charged in January with conspiracy; civil disorder; unlawfully entering restricted buildings or grounds; and disorderly and disruptive conduct in restricted buildings or grounds.
Pezzola was also indicted for obstruction of an official proceeding, robbery of personal property of the United States, assaulting, resisting, or impeding certain officers, destruction of government property, among other charges.
Charging documents describe the Proud Boys group as a "pro-Western fraternal organization for men who refuse to apologize for creating the modern world; aka Western Chauvinists." Proud Boys, often identifiable by their yellow and black clothes, have been involved in many violent incidents in several major cities in recent years, including armed assaults.
Proud Boys have been involved in many confrontations with anti-fascist activists, colloquially known as Antifa. Proud Boys were staunch supporters of Trump, and advocate for authoritarianism to suppress liberalism and socialism.
The group shot to national prominence during the presidential election campaign, when Trump refused to denounce them. The former president told the group to "stand back and stand by" when asked to condemn white supremacist groups operating in his name.
For more reporting from the Associated Press, see below.
Federal agencies not responding were also preparing for potential violence. On Jan. 4, U.S. Customs and Border Protection said staff should try to telework for the week.
Members of Congress, who were locked down or rushed to safety that day as the attackers approached the House and Senate chambers, are holding hearings this week to get to the bottom of what went wrong with the law enforcement response that allowed the crowd to enter and ransack the Capitol building.
One question they are looking to answer is why the Capitol Police didn't have more help on hand early in the day, before the rally near the White House devolved into insurrection at the Capitol.
The emails obtained by AP — hastily written and including misspellings and incomplete sentences — show that nearby police agencies were alerted two days earlier that there might be trouble and were prepared to help.
The night before the breach, after hours of rallies and speeches across the city, Federal Protective Service officers, who protect federal property, had noticed protesters trying to camp out on federal property and were "being vigilant for any suspicious activity," according to an email from the agency.
They were expecting large crowds, and by the next morning they were monitoring them closely.
Intelligence agents used Facebook to monitor dozens of protests planned for Jan. 6 and beyond, according to emails. These rallies had names such as the "Yugest Trump Parade of All (45 Exclamation Points)!," "Fight for President Trump and Your Rights," and "Wild Protest for Donald Trump (The Republican Mandate)." Some events were permitted, others were not.