Far-Right Group Whose Founder Said 'Sexual Harassment Doesn't Exist' Tried To Co-Opt Oakland Raiders Logo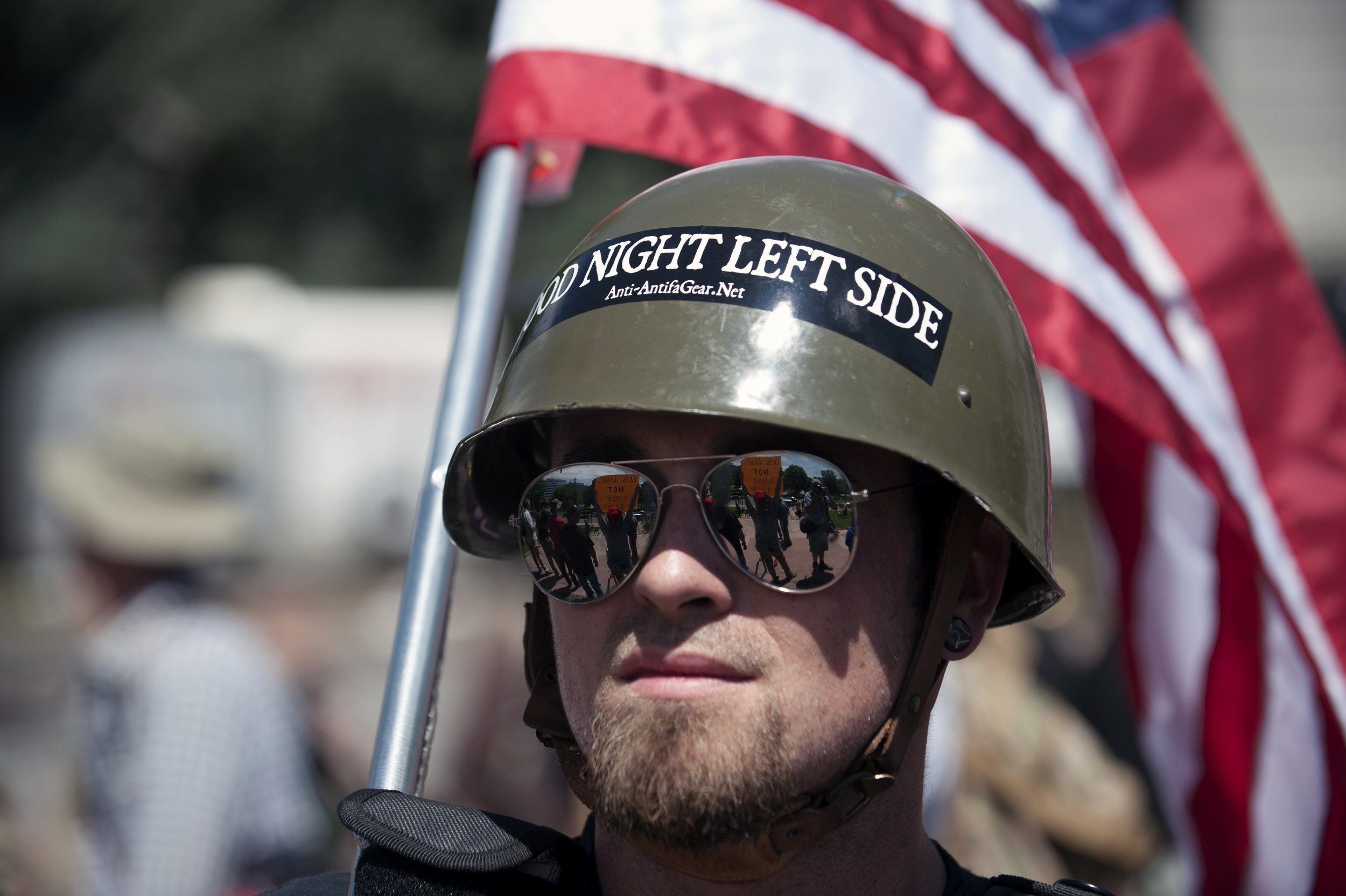 The Oakland Raiders' franchise has long cultivated a reputation for being the bad boys of the NFL—but the team moved quickly against The Proud Boys after the far-right men's organization marketed a t-shirt bearing the franchise's trademark silver-and-black pirate logo.
A spokesperson for the Raiders told SFGATE that the The Proud Boys' use of the logo, with founder Gavin McInnes in the role of the "raider," was a possible trademark violation—prompting the far right group to pull the shirt from its online store.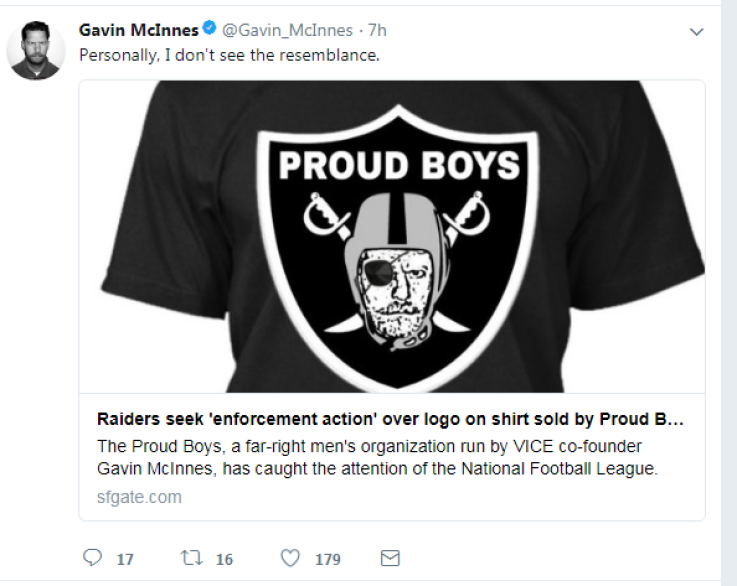 "Now everyone wants to buy it, but it's not for sale," the spokesperson told Newsweek.
The Proud Boys take after their founder McInnes, who also co-founded Vice Media and has said "sexual harassment doesn't really exist" and "women shouldn't be in the workforce." He calls Proud Boys his "pro-Western fraternal organization."
The group sells an array of t-shirts and other products on its website, some of them using similar parodies of familiar logos. Neo-Nazis disparagingly call Proud Boys part of the "merchant right," an anti-Semitic term meant to connote selling the idea of far-right politics as a brand without putting in any serious effort at obtaining power.
Still, members of McInnes's crew attended the "Unite the Right" rally in Charlottesville, Virginia in August, where counterprotester Heather Heyer was allegedly murdered by a white supremacist. McInnes, who did not attend that rally, had been critical of the alt-right movement before the violence that took place in Charlottesville, and had ramped up his denunciations of it following the event, when a series of news stories linked members of his group to the affair. Several Proud Boys have also gone on to embrace an explicitly white supremacist ideology after leaving the group. McInnes has denounced white supremacy, and argued that he has no control over what former members do. Still, he has also been criticized of stoking violence against leftists at protests with his rhetoric.
"We need more violence from the Trump people," McInnes said on his web show, The Gavin McInnes Show. "Choke a tranny. Get your fingers around the windpipe."
McInnes has also drawn considerable criticism for the remarks he has made about women. "I'm a misogynist," he announced on episode 407 of his show, while lecturing the audience how best to use that word. "I blame women," he said on episode 402, speaking in the context of why he has received criticism after Charlottesville. He called single motherhood "child abuse" in episode 403 of his show. He said that "women should not be in the workforce" on episode 111 in the context of asking a question to conservative pundit Ben Shapiro. He said "sexual harassment doesn't exist" on episode 341. He posited that "women are easily led" on episode 253.
Newsweek reached out to McInnes, but did not immediately receive a response.
As for the Raiders, the team just wrapped up a disappointing season, finishing with a record of 6-10. The team reintroduced Jon Gruden as its head coach on Tuesday. Gruden coached the team from 1998 to 2001 before leading the Tampa Bay Buccaneers to a Super Bowl championship in the 2002 season.
Far-Right Group Whose Founder Said 'Sexual Harassment Doesn't Exist' Tried To Co-Opt Oakland Raiders Logo | U.S.