Black Friday is almost here, and Target has revealed all the big deals available for the busiest shopping day of the year. If you're looking to get a new PS4 or any games, the day after Thanksgiving is a great time to buy, with bundles and games all heavily marked down from their original prices.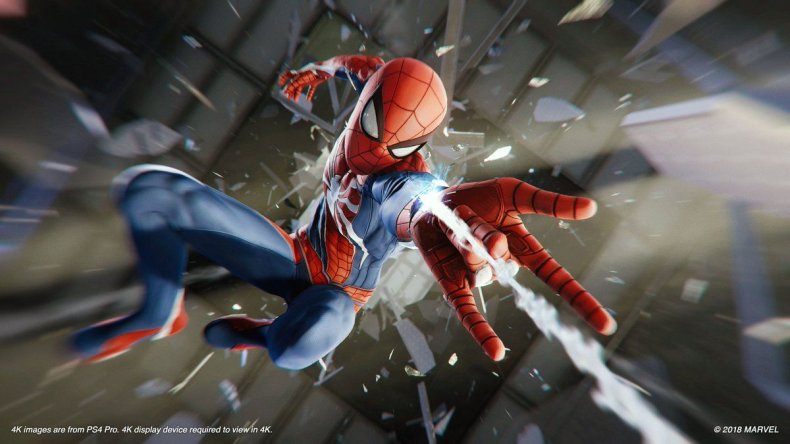 Target opens on Thursday, Nov. 22 (that's Thanksgiving) at 5 p.m. EST and closes on Friday, Nov. 23 at 1 a.m. EST. Doors reopen on Nov. 23 at 7 a.m. EST, and remain open for the rest of the day.
Here is every PlayStation console and game on sale at Target this Black Friday.
PS4 Black Friday Console Bundle Deals
The only PS4 bundle on sale at Target this year is the PS4 Slim 1TB console, bundled with Spider-Man. This bundle is $200, which is a savings of $100. That includes one controller as well. This bundle is a pretty solid deal, but isn't exclusive to Target.
Also available is a PSVR bundle, which includes the PSVR headset, two PS Move controllers, the PlayStation Camera and the games Creed: Rise to Glory and Superhot VR. This bundle is $250, which is also $100 off the original price. This is the cheapest way to break into the world of VR gaming.
PS4 Black Friday Game Deals
The following games are discounted this Black Friday. The sale price is listed next to each game.
Call of Duty Black Ops 4 - $45 (Doorbuster deal)
SoulCalibur 6 - $35
NHL 19 - $35
WWE 2K19 - $30
Shadow of the Tomb Raider - $30
Shinobi Striker - $30
MLB 18 The Show - $25
Call of Duty WWII - $25
Detroit: Become Human - $25
Dragon Ball FighterZ - $25
God of War - $25
Overwatch: Origins Edition - $15
DOOM - $15
The Evil Within 2 - $15
Wolfenstein 2 - $15
LEGO Jurassic World - $15
PS4 Black Friday Accessories Deals
PS4 DualShock controllers are $40, a savings of $20 from the original price. Additionally, Turtle Beach Stealth 300 PS4 headsets are $45, $35 off the original price.
Highlights
These are my personal recommendations based on these deals:
The PS4 Slim bundle is a great price. If you don't have one, now's the time to get it. Wolfenstein 2 for $15 is a steal, and all the games offered for $25 are great deals as well. If you still are on the fence about PSVR, I'd hold off.
So what do you think? Are you interested in snagging any PS4 deals at Target this Black Friday? What else would you like to see go on sale? Let us know your thoughts in the comments section below.