PS4 Black Friday 2018 Deals: Walmart Has 'Astro Bot' PSVR Bundle and More
The Walmart Black Friday ads are popping up online, which means we're almost at the happiest season of all! No, not the holidays, the shopping before the holidays. If you're on the hunt for a good deal, especially one on the PlayStation VR, this new ad gives you some incentive to make a stop at Walmart on Black Friday.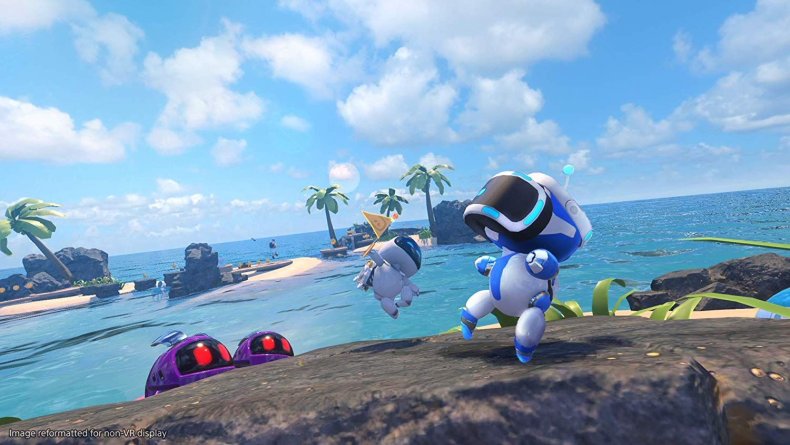 Walmart's Black Friday prices begin online starting Wednesday, Nov. 21 at 10 p.m. EST. Black Friday prices are available in-store starting Thursday, Nov. 22 at 6 p.m. EST.
PS4 Black Friday Console Bundle Deals
Walmart has the same Spider-Man 1TB PS4 Slim bundle with one wireless controller as everyone else, which means this bundle is $200. That's a great deal, and is $100 off the original price.
However, Walmart is the place to go if you want a PSVR headset. The Walmart bundle includes the PSVR hardware and a copy of Astro Bot and Moss for $200. It should be noted that while this bundle does include the PlayStation Camera, it looks like it doesn't include any PS Move controllers.
PS4 Black Friday Game Deals
The following games are discounted this Black Friday:
Assassin's Creed Odyssey - $35
SoulCalibur 6 - $35
Destiny 2: Forsaken Legendary Collection - $35
We Happy Few - $35
Call of Duty: Black Ops 4 - $35
Spyro Reignited Trilogy - $35
NHL 19 - $35
Shadow of the Tomb Raider - $35
The Sims 4 - $35
Dragon Quest XI: Echoes of an Elusive Age - $35
Starlink: Battle for Atlas Starter Pack - $35
XCOM 2 Collection - $35
God of War - $25
Detroit: Become Human - $25
Call of Duty: WWII Gold Edition - $25
The Crew 2 - $25
The Sims 4 + Cats and Dogs Bundle - $25
NBA Live 19 - $25
Grand Theft Auto 5: Premium Online Edition - $25
Final Fantasy XV Royal Edition - $25
LEGO The Incredibles - $25
Call of Duty: Black Ops 3 Zombie Edition - $25
Naruto to Boruto Shinobi Striker - $25
Grand Theft Auto 5 - $25
Need For Speed Payback - $25
Far Cry 5 - $25
Star Wars Battlefront 2 - $25
Overwatch: Legendary Edition - $25
Crash N. Sane Trilogy - $25
F1 2018 - $25
Fallout 4 GOTY Edition - $25
Elder Scrolls Online: Summerset - $25
MLB The Show 18 - $17
Dragon Ball FighterZ - $17
Monster Energy Supercross: The Official Video Game - $17
LEGO Marvel Super Heroes 2 - $17
Call of Duty: Modern Warfare Remastered - $17
Diablo 3 Eternal Collection - $17
UFC 3 - $17
Rainbow Six Siege - $17
Rocket League Ultimate Edition - $17
Destiny 2 - $17
Conan Exiles Day One Edition - $17
There are also multiple games listed for $12, but Walmart didn't provide an exact list. The games we can make out from the ad include:
UFC 2
Resident Evil 7 Biohazard
Fallout 4
Call of Duty: Advanced Warfare
Borderlands: The Handsome Collection
Need For Speed
PS4 Black Friday Accessory Deals
PlayStation 4 DualShock wireless controllers are $39 each. This is just under $8 off the original price. Additionally, the Turtle Beach Recon 50P gaming headset is $25 each, which is about$10 off the original price.
Highlights
These are my personal recommendations based on these deals:
If you're looking for a PSVR, Walmart's bundle is the best option. The $200 bundle is the lowest price-point you're going to get for VR, even if it doesn't include the PS Move controllers. Additionally, Walmart may be the best bet for buying older games, as the $12 price point mostly features years-old offerings.
So what do you think? Will you visit Walmart this Black Friday in search of PS4 deals? Will you do you shopping online this year? Let us know your thoughts in the comments section below.