PS5 Cyber Monday Restock Updates for Walmart, GameStop, Best Buy, Target and More
The PS5 is the hottest item of the holiday season—but will it be available to purchase on Cyber Monday? The PlayStation 5 was available to purchase—in limited quantities—at some retailers on Black Friday, but it does not appear that the console will be included in the sales at Best Buy, Walmart, Target, or GameStop today.
The PlayStation 5 sold out when it became available for pre-order, on launch day, and again when it was restocked at Walmart and GameStop last week.
While Sony has said that the PS5 will become available at retailers before the end of the year, so more consoles should be expected around the holidays, it seems as though no stores have inventory this Cyber Monday.
However, you can find out below where your best bet for buying a PS5 may be, among other video game deals this Cyber Monday.
Walmart PS5 Restock
The PS5 and Digital Edition consoles are currently out of stock online at Walmart. The retailer has been keeping its customers up to date with when it will be releasing the new consoles, so it would be worth checking Walmart's social media for updates.
Though the next-gen PlayStation console is not included in Walmart's Cyber Monday sales, deals include discounted PS4 and Xbox games.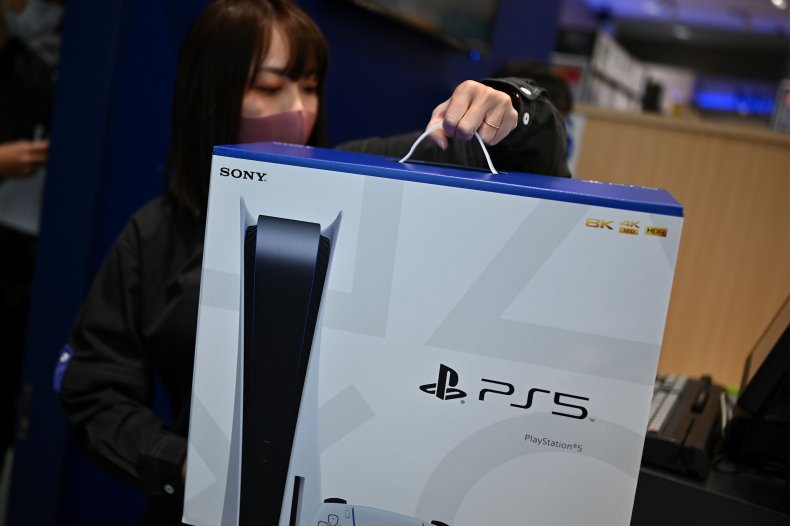 Best Buy PS5 Restock
Best Buy has been selling the PS5 and PS5 Digital Edition consoles online only. Both consoles are currently sold out at BestBuy.com, though it may be worth checking the website frequently in case the store receives more stock.
While the PS5 is not featured in the store's Cyber Monday sale, Best Buy has plenty of other offers for gamers, including deals on Xbox wireless controllers, Nintendo Switch bundles, and video games.
GameStop PS5 Restock
GameStop was selling its consoles in-store on Black Friday, with gamers camping out on Thanksgiving in the hopes of getting their hands on the PlayStation 5. However, the PS5 has not been restocked at GameStop for Cyber Monday and is currently unavailable online.
GameStop's Cyber Monday sale includes 50 percent off Nintendo Switch games and 66 percent off select new games.
Target PS5 Restock
Target's stock varies by store, but as Target has not restocked generally for Cyber Monday, it is unlikely that there will be any PlayStation 5 consoles available to purchase today. Check with your local Target store online just in case.
Target's Cyber Monday sale includes up to $150 off gaming laptops, a Nintendo Switch and Fortnite bundle, and a sale on digital Nintendo games.
Amazon PS5 Restock
The PlayStation 5 is currently unavailable on Amazon and the website says it doesn't know "when or if this item will be back in stock."
PlayStation Direct PS5 Restock
Both PlayStation consoles are out of stock on the PlayStation Direct website. PlayStation has said that more consoles will become available at retailers before the end of the year, however, so there is still hope of purchasing a console for the holidays.
Therefore, for the best chance of purchasing a PS5 before the end of the year, it may be worth contacting your local store in case it has stock or knows when it next will. Additionally, follow your local retailer on social media and check back with Newsweek for more updates on PS5 availablity.
Newsweek has affiliate partnerships. If you make a purchase using our links, we may earn a share of the sale.