PS5 Restock Updates for GameStop, Walmart, Target, Best Buy and More
The PlayStation 5 is in such high demand that it continues to sell out as soon as it is restocked by retailers.
Stores including GameStop were selling limited quantities of the console on the morning of Black Friday but, unless you camped outside your local shop over Thanksgiving, it's unlikely you were able to pick one up.
A few retailers are hoping to restock the PS5 during the holiday season, so it may be possible to buy one by Christmas. Get the latest updates on stock at major retailers below.
PlayStation Direct
The PS5 console is currently out of stock on the PlayStation Direct website. However, PlayStation said on Twitter: "Demand for PS5 is unprecedented, so we wanted to confirm that more PS5 inventory will be coming to retailers before the end of the year—please stay in touch with your local retailers."
GameStop
GameStop was selling very limited quantities of the PS5 in store for Black Friday. But with some stores offering just two consoles while people camped outside overnight, it isn't likely there will be any left. Check with your local GameStop just in case, but the consoles are probably sold out.
Target
The PlayStation 5 and the cheaper PlayStation 5 Digital Edition are largely out of stock at Target.com. However, check the website to see if your local Target store has any left—you may get lucky.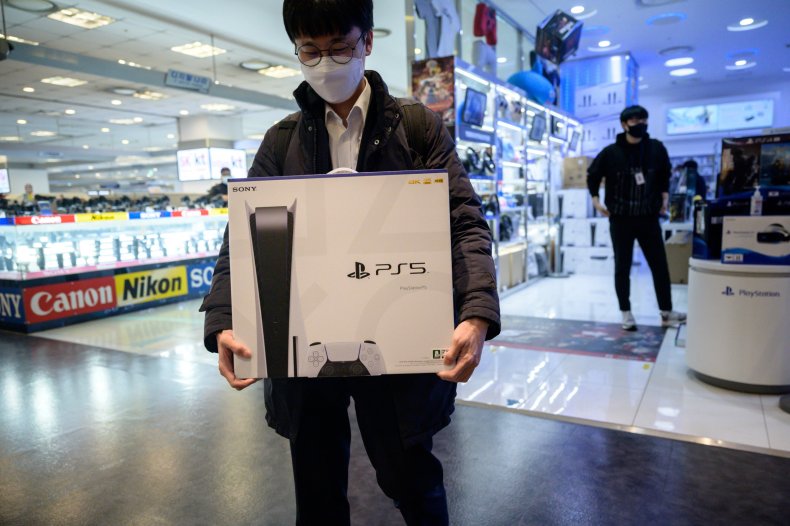 Walmart
Both PS5 consoles are out of stock at Walmart. However, the retailer told Newsweek: "We have seen strong demand from our customers for both the PS5 and Xbox Series X, and will be restocking the items for additional release of inventory throughout the holidays."
Amazon
The PS5 is currently unavailable on Amazon and the website says it doesn't know "when or if this item will be back in stock."
Kohl's
Earlier this week, Kohl's had to cancel PS5 orders after selling too many, so it is unlikely that the retailer will have a restock any time soon. The console is currently unavailable on the chain's website.
Costco
Costco has sold out of PS5 consoles.
Sam's Club
Sam's Club was selling a PS5 bundle, but it has now sold out online.
Best Buy
The PS5 has sold out on Best Buy.
Third-party websites
It is possible to find a PlayStation 5 on third-party sites such as eBay and StockX, but these are consoles that have been bought to resell for profit. They are typically listed for hundreds or even thousands of dollars more than the retail price.