PS5 Restock Updates for Antonline, GameStop, Best Buy and More
The PS5 remains difficult to purchase as limited stock only becomes available once in a while. Major retailers have not announced any upcoming restock dates, but PlayStation 5 consoles sometimes become available with little to no warning.
So the question gamers have been wondering since November is—when will the PS5 be back in stock? It is impossible to predict exactly when more PS5 stock will become available, but retailers believe that they will be able to increase stock to reach demand over the next few months.
But until then, the only way of buying a PS5 is to be quick when a retailer drops limited stock online. Retailers like Antonline, GameStop, and Best Buy have been releasing more stock every now and then, since the PS5 launch date on November 12. But as demand for the next-gen Sony console is so high, many gamers have left the drops empty-handed.
Antonline PS5 Restock
Antonline told Newsweek that it planned to make next-gen consoles available to customers each week and that it would be updating its Twitter followers about upcoming Antonline PS5 restocks.
Follow Antonline on Twitter and turn on notifications to be alerted when the retailer makes the PS5 available again.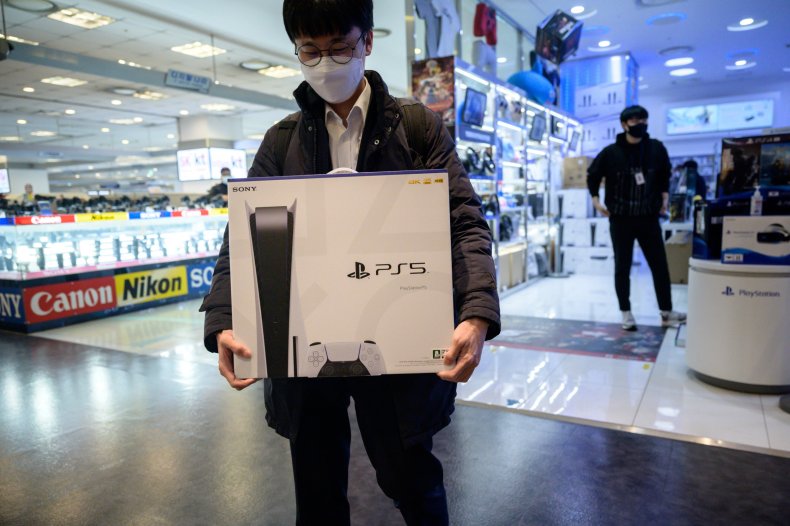 GameStop PS5 Bundle Restock
Twitter users are reporting receiving gift cards from GameStop for the amount they spent on PS5 bundles after ordering them last week. Some customers have said that GameStop's customer service told them that this was a glitch and that they will still receive the PS5 bundles. Newsweek has contacted GameStop for comment.
Best Buy PS5 Restock
The PlayStation 5 consoles and bundles are currently sold at Best Buy, and the retailer has not announced when it will be restocking the PS5. Best Buy has previously announced its restocks ahead of time but has not revealed anything recently.
Follow Best Buy on social media in case the retailer decides to let its followers know when it will have more PS5 consoles and bundles available.
Costco PS5 Restock
Costco made the PS5 available to its members earlier this week but the bundles have since sold out. The PlayStation 5 bundle came with an additional DualSense Wireless Controller, Spider-Man: Miles Morales Ultimate Launch Edition, and one month PlayStation Now membership.
Walmart PS5 Restock
The PlayStation 5 and the PlayStation 5 Digital Edition are both not appearing on the Walmart website. When searching for the consoles, Walmart customers are met with the following message: "Oops! This item is unavailable or on backorder." Walmart has not said when it will be making the Sony consoles available.
Target PS5 Restock
The PS5 and PS5 Digital Edition were marked as sold-out on the Target website earlier this week but customers are now encouraged to check stock at their local Target stores. Use the Target website to see a store within a 50-mile radius has any stock.
Newsweek has affiliate partnerships. If you make a purchase using our links, we may earn a share of the sale.