PS5 Restock Updates and Availability Tracker from PopFindr, Target and More
The PlayStation 5 continues to be notoriously difficult to find and purchase, but those who have not got their hands on a PS5 console yet should not give up home just yet.
After selling out pretty much straight after becoming available during pre-sales, launch day, and subsequent Black Friday and Cyber Monday restocks, PS5 consoles are few and far between.
However, PlayStation has said that it expects to restock by the end of the year, so there is still a chance of getting the PS5 for the holidays. While many major retailers like Target and Walmart say they are sold out online, some gamers report having had some luck finding stock at certain Target stores when ordering through the app.
Find out below what the latest PS5 restock update is, plus tips on how to try and buy a PlayStation 5.
Walmart PS5 Restock
Walmart Canada will be restocking the PlayStation 5 and digital edition at 11 a.m. ET on December 3 but will ship within Canada only. Walmart U.S. has not announced when it will next have the PS5 console in stock.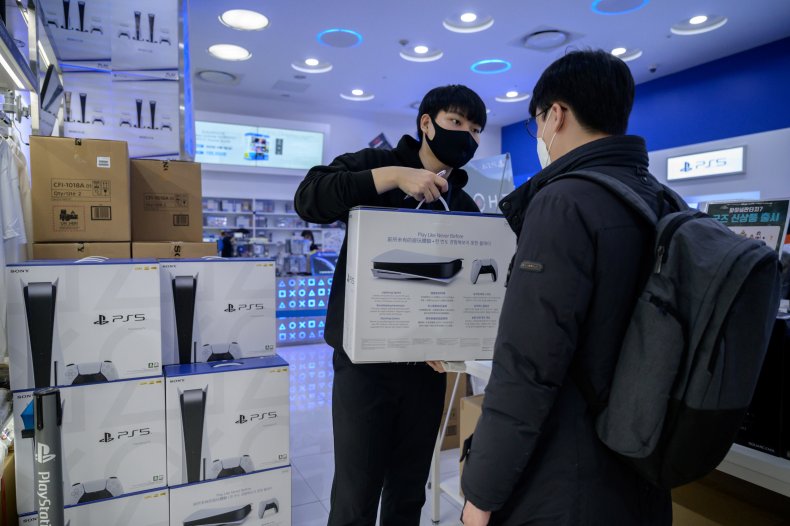 Target PS5 Restock
PopFindr says that the stock information for PS5s at Target is for in-store, pick-up ordering via the app. Therefore, there is no point turning up to your local Target without an order.
PopFindr's website says that some Target stores have the PS5 in stock, even though the Target website currently says these stores are sold out.
If PopFindr is right about the availability of the stock available to purchase through the app, it may be worth using the inventory checker as a guide and then keeping an eye on your local Target's stock on the Target app. Try calling your local Target to double-check, but know that they will not be able to sell the console in-store.
Third-Party Website PS5 Restock
The PS5 console is being resold on third-party websites like StockX and eBay for hundreds of more dollars than the original price. Some listings may also be scams, with some sellers listing only the box or an image of the console for sale. If you choose to purchase the PS5 from a reseller, be cautious.
GameStop PS5 Restock
GameStop has not announced when it will next restock. Although it is unlikely, it may be worth calling your local store just in case they have any PS5 consoles.
Amazon PS5 Restock
The PS5 has sold out on Amazon and the retailer has not announced when more consoles will be in stock.
Newsweek has affiliate partnerships. If you make a purchase using our links, we may earn a share of the sale.