PS5 Restock Updates for Walmart, Antonline, GameStop, and More
Thursday was a good day for PlayStation fans as the PS5 console was restocked at numerous retailers. Gamers who hadn't been able to get their hands on the Sony console since it was released in November had been waiting for opportunities like yesterday, as the PlayStation 5 is not always readily available.
Multiple retailers like Amazon, GameStop, Antonline, and Walmart have restocked the PS5 this week, giving gamers multiple chances to finally purchase the elusive PlayStation 5.
Find out below what the latest PS5 restock updates are for major retailers like Amazon, Antonline, Best Buy, GameStop, Newegg, Target, and Walmart.
Amazon PS5 Restock
Amazon restocked the PlayStation 5 console on Wednesday, but it has since sold out. Amazon has not revealed when it will have more Sony consoles available.
Check PS5 restock at Amazon.
Antonline PS5 Restock
On Thursday morning, Antonline made available a PS5 bundle containing an extra DualSense controller, a PS5 camera, Demon's Souls, Marvel's Spider-Man: Miles Morales Ultimate Edition, and a 12 month PlayStation Plus membership for $829.94.
Antonline announced the restock on Twitter as it normally does, so gamers may want to follow @antonlinecom for more updates.
Check PS5 restock at Antonline.
Best Buy PS5 Restock
The PlayStation 5 is not currently available at Best Buy and the retailer has not said when more will be available.
Check PS5 restock at Best Buy.
GameStop PS5 Restock
GameStop restocked the PlayStation 5 bundles on Thursday but did not announce the restock on Twitter. Instead, gamers were alerted by Twitter accounts like @Wario64.
The bundles on offer included items like an extra controller, a GameStop gift card, and Marvel's Spider-Man: Miles Morales.
Check PS5 restock at GameStop.
Newegg PS5 Restock
Newegg's PS5 bundles are currently out of stock but Newegg members can sign up to be notified when more consoles become available.
Check PS5 restock at Newegg.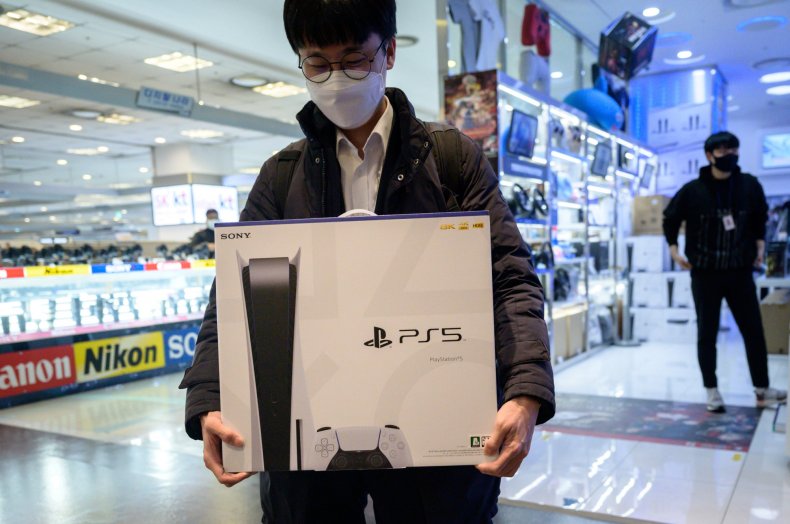 Target PS5 Restock
The PlayStation 5 is currently not available at Target, but when the retailer restocks, the console's availability will vary by location and will only be available to order online with order pick-up or drive-up.
Check PS5 restock at Target.
Walmart PS5 Restock
Walmart restocked the PS5 on Thursday and alerted Newsweek ahead of time. The consoles were limited and only available with delivery. Limited quantities of the Xbox Series X and Xbox Series S were also available.
Check PS5 Restock at Walmart.
Newsweek has affiliate partnerships. If you make a purchase using our links, we may earn a share of the sale.