PS5 Restock Updates as Walmart Rumored to Sell PlayStation 5 Online Only
The PS5 has been released so sporadically it is hard to know when it will be back in stock. Retailers like Walmart and PlayStation Direct have been restocking the PlayStation 5 consoles with no warning, leaving it up to gamers to be alert at all times in case stock drops.
Now, with the long-awaited Cyberpunk 2077's release last week, the PS5 console may have become more desirable than ever, especially as gamers playing on the base PS4 consoles complained of poor graphics and crashes.
Plus, with just 11 days until Christmas Day, the time to buy a PS5 console for the holidays is running out. As a result, it would seem that Walmart is altering its tactics and might be selling the console online only over the festive period, or for the foreseeable future.
Find out below the latest updates on the PS5 restock at major retailers, plus how to improve the chances of getting a next-gen console.
Walmart PS5 Restock
There are reports of signs being displayed at Walmart stores claiming that the PlayStation 5 console and Digital Edition, as well as the Xbox Series X and S consoles, will not be sold in-store. Customers are directed to check the Walmart website and app for availability.
Similarly, Walmart Canada announced on Friday that it would be selling the PlayStation 5 online only.
However, the PS5 remains unavailable on the Walmart U.S. website and BrickSeek is still not able to share the console's inventory information.
It is rumored that Walmart will receive more stock on December 21 and 28 but these dates are not official and it is not clear if Walmart stores will be selling the consoles in store on these dates, or whether the consoles will be available online on these dates.
Keep an eye on the Walmart website and app in case the console becomes available. The PS5 may become available to purchase online and for in-store pickup in the next week.
Newsweek has contacted Walmart for comment and will update this article when we hear back.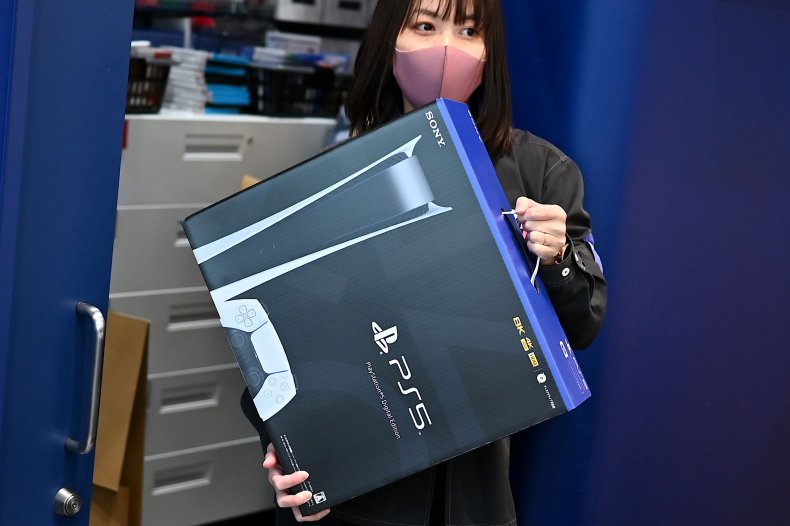 PlayStation Direct PS5 Restock
PlayStation Direct has been regularly restocking the PS5 on its website, though buying one is still down to chance. The PlayStation Direct website opens its queues on weekdays, usually sometime between 3 p.m. and 7 p.m., but with no warning so it is impossible to plan ahead.
Additionally, once a gamer joins the PS Direct queue, the order seems to be random, with some shoppers waiting a few minutes and others waiting around an hour. Joining the PS Direct queue does not guarantee that a shopper will be able to buy the console, but this route is still worth trying.
Best Buy PS5 Restock
Best Buy has confirmed that it will restock the PS5 console on Tuesday, December 15, sometime after 9 a.m. ET. The PS5 and Xbox Series X will be available to purchase online for curbside pickup, and the restock will also kick off a three-day sale on tech.
Amazon PS5 Restock
Amazon is currently out of stock of the PlayStation 5. The website has been restocking sporadically with no warning so it may be difficult trying to get a next-gen console through Amazon right now—unless you get to the website as soon as it becomes available.
Target PS5 Restock
The PS5 remains available at Target only with drive-up or order pick up, though availability varies by store and is generally out of stock. The PS5 console is not available to purchase in-store in Target so keep checking the app and website to see if your local store has stock.
Additionally, inventory checkers BrickSeek and PopFindr are still showing stock information for the PS5 at Target.
As there is no specific schedule of release dates or times for any retailer right now, the best bet to be ready when more stock becomes available is by following PS5 restock Twitter accounts, following Reddit threads, joining Discords, and by checking your local stores' social media pages.
Finally, check back at Newsweek for daily updates on the PlayStation 5 availability.
Newsweek has affiliate partnerships. If you make a purchase using our links, we may earn a share of the sale.