PS5 Restock Updates for Walmart, Target, Amazon, Best Buy and More
The latest PS5 restock is due today at Target and other retailers. This may be one of your last chances to get the PlayStation 5 in 2020 as Sony delivers more of the hard to find PS5 and PS5 Digital Edition to stores.
If you are still stinging from not finding a PS5 under your tree, there is still hope. It's been hard to find the PlayStation 5 for months as PS5 restocks arrive and sell out almost instantly. Here's more on why the PS5 is hard to find in stock and when it may get better.
The PS5 is $499, and the PS5 Digital Edition is $399. Both versions sell out fast, so you need to know which PlayStation 5 console you want to buy before the next PS5 restock update.
Retailers are fighting back against bots, automated computer programs, designed to buy the PS5 stock up faster than most buyers can. Disgruntled shoppers are even running their own bots to beat out the competition when the PS5 is in stock at retailers.
Sony is working to deliver more consoles to retailers, and we are hearing that there is very likely a PS5 restock coming to Target today, December 28.
We recommend making sure your credit card and other information are up to date before the next PS5 restock arrives.
Here's a breakdown of the latest PS5 restock information from Target, Best Buy, Walmart, Newegg, Costco, PopFindr, BrickSeek, NowinStock and more.
Target PS5 Restock
The Target PS5 restock is your best bet for finding a PlayStation 5 in 2020. The PS5 stock at target is tied to individual stores, so you need to check the Target website or use an inventory checker.
If you find the PS5 in stock at Target, you should add it to your cart and check out for in-store pickup as soon as possible. You can expect to see the PlayStation 5 in stock at Target today. Check the PS5 and the PS5 Digital Edition at Target.
Target offers drive-up or in-store pickup for the PS5, and there is a limit of one per customer.
Check the PS5 stock at Target.
Walmart PS5 Restock
The Walmart PS5 restock may deliver one more round of consoles for gamers this year. The PS5 page at Walmart is no longer up, and you cannot place a back order, but you can check the PS5 landing page, which is where PlayStation 5 consoles will show up on the retailer.
In mid-December, Walmart shared an update, "We have more next-gen consoles coming online soon, and we're continuing to work hard to get them into the hands of as many customers as possible."
Check the PS5 stock at Walmart.
Best Buy PS5 Restock
The Best Buy PS5 restock is online-only, and the retailer reminds customers that they need to order the console online for curbside pickup only. You cannot walk into a Best Buy and get a PS5 off the shelf.
Best Buy lists the PS5 and PS5 Digital Edition as well as five PlayStation 5 packages that include games or controllers and a higher price. Pay attention to the PS5 packages at Best Buy, which may see a faster restock.
Check the PS5 Stock at Best Buy.
GameStop PS5 Restock
GameStop is an essential place to check for PS5 restock updates. We saw a PS5 bundle in stock in the middle of December with NBA 2k21 and Demon's Souls, but both PlayStation 5 consoles are listed as unavailable.
Check the PS5 stock at GameStop.
Amazon PS5 Restock
On Amazon, PS5 restocks aren't happening as often as other retailers, but it is still a good place to check. We don't have details on when the PS5 stock will land at Amazon.
Check the PS5 stock at Amazon.
Newegg PS5 Restock
Newegg will occasionally tweet PS5 restock information when the next PS5 drop is about to happen. The Newegg PS5 restock typically happens at 5 p.m. PT, 8 p.m. ET.
The Newegg PS5 options are all bundles, so be prepared to spend more than $499, but less than what resellers are charging.
Check PS5 stock at Newegg.
Antonline PS5 Restock
We saw an Antonline PS5 restock earlier this month, but the console is listed as sold out currently. The listing is for a PS5 bundle with four games and a spare controller.
Check PS5 stock at Antonline.
Costco PS5 Restock
Costco sells a PS5 bundle with the latest Spider-Man: Miles Morales Ultimate Launch Edition, a second controller and a month of PlayStation Now membership for $639.99, but it is out of stock with no information on a new restock.
Check PS5 stock at Costco.
PopFinder, BrickSeek and NowinStock PS5 Restock
Inventory checking websites and services like PopFindr, BrickSeek and NowinStock can simplify finding a PS5 in stock, but some retailers are blocking the services.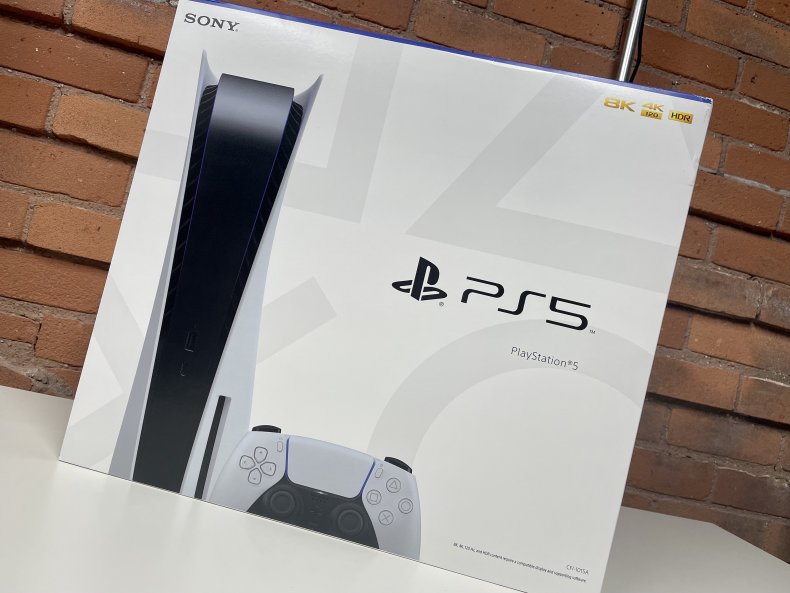 Newsweek may earn a commission from links on this page, but we only recommend products we back. We participate in various affiliate marketing programs, which means we may get paid commissions on editorially chosen products purchased through our links to retailer sites.