Psaki Criticized Over Reasoning for Why Migrants Don't Need Vaccine Proof But Travelers Do
White House press secretary Jen Psaki is facing criticism over her latest comments on why migrants aren't required to be vaccinated against COVID-19.
During Monday's press briefing, Fox News correspondent Pete Doocy asked Psaki if officials are asking the people crossing the southern border—specifically the thousands of migrants setting up camp in Del Rio, Texas—for proof of vaccination or a negative COVID-19 test.
"As individuals come across the border, they are both assessed for whether they have any symptoms," Psaki told Doocy. "If they have symptoms, the intention is for them to be quarantined. That is our process.
"They're not intending to stay here for a lengthy period of time. I don't think it's the same thing. It's not the same thing....We are expelling individuals based on Title 42 specifically because of COVID, because we want to prevent a scenario where large numbers of people are gathering posing threats to the community and to the migrants themselves."
Title 42 allows U.S. Customs and Border Protection to expel undocumented migrants to prevent the spread of the virus. Homeland Security Secretary Alejandro Mayorkas told reporters on Monday that a majority of migrants continue to be removed from the U.S. under the guidance.
Representative Lauren Boebert, a Colorado Republican, called the White House press secretary's comments "bull crap."
Matt Whitlock, a Republican commentator, tweeted: Psaki has been getting hammered on the 'letting unvaccinated immigrants in while requiring vaccines for everything else' issue for weeks. How does she not have a better answer than this nonsense?!"
Arizona Republican Andy Biggs' response to Psaki's comments was "come again?"
One Twitter user asked, "She actually said illegal immigrants plan to be here for less time than vacationers or business travelers?"
Another person commented, "Apparently, Covid cannot be transmitted if your intentions are short term."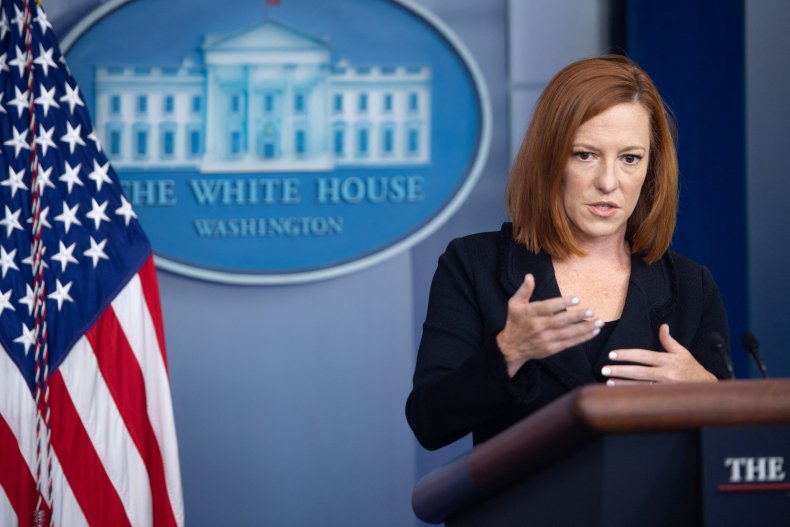 Psaki's comments came hours after the administration announced that all international travelers will be required to be fully vaccinated and proof of a negative COVID-19 test taken three days prior to boarding a plane.
The new system "follows the science to keep Americans and international air travel safe," White House COVID coordinator Jeffrey Zients said on Monday.
"We will move to this much stricter global system, so we will have a consistent approach across all countries, it will require foreign nationals to be vaccinated, to prove they're vaccinated, and then to go through the testing and contact tracing regiments," Zients added.
Newsweek reached out to the White House for comment on the response to Psaki's statement but didn't receive a response before publication.