Psaki Refuses to 'Predict' If Officials Would Be Held Accountable for Afghan Drone Strike
White House Press Secretary Jen Psaki on Monday refused to "predict" if any U.S. military officials would be held accountable for the botched drone strike in Afghanistan that killed 10 civilians, including seven children.
During a press conference, Psaki was asked by a reporter whether it "should be anticipated that someone would be fired, demoted, passed over and held accountable in the military ranks for this?"
"I think what's important is that the Secretary of Defense [Lloyd Austin] and General [Kenneth F.] McKenzie came forward and made very clear that they wanted to see this move forward quickly. They wanted to be as transparent as possible," she said. "They wanted to learn from what had happened. It's also important to note what the circumstances were here when this strike was made."
Psaki reiterated that "this was a scenario where there were direct threats from ISIS-K against our troops who were on the ground in Afghanistan, and that was the scenario where the strike was made."
"Obviously, it was done in error, and obviously there was a horrific tragedy that happened, but I'm not going to predict what the impact will be," she added.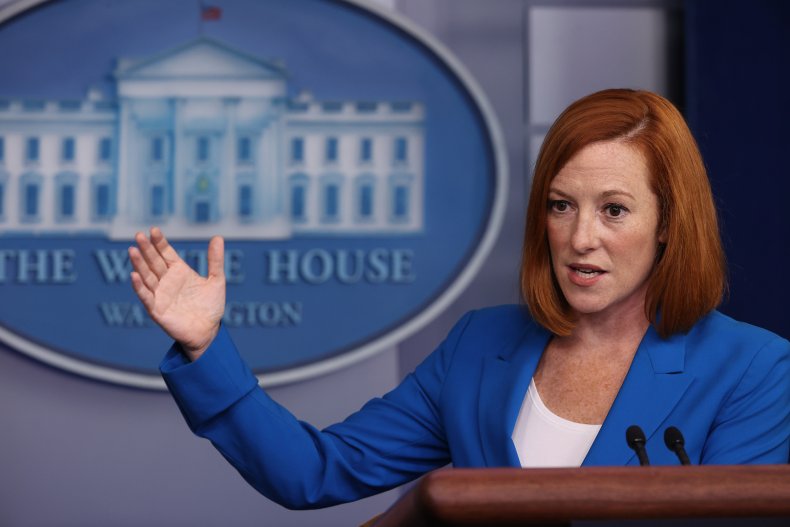 Psaki also discussed America's relationship with France and the easing of U.S. travel restrictions for international visitors during the briefing.
"We value our relationship and our partnership with France on a variety of issues facing the global community, whether it's economic growth, or whether it's the fight against COVID, or addressing security throughout the world," said Psaki. "And that has been a longstanding partnership for many, many years."
A number of Republicans figures, including U.S. Representative Lee Zeldin and former President Donald Trump, have condemned the Biden administration for its handling of the U.S. withdrawal from Afghanistan.
On September 13, Zeldin called for the resignation of Secretary of State Antony Blinken over his role in the Afghanistan withdrawal.
"The administration should not have been lying and misleading the American public like when the White House press secretary is standing out there to the press, the American public and saying that Americans aren't stranded even though we all know that they are," said Zeldin.
In a statement last week, Trump said that the withdrawal has "emboldened" the Black Lives Matter (BLM) movement.
"Our Country is far more susceptible to attack by outside terrorist groups than ever before," said the former president. "This loss emboldens not only foreign terrorists but also Antifa and BLM."
Newsweek reached out to the White House for further comment. This story will be updated with any response.