Psaki Says It's 'Crazy' for DeSantis to Push Monoclonal Antibody Treatments For Omicron
White House Press Secretary Jen Psaki said Tuesday that it's "crazy" for Florida Governor Ron DeSantis to continue pushing for monoclonal antibodies to treat the Omicron coronavirus variant after the Food and Drug Administration (FDA) restricted their use on Monday.
"Let's just take a step back here just to realize how crazy this is," Psaki said during a press briefing. "These treatments, the ones that they are fighting over, that the governor's fighting over, do not work against Omicron and they have side effects. That is what the scientists are saying."
Psaki's comments come after DeSantis slammed the Biden administration's decision to temporarily halt the use of two monoclonal antibody treatments produced by Regeneron and Eli Lilly. The FDA deemed the treatments "highly unlikely" to be effective against Omicron, which now accounts for 99 percent of virus cases across the U.S.
DeSantis, who has long pushed for use of the therapeutic treatment, claimed that the decision was "reckless" and urged the FDA to reverse its decision.
"This indefensible edict takes treatment out of the hands of medical professionals and will cost some Americans their lives. There are real-world implications to Biden's medical authoritarianism – Americans' access to treatments is now subject to the whims of a failing president," the Florida Governor said on Monday.
DeSantis added that the FDA's decision caused each of Florida's monoclonal antibody sites to shutter and resulted in the cancellation of more than 2,000 appointments, marking a blow to his administration's efforts to expand access to therapeutics.
The Florida Republican also insisted that the FDA's decision was made "without a shred of clinical data" to support the action.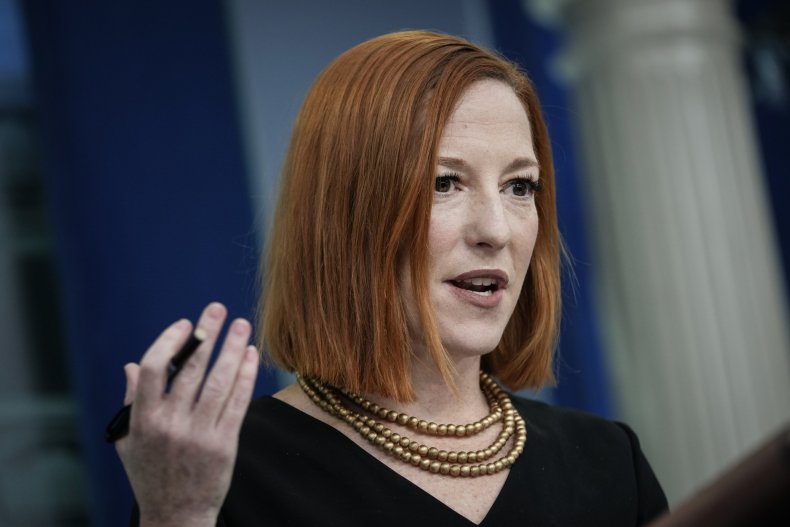 In response, Psaki further criticized DeSantis on Tuesday by implying that he is among a number of elected officials "advocating for things that don't work" against COVID-19, such as "injecting disinfectant, promoting other pseudoscience, sowing doubt on the effectiveness of vaccines and boosters."
"We've approached COVID treatments like filling a medicine cabinet. We're not relying on one type, one brand or treatment. We invested in and continue to buy a variety of monoclonal antibodies, preexposure prevention therapies and oral antivirals," Psaki said.
"We have sent [Florida] 71,000 doses of treatments that are effective against Omicron, and also effective against Delta. And they are still advocating for treatments that don't work. We have seen, unfortunately from the beginning... unfortunately from the mouths of election officials...people advocating for things that don't work," she added.
Newsweek contacted DeSantis' office for additional comment, but did not hear back in time for publication.