Psaki Says Trump 'Incited Insurrection,' Pressured DOJ to 'Propagate Lies'
White House press secretary Jen Psaki responded Monday to a reporter who attempted to compare the recent actions of President Joe Biden to the usage of the U.S. Department of Justice (DOJ) by former President Donald Trump.
During the daily White House press briefing, Psaki was asked by Peter Doocy, the White House correspondent for Fox News, about a promise President Biden had made during the campaign that he would not use the DOJ in a similar manner.
"What's changed since last year when [President Biden] said 'I will not do what former President Trump does and use the Justice Department as my vehicle to insist that something happened,'" Doocy asked.
In answering Doocy's question, Psaki stated that the former president had used his office to his personal advantage by citing the January 6 insurrection at the U.S. Capitol, as well as pressuring DOJ officials to lie about the outcome of the 2020 presidential election.
"Well, since you give me the opportunity here, former President Trump used his office to incite an insurrection, he put political pressure on senior DOJ officials to propagate lies about the election to the point where they threatened to resign en masse," Psaki replied.
"I think there's hardly a comparison there," she continued.
Psaki and Doocy have had a contentious relationship since the Biden administration took office, and have clashed over numerous policies and subjects, including immigration and COVID vaccines, among other issues.
Doocy's question was in response to President Biden's remarks Friday in which he stated that the DOJ should go after people that ignored subpoenas from the House Select Committee investigating the January 6 insurrection.
The president told CNN White House correspondent Kaitlan Collins that "I hope that the committee goes after [those people] and holds them accountable."
Collins then asked President Biden if he believed the DOJ should then prosecute those individuals criminally, to which the president replied "I do, yes."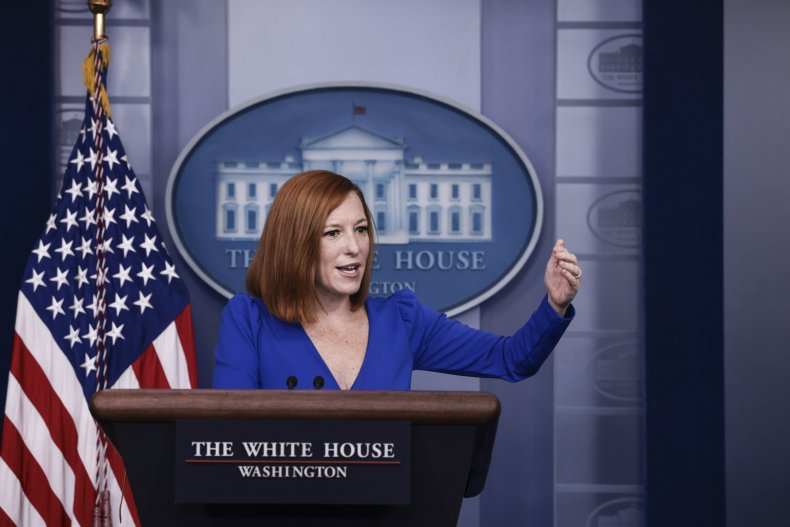 While the president made his opinion on the matter known, Psaki reiterated that any action taken by the DOJ would be done in a manner independent from White House interference.
"That would be up to the Department of Justice, and it would be their purview to determine. They're an independent agency," Psaki said at a press briefing on October 8. "They're independent. They would—they would determine any decision on criminal prosecutions. I'd point you to them and, of course, the committee."
Psaki did not elaborate on whether or not President Biden had discussed any possible criminal outcomes with DOJ officials, including Attorney General Merrick Garland.
Steve Bannon, a high-profile member of former President Trump's cabinet, made headlines earlier in October when he defied his subpoena from the House Select Committee. The Washington Post said that the Committee was planning to "aggressively enforce" its subpoenas, including Bannon's.
Additionally, Representative Adam Kinzinger, an Illinois Republican, told CNN's Jake Tapper that subpoenaing the former president was not off the table.
"If we subpoena all of a sudden the former president, we know that's going to become kind of a circus so that's not necessarily something we want to do up front," Kinzinger said. "But if he has pieces of information we need, we certainly will."
Newsweek has reached out to the White House press office for comment.