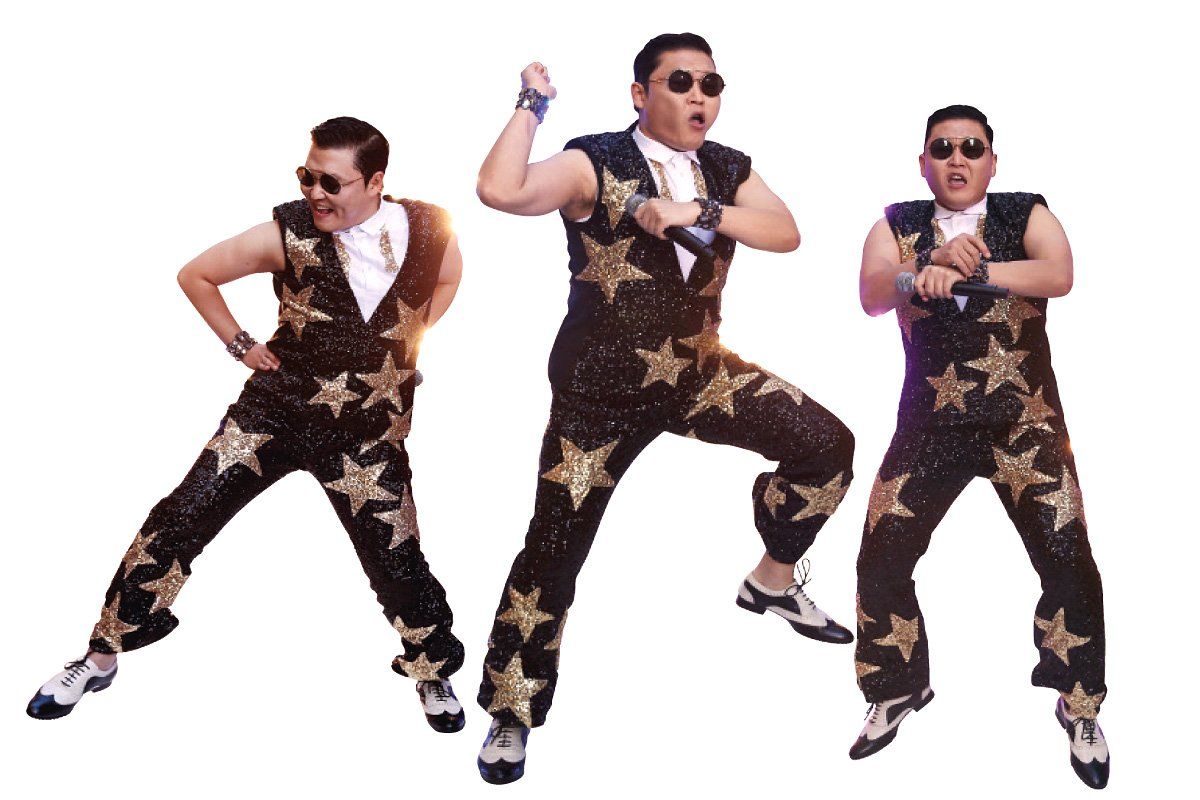 Psy is exhausted. Over the past week, the 34-year-old Internet anomaly traveled to Australia, California, and New York to promote his song "Gangnam Style," the music video for which has racked up more than 532 million YouTube views since it premiered July 15 and set the Guinness world record for the most "liked" video in YouTube history.
"It's the greatest video since 'Thriller,'" says Scooter Braun, who signed Psy to his Schoolboy Records label shortly after the video's debut, adding to a roster that includes fellow viral sensations turned stars Justin Bieber and Carly Rae Jepsen.
The campy video's signature horse-riding dance, meanwhile, has become the biggest thing since the Macarena. Everyone from Hugh Jackman to Britney Spears has aped it, and even dissident Chinese artist Ai Weiwei has shot his own video parody.
Between pit stops at The View and the United Nations, Psy took a power nap before emerging in his ubiquitous tuxedo to discuss his meteoric rise.
"Gangnam Style," he says, was shot in 48 hours across 28 locations in the Gangnam District of Seoul as well as greater Seoul. Though it appears to mock the nouveau riche tackiness of the area, which is often referred to as the Beverly Hills of South Korea, Psy claims the video "wasn't a criticism of Gangnam" and was merely intended to "lift people's spirits."
The music video, as well as its infectious dance, was no accident.
"Me and my choreographers in Korea spent 30 nights doing every animal," he says. "We did this slithering on the floor that we called the snake dance. Then someone turned on the TV, and there was a horse galloping across a yard." Thus, an Internet sensation was born.
Psy (his birth name is Park Jae-sang) grew up in the Gangnam District listening to Queen, Aerosmith, and Def Leppard. Despite what he says was a poor academic record, he convinced his family to let him study overseas instead of going to work for his father's semiconductor company.
"In Korea, it's a tradition to inherit your father's business," says Psy. "Unfortunately, I'm the only son in the entire family, so they were forcing too much."
Psy enrolled at Boston University in 1996, but quit shortly afterward, blaming the rigorous schedule and coursework. With his leftover tuition money, he purchased a computer, an electric keyboard, and a MIDI. He started listening to hip-hop (Tupac, Dr. Dre, and Eminem were his favorites), and the burgeoning rap genre gave him hope for his own future in music. "I thought, wow, [by] just saying the words fast I can be a singer." The following year he went off to the Berklee College of Music.
"I transferred without giving any notice in 1997, and in May 1998 Berklee sent a letter to my father about Parents Day," says Psy. "My parents were totally pissed."
After attending Berklee, he moved back to Korea and released his debut rap album, Psy ... From the Psycho World!, in 2001. According to Psy, the music video for his first single, "Bird," was a "huge phenomenon" in South Korea thanks to its flashy outfits and outrageous dance moves. The Korean press nicknamed him "the Bizarre Singer."
Despite the stir caused by "Bird," Psy was forced to pay a fine due to the album's explicit language. The next year, he released two albums, Ssa 2 and 3 PSY, but Ssa 2 couldn't be sold to people under 19 due to inappropriate content.
Psy's music career was put on hold in 2003 while he served two years of his mandatory military service as a technician. The following year, he married his longtime girlfriend, Yoo Hye-yeon (the couple has twin daughters). However, after it was discovered that Psy hadn't completed the necessary requirements of his military service, he was redrafted into the Army in 2007 and served as a soldier for two years. It was a sobering experience, he says. In the eyes of the Korean public, he'd committed three strikes, with the censorship troubles, military snafu, and a 2001 marijuana bust, which he refuses to discuss.
"Korea is conservative about that sort of thing; very big moral expectations," he says. "I've gotten in big-time trouble three times, and other singers aren't reinstated [into the public's good graces]."
Today, it's a different story. The former rebel has become an ambassador for South Korea and an international star. Performing in front of 100,000 screaming fans at Seoul Plaza brought him to tears recently, and U.N. Secretary-General Ban Ki-moon introduced him at the U.N. by admitting: "I'm a bit jealous. Until two days ago someone told me I am the most famous Korean in the world. Now I have to relinquish [that title]."
"All the people in Korea are cheering me like I'm a gold medalist or something, so I have a responsibility to my country," says Psy. "I didn't plan to be [famous] in the U.S. because I always thought that the American market treated and considered Asian artists like different people. Unexpectedly, I'm here now, so I need to let all the U.S. marketers know that Asians are not different. We are all the same."
According to Psy, the immense pressure to follow up "Gangnam Style" is "a nightmare." After recording his new track last week, he's now at work conceptualizing a music video and dance that can outdo his breakout hit. "[I'm] just known as a YouTube sensation with a funny song, for now," says Psy. "I need to show the world that my final goal is to perform huge concerts like Madonna."