'Psych 2' Movie Release Date: When is the New TV Movie 'Lassie Come Home' on Peacock?
Psych is due to return in a new TV movie, six years after the USA Network show came to an end and three years after the show's first feature-length special. Psych 2: Lassie Come Home is one of the inaugural releases on new streaming service Peacock, and will see Shawn (played by James Roday) and Gus (Dulé Hill) joined by new cast members like Joel McHale, Scrubs' Sarah Chalke and Hill's former West Wing co-star Richard Schiff.
When is Psych 2 released?
Psych 2 will be available on the first day of the nationwide release of Peacock, the upcoming streaming service from NBC Universal. Lassie Come Home will be launched on the streamer alongside an adaptation of the cult book Brave New World, a Ryan Lochte documentary and U.K. series Intelligence and The Capture among other content.
After a trial period that sees the service only available to Xfinity customers, Peacock will launch across America on Wednesday, July 15.
In the lead-up to that date, show creator Steve Franks revealed to Entertainment Tonight that viewers should watch the original Psych movie, where a number of characters were introduced that reappear in the sequel, as well as a number of classic episodes.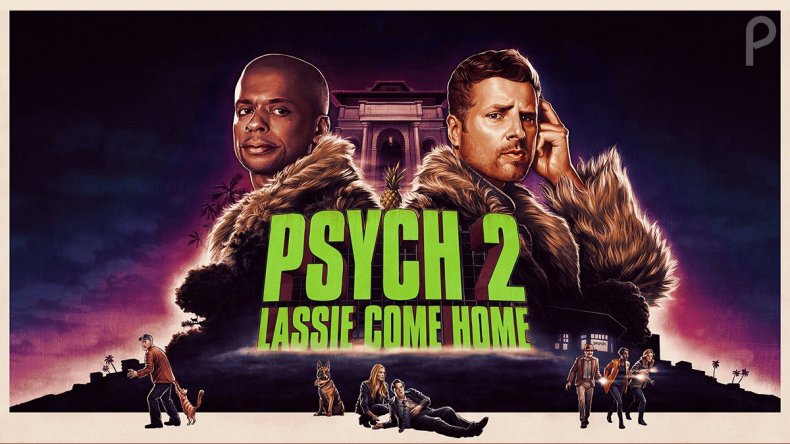 He said: "There are a lot of little nods. There's props from the [Season 7] "100 Clues" episode, the [Season 6] "Indiana Shawn and the Temple of the Kinda Crappy, Rusty Old Dagger." I believe there's something from [Season 8's] "Lock, Stock, Some Smoking Barrels and Burton Guster's Goblet of Fire", which was the most fun I'd ever had. There's some from the musical episode in there."
Viewers who want to rewatch those episodes and the rest of the show's eight-year run can currently view them on Amazon Prime Video in the U.S. The first Psych The Movie, meanwhile, is available on DirecTV and on the USA Network website.
As for what fans can expect from Psych 2, the Peacock synopsis reads: "In a vintage Psych-style Hitchcockian nod, Lassie (Timothy Omundson) begins to see impossible happenings around his recovery clinic. Shawn and Gus return to the Chief's side in Santa Barbara and are forced to navigate the personal, the professional, and possibly the supernatural.
"Separated from their new lives in San Francisco, our heroes find themselves unwelcome in their old stomping grounds as they secretly untangle a twisted case without the benefit of the police, their loved ones, or the quality sourdough bakeries of the Bay Area. What they uncover will change the course of their relationships forever."
Among those "impossible happenings" will be a flashback that reveals Lassie's father, played by Community actor Joel McHale. Another is having Omundson's character in hospital to cater for the fact the actor was still recovering from a stroke when filming took place in 2017.
Franks said of this: "We had to figure out how to do a story with Tim and work around the amount of time we would potentially get with him and what he was going to feel comfortable doing. So, we put a couple scenarios together. But James [Roday] basically said, 'He gets shot, he's recovering from a stroke, he's in the hospital and he starts seeing things.'"
Psych 2: Lassie Come Home is released on Wednesday, July 15 on Peacock.