Psychedelic-Themed Market With Groceries, Light Shows Baffles Viewers in Viral Video
A newer venue in Las Vegas is drawing a whole lot of reactions.
Omega Mart is the second permanent installation created by the company Meow Wolf, which called the venue located on South Rancho Drive "an interactive, mind-bending immersive art experience."
Not only is the venue a mammoth-sized supermarket with psychedelic-like visuals that make your average grocery store pale in comparison, but attendees soon discover that this is no average market but a plethora of entertainment options at your fingertips—literally.
The House of Eternal Return in Santa Fe, New Mexico, was the first permanent installation and opened in March 2016. Meow Wolf's Convergence Station opened in Denver, Colorado, on September 17, 2021.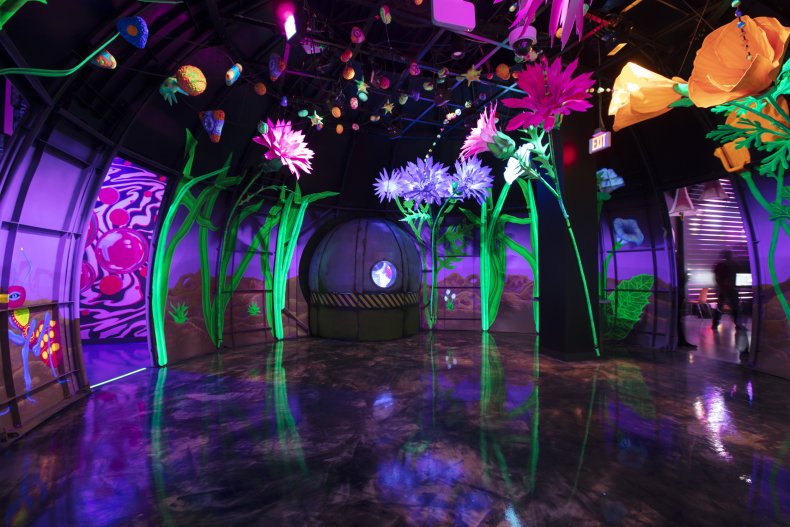 It took more than three years to design and build. It is composed of about 250 projects, installations and contributions from over 325 artists and collaborators locally and worldwide.
Corvas Brinkerhoff, Meow Wolf co-founder and executive creative director of Meow Wolf Las Vegas, said the venue itself is impressive in size and scope. The storytelling experience is more immense and "on an unprecedented scale and complexity" when compared to previous ventures Meow Wolf has launched.
"We're trying to create an experience here that is very unpredictable and kind of transports [attendees] into other worlds," Brinkerhoff said. "They can expect to have an experience that is unlike anything they've ever seen before."
Marketed as a supermarket that bursts into surreal worlds and unexpected landscapes, Meow Wolf's entertainment offering is intended to provide unpredictability, shock and awe as individuals of all ages use their imaginations to see what's in store behind every door and corner.
"Featuring jaw-dropping work from international and local artists, Omega Mart is an experience in imagination and immersive storytelling," the company said. "Discover secret portals or simply soak up the innovative art as you venture beyond an interactive supermarket into parts unknown. You have no idea what's in-store for you!"
Omega Mart is the anchor tenant of AREA15, located on the same property. Described as an immersive playground, the space entertains the adventurous and the bizarre as a full-blown experimental entertainment district that offers live events, grandiose art installations, surreal design landscapes, retail, bars and eateries.
Attendees can take part in myriad offerings all under one roof. They can throw axes, wander through bamboo volcanoes, or race on zip lines. Every door seems to lead somewhere else.
"Omega Mart is something to experience for all ages, from young to old," Meow Wolf spokesperson Thomas Judd told Newsweek. "We find that each age group or demographic finds something special about it and experiences it differently from the other. Some may dive deep into the narrative-driven gameplay, some may just come for the cool art and to take photos, and that's all okay!"
Brinkerhoff said "the mundane" and things that are familiar to everyone ropes people into this venue, but when "turned upside down" a transformative experience occurs.
He used the example of what seems like a normal refrigerator door, except it opens and leads to a different, more immersive space.
A TikTok video takes attendees through the Omega Mart from a first-person perspective, showing not just the denseness of the space but all the colors and designs that make this a new destination for locals and visitors alike.
Some deem it a "tourist grab" that costs too much, while others are intrigued by what's inside.
Judd told Newsweek that the company is celebrating its first anniversary on February 18.