Psychedelics May Treat the Post-COVID Mental Health Crisis | Opinion
The COVID pandemic has left another pandemic in its wake: mental health. With unprecedented demands on our mental health services by a generation left traumatized, we need to look at new effective treatments for those affected.
One of these new effective treatments is the use of psychedelics. There is a growing body of research that shows that psychedelics can be a safe and effective treatment for post-traumatic stress disorder (PTSD), depression, anxiety and various forms of addiction. What's more, this new way of treating those affected could create thousands of jobs and an entirely new sector within the health care industry. All we need to do is fund further research that can pave the way for wider mainstream adoption by medical professionals.
This demand for new, effective treatments is growing day by day. More than 42 percent of people surveyed by the U.S. Census Bureau reported having various forms of anxiety or depressive symptoms, an increase of 11 percent on the previous year. This has disproportionately affected younger people; 67 percent of the respondents from a Young Minds survey said that the pandemic will have a long-term negative effect on their mental health.
The long term nature of this increasing mental health problem is important to understand, with medical professionals predicting a huge surge in patients with PTSD due to COVID-19. A study of 36,000 New York residents as well as New York rescue workers revealed that even 14 years after the 9/11 tragedy, 14 percent still suffered from PTSD. The COVID pandemic's mental health fallout could last even longer.
"Generation COVID" could be suffering throughout their entire lifetime. We have a professional and personal duty to try everything possible to help find new innovative treatments to reduce this burden and effect on society as a whole.
Our current treatments are far from perfect. Some research showed that selective serotonin reuptake inhibitors—a common drug type prescribed for a variety of mental illnesses—had no better effect than a placebo. It was only in 2015 that GlaxoSmithKline (GSK) was forced to release data on one of its antidepressant drugs after the rates of people with suicidal tendencies seemed to get worse and rise when receiving the drug.
What's more, these drugs are not only addictive but have terrible side effects, with 56 percent of patients experiencing withdrawal symptoms after coming off them and many more never being able to come off them at all.
Doctors continue to prescribe imperfect and poor drug treatments like these because what is perceived as the only alternative—talking therapy—is in limited supply. There are not enough therapists to go around.
That is why it's so crucial that we explore alternative treatment methods for those affected, including the use of psychedelics. In May 2021, a major study in Nature found that the assisted use of MDMA was both safer and more effective than conventional antidepressants being prescribed to patients.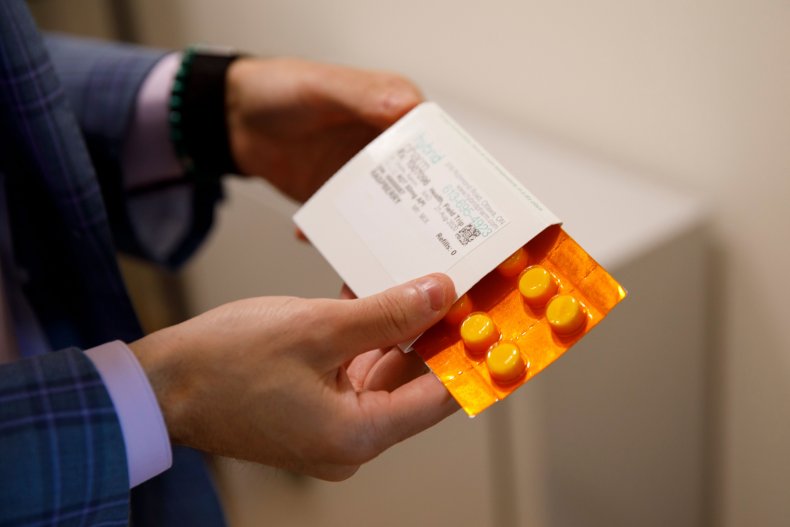 A 2020 study from Johns Hopkins University showed that two doses of psilocybin produced rapid and large reductions in depressive symptoms, with most participants showing improvement and half of the study participants achieving full remission.
Similar studies have found major promise in psychedelics being used to treat the conditions that prove most resistant to treatment, including addiction, OCD and end-of-life anxiety.
Psychedelic therapeutics are still listed as illegal drugs in some countries, meaning it's difficult to secure funding for the large-scale studies that will pressure regulators to license psychedelics for medical use. Fortunately, Canada and the U.S. have made rapid advancement in the legalization of psychedelics and these treatments are fast becoming mainstream with many countries welcoming clinics and retreats focused on using psychedelics as a way to treat anxiety, PTSD, obsessive compulsive disorder (OCD), depression and addiction.
This has been nearly a century in the making. By the 1950s, research on psychedelics was being conducted in major American medical centers. Psychedelics were only banned in the 1970s by the Nixon administration as part of the infamous war on drugs, all but shutting down research globally. It's time to return to our original trajectory of assessing these drugs for their pharmaceutical potential and vast benefits to patients in need.
The "Psychedelic Renaissance" is now well underway. The psychedelic space is growing exponentially; market researcher Data Bridge recently projected that the psychedelics sector could be worth over $6.85 billion by 2027.
It may seem like a fantasy for a doctor to prescribe psilocybin (magic mushrooms) or ketamine. But 10 years ago it seemed impossible that doctors across many U.S. states and countries around the globe, including the U.K., would prescribe cannabis as a treatment for various medical conditions.
We need to increase and fund psychedelic research and reach the critical mass of evidence so that those treatments reach everyone who needs them. The best way to do that is, as we saw with the Pfizer-BioNTech vaccine, for smaller research driven biotech companies to team up with the larger big pharma companies, in order to roll out large scale research projects with specialist know how.
For that to happen, we need to stop treating psychedelics as illicit recreational drugs and go back to looking at them in the same way we did before the war on drugs started: seeing psychedelics as promising drugs with the potential to effectively treat a range of conditions and help patients in need worldwide.
Conditions that, after the pandemic, I fear will be more widespread than ever before.
Ron Bauer is the managing partner and founder of Theseus Capital, a venture capital firm focused on the life sciences sector. He was a founding investor in a number of biotech companies and holds an MBA from the University of Cambridge.
The views expressed in this article are the writer's own.