'Psychic Cat' Has a Feline Russia Will Win World Cup Opener
As the FIFA World Cup kicks off in Russia, soccer experts all over the globe are poring through obscure statistics, lengthy team sheets, detailed weather reports and unconfirmed training camp rumours to predict who will win glory in Moscow on July 15.
But one ex-purr-t who has been pawing through his own data decided that Russia will, at the very least, come out on top in the tournament opener against Saudi Arabia on Thursday, Reuters has reported.
Achilles, a supposedly psychic cat from St. Petersburg, is backing Stanislav Cherchesov's men to begin the tournament with a win. In front of reporters, Achilles was presented with two bowls of cat food, one next to a Saudi flag and the other next to a Russian flag. The cat—who is deaf as well as psychic—performed his patriotic duty and went for the Russian food, though there seemed to be some prodded encouragement from his minders.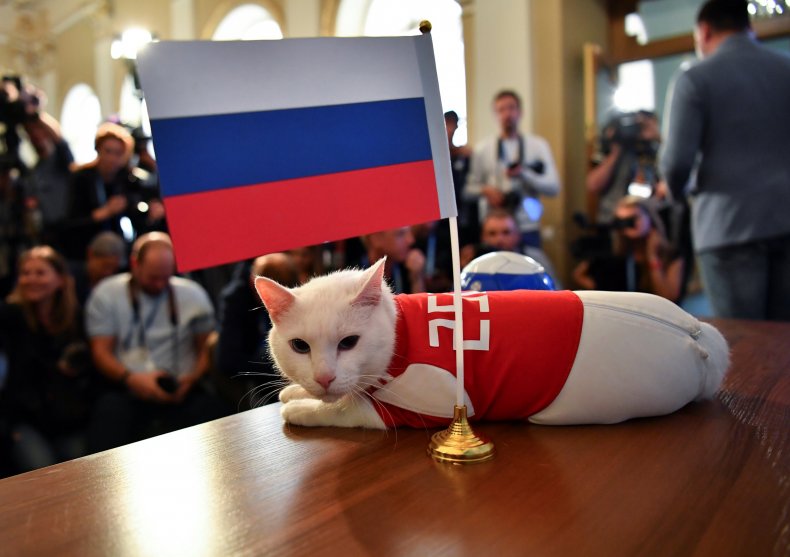 Achilles lives in St. Petersburg's Hermitage museum where his day job is as a museum mouse hunter. He was chosen to be the 2018 World Cup's official animal oracle after correctly predicting the winner in three of four Confederations Cup matches in 2017.
His minders say Achilles's hearing loss mean he will not be easily distracted when making his predictions, and can focus fully on his thoughts. They did not say whether the sight of a Russian flag may influence his decision.
Hopefully, the Russian team won't let Achilles and other fans across the nation down when they take on the Saudis at Moscow's Luzhniki Stadium. Expectations are not high, and experts consider the Russians one of the worst host teams in World Cup history. Ranked 70th in the FIFA world rankings—three spots below Saudi Arabia—to even progress from the first round group stage would be an achievement.
Achilles is not the first animal psychic to take on the experts. English-born Paul the Octopus, who lived in a German zoo, predicted the results of games involving the German national team since the Euro 2008 tournament. His accurate picks gained worldwide attention during the 2010 World Cup in South Africa. Of the 14 games asked to judge across the two tournaments, Paul only called the wrong winner twice. He predicted the victor in eight World Cup 2010 games, picking right every time.
He fared much better than the residents of the Chemnitz Zoo in eastern Germany. Leon the porcupine, Petty the pygmy hippopotamus and Anton the tamarin all failed to match Paul's prescience.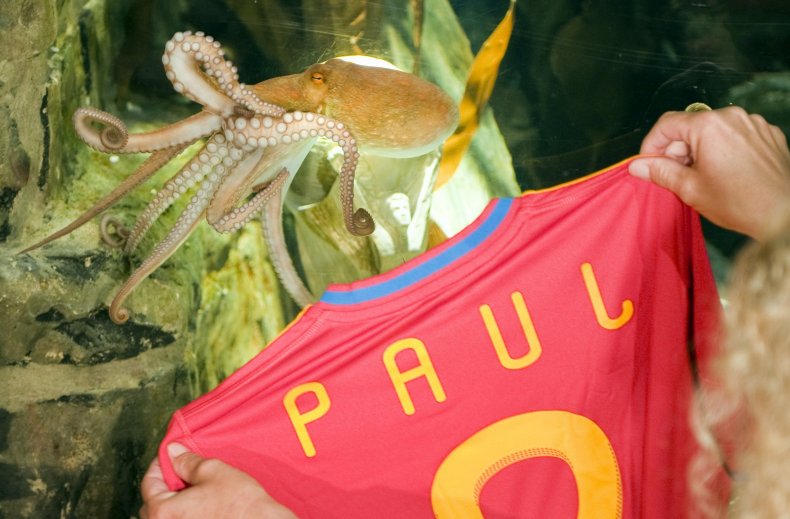 But in Singapore, Mani the parakeet correctly predicted the results of all four 2010 quarter-final matches. Mani and Paul went up against each other in the final as Spain, backed by Paul, took on the Netherlands, favored by Mani. Spain's victory—their first ever World Cup title— left Paul the undisputed king of animal psychic soccer prediction.
Paul was even made an honorary citizen of the panish town of Carballiño after the tournament and served as an ambassador for England's unsuccessful bid to host the 2018 World Cup. Like any public figure, Paul had to deal with his critics. Then-Iranian President Mahmoud Ahmadinejad called the famous octopus a symbol of western decadence and decay.
Paul died in October 2010 at the Sea Life center in Oberhausen. He was remembered in a Google Doodle before the 2014 World Cup, which showed the famous mollusc sat on a bed of clouds adorned with a halo. Manager Stefan Porwoll said Paul would be remembered as an octopus that "enthused people across every continent."
Achilles has some way to go before he can join the pantheon of great animal oracles, but hopefully he can take his first steps on Thursday.