PTSD and Depression Rates in Hong Kong 'Comparable to Armed Conflicts' After Months of Social Unrest, Study Finds
Since June 2019, Hong Kong has faced months of violent social unrest. Now, a large-scale survey has revealed that around a third of participants reported symptoms of suspected post-traumatic stress disorder, and around one in 10 reported symptoms of probable depression.
According to the authors of the study—which is published in the Lancet—one in five adult participants reported either suspected PTSD or probable depression, figures comparable to "those experiencing armed conflicts, large-scale disasters, or terrorist attacks."
For the study, the researchers—led by Michael Ni from the University of Hong Kong—examined survey responses from more than 18,000 adult residents between 2009 and 2019.
Probable depression was measured using the Patient Health Questionnaire-9 while suspected PTSD was tested for using the PTSD Checklist—Civilian Version.
Figures show that probable depression was reported by 11.2 percent of participants in 2019, compared with only 1.9 percent between 2009-14 and 6.5 percent in 2017. 2014 saw the last major pro-democracy "Occupy Central" protests.
Meanwhile, reported rates of PTSD in September-November 2019 were around six times higher than after the 2014 Occupy protests—32 percent compared to 5 percent respectively.
The increase in adults with suspected PTSD among the study participants would be equivalent to an additional 1.9 million people if the figures are extrapolated onto the entire population of Hong Kong, according to the authors.
The researchers say that the findings will place a significant extra burden on the city's capacity to to treat mental health conditions, noting that Hong Kong was "under-resourced" to deal with the issue.
"We have identified a major mental health burden during the social unrest in Hong Kong, which will require substantial increases in service surge capacity," the authors wrote in the study. "In a world of increasing unrest, our findings might have implications for service planning to better protect population mental health globally."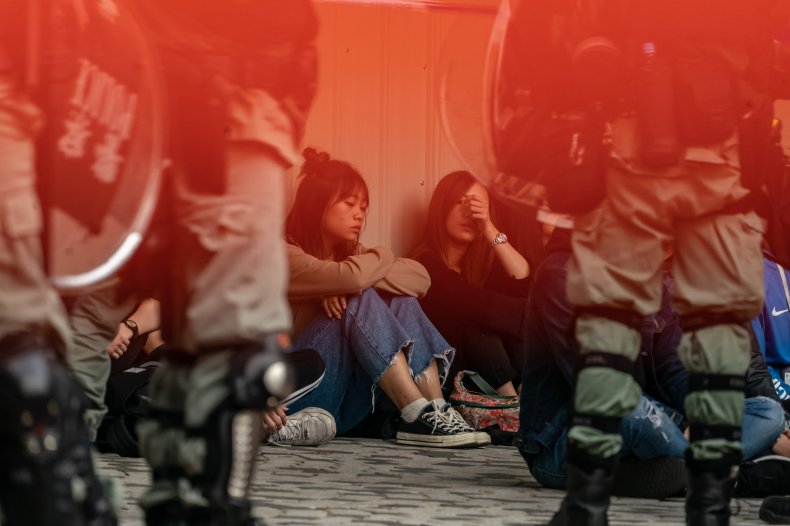 The researchers also suggest that the figures reported could be an underestimate due to the fact that Hong Kong residents under the age of 18 were not included. Young people make up a significant proportion of the protestors who have taken part in the recent unrest.
Intriguingly, the study also noted that those who frequently used social media to follow the unrest appeared to be at higher risk of probable depression and PTSD, although it is important to note the researchers did not uncover a causative link.
The ongoing protests in Hong Kong were originally sparked by opposition to a controversial bill allowing the extradition of citizens to mainland China. However, the demands have now grown into wider calls for investigations into police brutality and expanded democracy in the territory—which is considered a "Special Administrative Region of the People's Republic of China."