'PUBG' August Twitch Rivals Results - Who Won the Duos Tournament?
PUBG 's Twitch Rivals tournament took the internet by storm Thursday evening, and we've got the results you've been asking for. Shroud and Holo tied to take the top prize, in what was one of the most thrilling Rivals matchups to date.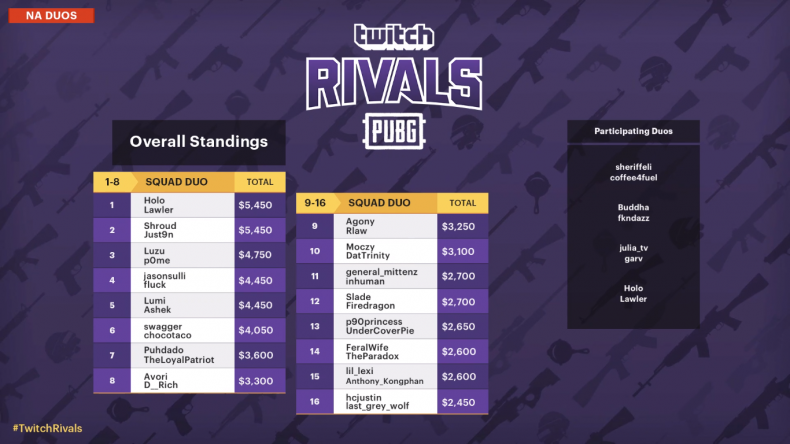 Here are the top standings for those who can't see the image above.
Holo / Lawler: $5,450
Shroud / Just9n: $5,450
Luzu / POme: $4,750
Jasonsulli / fluck: $4,450
Lumi / Ashek: $4,450
Swagger / chocotaco: $4,050
Puhdado / TheLoyalPatriot: $3,600
Avori / D_Rich: $3,300
Agony / Rlaw: $3,250
Moczy / DatTrinity: $3,100
General_mittenz / inhuman: $2,700
Slade / Firedragon: $2,700
P90princess / UnderCoverPie: $2,650
FeralWife / The Paradox: $2,600
lil_lexi / Anthony_Kongphan: $2,600
Hcjustin / last_grey_wolf: $2,140
The theme of the night was seriously aggressive play from the roster's top contenders, with Shroud racking up 15 kills in a single match and Just9n taking down a Duo by himself when all spectators deemed him dead. The tension even carried well into match 5, where Holo eliminated four players for a total of eight kills in rapid succession. As far as finales were concerned, the latest PUBG Twitch Rivals tournament delivered in a big way. It was a battle where every bullet counted, and the night's best players were rewarded for their efforts.
That being said, as has been true for other Twitch Rivals events in the past, there was a slight disconnect in terms of organization. The event itself went off mostly without it hitch, but it suffered from a noticeable lack of official promotion. Through several hours of action, Twitch social media accounts never mentioned the matches, current standings or the players involved. As stellar as the gameplay was, only the most diehard of PUBG fans knew it was going on.
PUBG is available now on PC and Xbox One.
What did you think of the latest PUBG Twitch Rivals tournament? Did Shroud and Holo deserve their victory? Tell us in the comments section!
'PUBG' August Twitch Rivals Results - Who Won the Duos Tournament? | Tech & Science