'PUBG' Charity Showdown Stream - Time, Teams, Results, Date & How to Watch
PUBG is hosting a Charity Showdown this morning, and below you'll find all the essential stream links, dates and team details you should know.
What time is the 'PUBG' Charity Showdown?
The PUBG Charity Showdown runs from 10 a.m. EDT through around 3:30 p.m. EDT on July 27. There may be additional delays and award ceremonies that extend the event further, but that's when the matches are expected to conclude.
Where to watch the 'PUBG' Charity Showdown stream
Just like the PGI tournament happening through this week, the PUBG Charity Showdown will air on the official PUBG Twitch channel. The event will also be available on the PUBG website, YouTube, Facebook and Mixer. Your favorite streamers may host their own matches, and we'll link to those in the team list below.
Watch live video from playBATTLEGROUNDS on www.twitch.tv
'PUBG' Charity Showdown Teams & Rules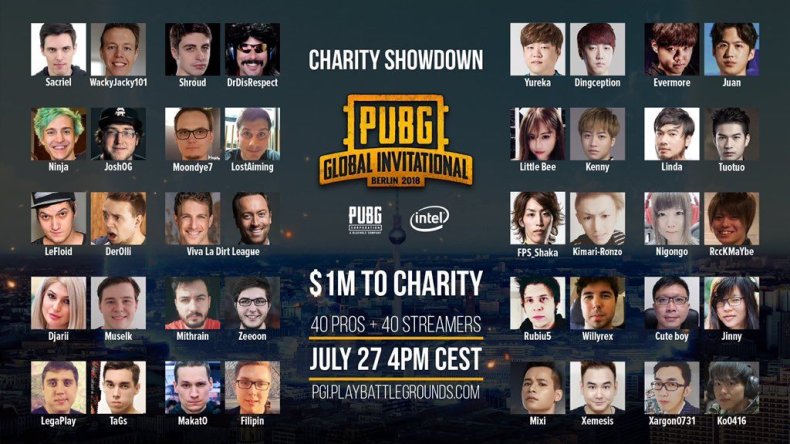 For this event, four-person Squads will face off with two streamers and two pros per team. Like PGI, points will be awarded based on final match position and number of kills. Kills are worth 15 points each, and placements are listed below.
First: 500 Points
Second: 410 Points
Third: 345 Points
Fourth 295 Points
Fifth: 250 Points
Sixth: 210 Points
Seventh: 175 Points
Eighth: 14 Points
Ninth: 120 Points
10th: 100 Points
11th: 80 Points
12th: 65 Points
13th: 50 Points
14th: 40 Points
15th: 30 Points
16th: 20 Points
17th: 15 Points
18th: 10 Points
19th: Five Points
20th: Zero Points
The teams with the highest scores at the end of four first-person matches on Erangel are eligible for the following prizes.
First: $600,000
Second: $300,000
Third: $100,000
While we don't quite know the full roster of teams, PUBG Corp has announced the 20 streamers taking part in the action. We've listed their details below.
The roster of pros has not been revealed at this time and may become public when the event goes live. In any case, you can use the links above to follow your favorite streamers. We'll do our best to update this page as the event unfolds.
The PUBG Charity Showdown begins 11 a.m. EDT July 27.
Will you be watching the PUBG Charity Showdown? Which streamer are you rooting for? Tell us in the comments section!