'PUBG' FACEIT Beta Explained - How to Get a Key, Join a Lobby & What Is It?
PUBG announced its partnership with FACEIT earlier this week, and access to the servers is already available for those with a beta key. Below, we recap the process for getting keys and joining lobbies, while also explaining why you should care to do so.
What is 'PUBG's FACEIT Beta?
FACEIT is a platform for hosting esports tournaments, and it can serve as a scouting tool for pros hoping to add new players to their rosters. As such, it's a well-oiled server-side space for those who take gaming seriously. Since being founded in 2012, the service has already gained the support of juggernaut titles like Rocket League, CS: GO and Dota 2. PUBG''s partnership marks the service's entry into the battle royale space.
For the casual PUBG player, however, the FACEIT beta offers an opportunity to play the game on servers that are less crowded and better able to handle the action. It offers a smoother gameplay experience with fewer dropped connections and dropped frames.
How to join the 'PUBG' FACEIT Beta
Joining the beta is easy. Just head to this link and sign in with your FACEIT credentials or create an account.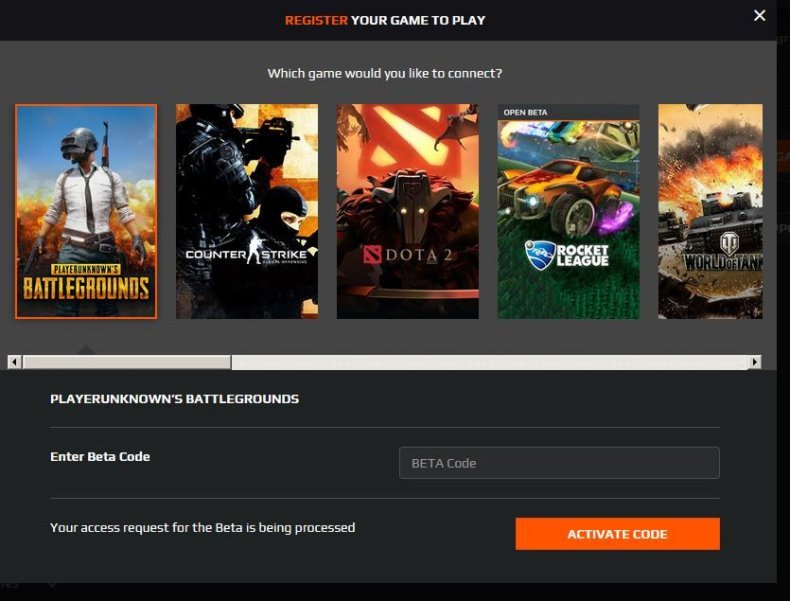 Once you're signed in, choose PUBG under the "select your games" menu and press the button to apply for the beta. You'll eventually get a code in your email that you can paste in the "beta code" box.
Once you have your code, you must connect PUBG to your account. In the main FACEIT dashboard, press the downward arrow in the top-right of your browser window and select "Game Settings."
After that, press the orange button to "Add Game." Select PUBG from the menu. If you've registered your beta key correctly, you should see a button that says "Connect PlayerUnknown's Battlegrounds." If you haven't registered your key, there's a second opportunity to do so.
A window will pop up saying registration was a success. You can close that and hit the button to "Play Now."
How to Join a Lobby in 'PUBG's FACEIT Beta
Once your account is linked, the next step is to join a lobby.
If your PUBG account is properly linked, you'll see it listed alongside the mode and perspective in your "Tournaments and Ladders" pane on the left side of the dashboard. Press the Play button.
When a match is found, you'll see a message that says "get ready, your ALPHA match is starting now." Close the window and wait for players to join. You'll have about five minutes to connect once the match is full.
Make note of the "private lobby name" and "password" to the left of the player list. Click the small eye icon to reveal the password.
Open PUBG and go to the Custom Match beta. Choose Normal Mode.
Paste the lobby name into the search box and type in the password when prompted.
That's all there is to know about PUBG's FACEIT beta. Rinse and repeat these steps to join matches in the future.
PUBG is available now on PC and Xbox One. Access to the FACEIT beta is only available on PC.
What are your thoughts on PUBG's FACEIT beta after playing a few matches? Does the game play better? Tell us in the comments section!