'PUBG' Free 'Horizon: Zero Dawn' Skins Release on PS4 March 5
PUBG players on PS4 are about to get some exclusive Horizon-themed goodies. In celebration of the two-year anniversary of Guerilla's critically acclaimed adventure, those in the battlefield will soon be able to dress like Aloy any time they wish. Items will be available in game from March 5 through April 5.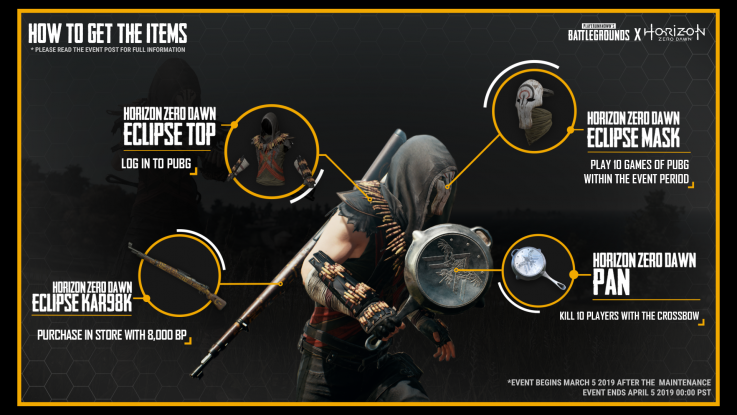 As seen above, the cosmetics are divided into four different categories. Players can perform the following tasks to unlock each piece.
Eclipse mask: Play 10 games of PUBG between March 5 and April 5
Eclipse top: Log in to PUBG between March 5 and April 5
Eclipse Kar98k: Costs 8,000 BP
Horizon: Zero Dawn pan: Kill 10 players with the crossbow between March 5 and April 5.
In other words, with the exception of the Horizon weapon skin, everything in the set can be obtained for free through moderately skillful gameplay. Considering the vast majority of PUBG's licensed skins typically come in expensive crates, it might be worth taking advantage of this rare opportunity.
As cool as these skins are, however, there's no denying that they arrive at a rather curious time for PUBG's PS4 version. While free games like Apex Legends and Fortnite continue to dominate the conversation on Sony's platform, it's no secret that hype surrounding PUBG Corp's $30 offering has very quickly fallen by the wayside. It would seem that, by giving away most of these Horizon skins for free, developers are searching for a way to keep lapsed players engaged. This, of course, isn't the first time PUBG Corp has partnered with Sony to design exclusive skins. Nathan Drake's outfit and Ellie's backpack were also available as pre-order bonuses for the game.
PUBG is available on PC, Xbox One and PS4. The Horizon: Zero Dawn Eclipse skins are exclusive to PS4.
What are your thoughts on these PUBG Horizon skins? Are they cool enough to bring you back to the game? Tell us in the comments section!
'PUBG' Free 'Horizon: Zero Dawn' Skins Release on PS4 March 5 | Gaming