'PUBG' Miramar Test Server Update Live on Xbox One - Patch Notes & Fixes
PlayerUnknown's Battlegrounds received a huge update on its Xbox One Test Server this morning, and we want you to know what's inside. In addition to bringing the Miramar map to consoles, there are several gameplay and stability tweaks as well. The patch notes arrive courtesy of a post on the game's official forums.
'PUBG' MIRAMAR TEST SERVER PATCH NOTES
Optimization and stability
The free-fall and parachuting process has been optimized, leading to performance improvements during the initial stages of each game.
World loading has been optimized. "Play-doh" and interior prop pop-in effects have been improved. (Players may still experience the play-doh effect in Miramar—we're still working on this.)
Movement data for nearby but out-of-sight players is now handled in a more efficient manner, resulting in general performance improvements.
Similarly, when nearby but out-of-sight players equip or unequip items, this process is handled in a more efficient manner. This helps with performance and crashes throughout the game.
The inventory has been optimized, improving response time when opening it and solving some crashing issues.
Uninhabited boats and vehicles were causing some performance issues, and we've resolved this issue.
The process relating to weapon and item usage has also been optimized.
World
Miramar map added with all new areas from the PC version
Items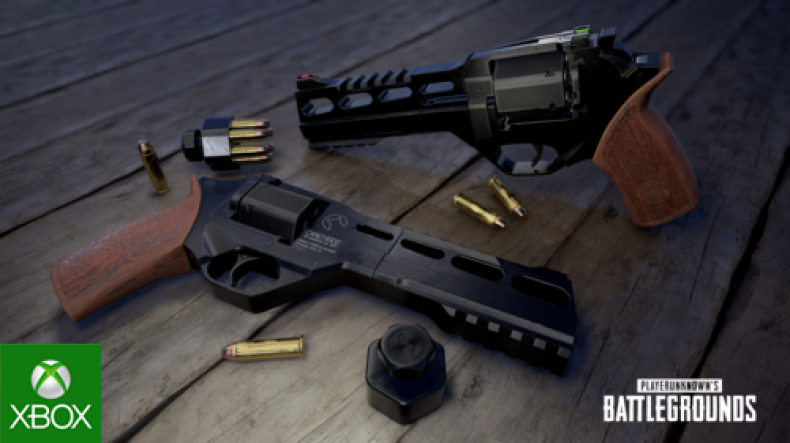 The following items are available on Miramar:
R45 is a revolver handgun which is available as world spawn.

It uses 45 ACP Ammo and up to six bullets can be loaded.
Red dot sights can be equipped.
Damage and accuracy rate is high and reload speed is faster than R1895.

The Win 94 is lever-action rifle

It uses 45 ACP Ammo and up to eight bullets can be loaded.
It cannot attach bullet loops or scopes.
It inflicts severe damage and it is a mid-range weapon suitable for high level players.

The sawed-off is a small shotgun

It uses 12-gauge ammo and up to two bullets can be loaded.
This shotgun can inflict severe damage and equips to the handgun slot in the inventory.

A recolored version of the Ghillie suit has been added.
Vehicles
The following vehicles were added for Miramar
The mini bus is a six-seater on-road vehicle, available on Miramar only.

Its top speed and torque is low but it has strong durability.

The pick-up truck is a four-seater off-road vehicle, available on Miramar only.

It has a great suspension system and powerful torque, making it suitable for terrain with extreme elevation differences.

The motorbike and buggy have new skins on Miramar.
Menus
When players select the "settings" menu, an option window will pop up. In near future, we will be implementing a new option window and will also provide various options which players can select.
We will introduce a career and leaderboard menu. We may disable this service without advance notice since it is only for testing purposes.
For the first week of testing, the customization and reward menu will not be available. We are planning to open this service gradually in the future. We'll keep you updated about the changes in a future announcement.
The PUBG Xbox One Miramar Test Server became available for download late last night and will be active between 8 p.m. EDT and 2 a.m. EDT through Friday, April 27. Additional play times will likely become available as more testing is required prior to release. In order to take part in the Miramar test, simply search for and download "PUBG Test Server" in the Microsoft Store. A Game Preview version of PUBG is required to take part in the test.
These patch notes should excite those hoping for more from the Xbox One version of PUBG. While its performance still lags far behind its Steam counterpart, the addition of Miramar brings console players one step closer to full content parity with PC. Xbox One users won't have to endure quite as many growing pains as Early Access patrons did when Miramar first launched this December, as this update includes the new map areas added since then. Miramar remains a divisive map within the PUBG community, but the Xbox debut of the arena and its associated guns will definitely make things interesting over the next few days.
PUBG is available now on PC and in Game Preview on Xbox One. Miramar is expected to deploy on live servers this May.
What are your thoughts on Miramar coming to Xbox? Will you download the Test Server to get a feel for the new guns and vehicles? Tell us in the comments section!